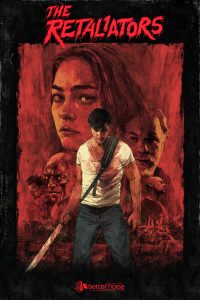 Horror-thriller feature THE RETALIATORS, from Better Noise Films, co-producers of The Dirt, and US distributor CineLife Entertainment, alongside international distributor Trafalgar Releasing, are releasing the independent feature film in an unprecedented 445 screens in the USA and over 500 theaters internationally simultaneously. Including all Australian capital cities.
Garnering a 100% rating on Rotten Tomatoes during its film festival run across the most prestigious horror film festivals, the film centers on an upstanding pastor, who uncovers a dark and twisted underworld as he searches for answers surrounding his daughter's brutal murder.
This 2021 ScreamFest opening night film takes audiences on a riveting and bloody revenge mission with a unique blend of 80's action/horror and crime genre influences. It begs the question, if you could have a minute alone with the person who killed your loved one…would you take it?  Michael Lombardi ("Rescue Me"), Marc Menchaca ("Ozark"), and Joseph Gatt ("Game of Thrones") headline the cast alongside Jacoby Shaddix, front man of Papa Roach, making his acting debut.
Additionally, the film boasts a high-octane original soundtrack and cameos from some of the biggest names in rock music set the tone for the film and features cameos and music by Mötley Crüe's Tommy Lee, Five Finger Death Punch's Ivan Moody, Zoltan Bathory, and Chris Kael, Papa Roach, Jaya of The Hu, Spencer Charnas of Ice Nine Kills, Eva Under Fire's Amanda Lyberg, Matt Brandyberry, Danny Case, Lance Dowdle, and Matt Madiro of From Ashes to New, Cory Marks, and Dan Murphy and Miles Franco of All Good Things, anchored by an original score from Emmy-winning composers Kyle Dixon and Michael Stein ("Stranger Things").
Original soundtrack music featuring songs from artists appearing in the film, will be available from Better Noise Music on September 16. The soundtrack is led by the Mötley Crüe track "The Retaliators Theme Song (21 Bullets)" co-written by Nikki Sixx and James Michael of Sixx:A.Mf and featuring Danny Worsnop from Asking Alexandria, Spencer Charnas from Ice Nine Kills, and Matt Brandyberry from From Ashes to New released August 5. Four singles from the film have reached #1 on Rock Radio since 2020, including: Papa Roach's "The Ending," Five Finger Death Punch's "Darkness Settles In," All Good Things' "For the Glory featuring Hollywood Undead," and Bad Wolves' "Lifeline."  Download press kit below for full list of music credits in the film.
Worldwide marketing partners for the theatrical launch, include Amazon, Apple, Audacy, Cumulus Media, Deezer, iHeart Radio, Live Nation, Pandora, SiriusXM, Spotify, Ticketmaster, and YouTube. All brands are promoting the film with an integrated marketing plan targeting music and film audiences.
In addition, the US summer tours for Mötley Crüe, Asking Alexandria, Five Finger Death Punch, Nothing More, The Hu, Papa Roach, Bad Wolves, and Eva Under Fire also featured marketing tie-ins to the film to grow and promote the horror genre within the audiences of music fanatics attending the concerts.
THE RETALIATORS – OFFICIAL SOUNDTRACK Track Listing
Papa Roach – The Ending
The HU – This Is Mongol
Eva Under Fire – Blow (feat. Spencer Charnas of Ice Nine Kills)
From Ashes To New – Scars That I'm Hiding (feat. Anders Fridén of In Flames)
Asking Alexandria – Faded Out (feat. Within Temptation)
Tommy Lee – Tops (feat. Push Push)
Classless Act – Classless Act (feat. Vince Neil of Motley Crue)
Five Finger Death Punch – Darkness Settles In
Nothing More – Tired Of Winning / Ships In The Night
Crossbone Skully – Evil World Machine
The HU – Wolf Totem (feat. Jacoby Shaddix)
Bad Wolves – If Tomorrow Never Comes (feat. Spencer Charnas of Ice Nine Kills
Cory Marks – Burn It Up
Tempt – Living Dangerously feat. Dorothy
Hyro The Hero – Who's That Playing On The Radio? (feat. Mick Mars and Danny Worsnop)
Cory Marks – Blame It On The Double (feat. Tyler Connolly and Jason Hook)
All Good Things – For The Glory (feat. Hollywood Undead)
Motley Crue – The Retaliators Theme (21 Bullets) (feat. Ice Nine Kills, Asking Alexandria, and From Ashes To New)
The Retaliators Kyle Dixon and Michael Stein – Cops Are Here
Watch the official theatrical movie trailer now at:
For more details on THE RETALIATORS and THE RETALIATORS – OFFICIAL SOUNDTRACK, please visit:
Website | Instagram | Twitter |Facebook | TikTok
ABOUT BETTER NOISE FILMS
BETTER NOISE FILMS is the film/tv production company under BETTER NOISE ENTERTAINMENT, a content creation and marketing company that produces music, books, films, documentaries, TV shows, theatrical productions, and tours. Better Noise Films, founded by music industry veteran and independent entertainment pioneer Allen Kovac, focuses on creating content that focuses on unique, often untold, stories brought by world-class filmmakers. The company launched in 2019 with its co-production of Netflix's hit Mötley Crüe biopic The Dirt. Upcoming productions include a feature film adaptation of the New York Times bestseller The Heroin Diaries: A Year in the Life of a Shattered Rock Star.