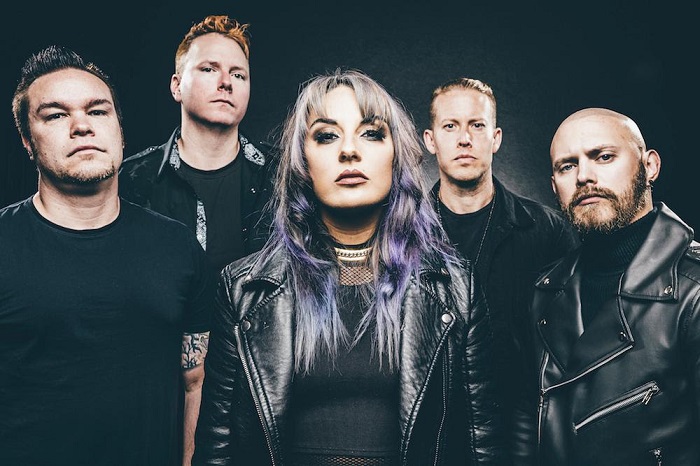 "It was really fun, I think it was also my first introduction to a lot of people on the label because of us just coming on board shortly before the film had started filming."
From Release: Detroit-based rock band Eva Under Fire officially announced the new release date for their long-awaited debut album Love, Drugs & Misery today. The album, recorded via Better Noise Music, will be available for streaming and download on September 23. Most recently, the band released "Blow (ft. Spencer Charnas of Ice Nine Kills)," which is featured in The Retaliators soundtrack and now boasts over 7.6M streams across the globe, as a digital single and as an acoustic version earlier this summer. Ahead of this announcement, the band also dropped their collaboration with Jonathan Dörr of Ego Kill Talent "Comatose," "Unstoppable," and the Sno Babies soundtrack single "Heroin(e)." Each song has offered fans a diverse taste of what's to come on the album. Pre-order Love, Drugs & Misery HERE.
We caught up with Eva of Eva Under Fire to talk about the Better Noise movie 'The Retaliators' which she features in, not only soundtrack wise with the band, but in the actual movie, we talk about the band's upcoming album, and much more.
Check out the interview below!
THE RETALIATORS MOVIE – in theaters for 1 day only
Wednesday, September 14th
Get tickets now at retaliatorsmovie.com
Essential Information
From: Detroit, MI, USA
Band members: Eva Marie – Vocals, Rob Lyberg – Guitar, Corey Newsome – Drums, Chris Slapnix – Guitar/Vocals, Ed Gawlik III – Bass/Vocals
Website:  https://www.evaunderfire.com/
Forthcoming release: 'Love, Drugs & Misery' – (September 23 – Better Noise Music)