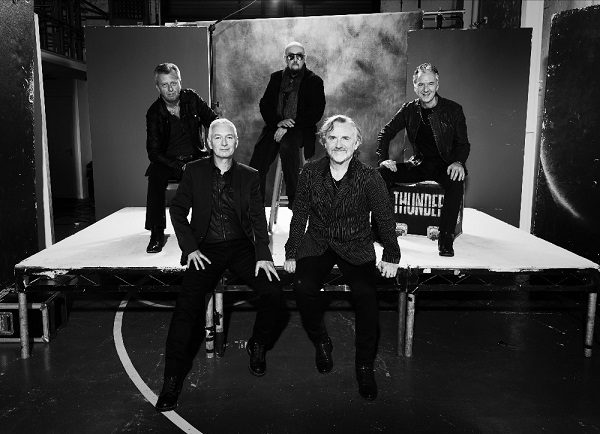 "When I was a young man I used to write songs about chasing girls and drinking too much like we all do. I'm too old for that now so I've got to look at the world around me and draw inspiration from that."
From Release: British hard-rock heroes, Thunder, have announced the release of their 13th studio album 'All The Right Noises' out THIS Friday, March 12. The album is a return to the full-throttle sound of Thunder that has seen them create a hugely successful 30+ year career at the forefront of British rock, all built around the lifelong friendship of vocalist extraordinaire Danny Bowes and songwriting genius and guitarist Luke Morley.
'All The Right Noises' is an intense confection of illicit charms that reasserts their authority as the number one band in the land. Recorded in the months leading up to the first Covid-19 lockdown, it was originally due for release in September 2020. Strange to reflect then on how much of the new material appears to address the challenging new world we now inhabit.
Thunder release their new album 'All The Right Noises' on March 12, and ahead of it we caught up with Luke Morley via Zoom to talk about the album, 2020, their upcoming TV special, touring, 'Love Walked In', and more.
Check it out below.
Essential Information
From: London, England, UK
Band Members: Danny Bowes – lead vocals, Luke Morley – guitar, Ben Matthews – guitar, keyboards, Chris Childs – bass, Gary 'Harry' James – drums
Website: http://www.thunderonline.com
Latest Release: All the Right Noises (Out Now – BMG)