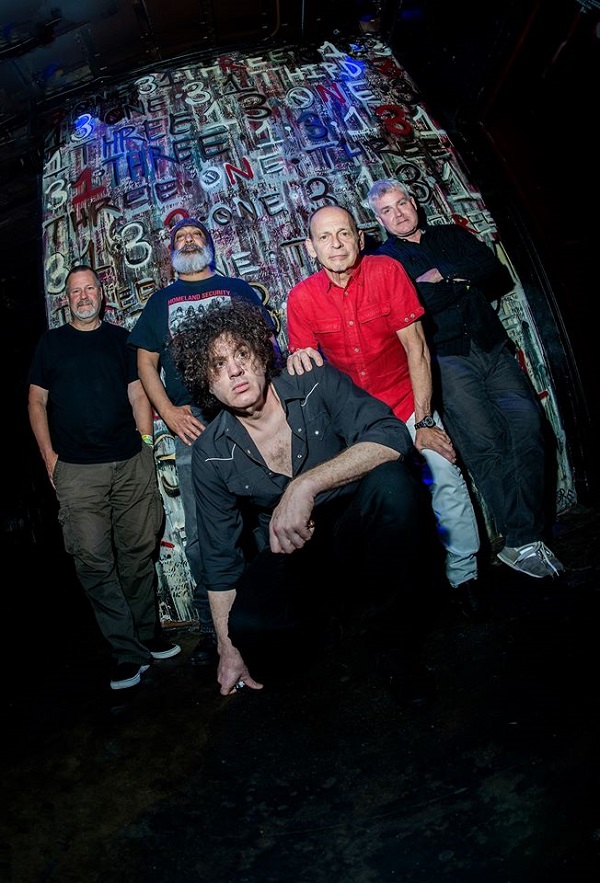 "There's a lot of guys that can really play but they're assholes and I don't be in a band with them anymore…"
From Tour Release: Detroit's proto-punk/hard rock band MC50, will bring their 'Kick Out The Jams: The 50th Anniversary Tour" to Australia.  Known as MC50 for the forthcoming "Ol' Black Eyes Is Back" tour, the supergroup features MC5's Wayne Kramer joined by guitarist Kim Thayil (Soundgarden), drummer Brendan Canty (Fugazi), bassist Billy Gould (Faith No More), and frontman Marcus Durant (Zen Guerrilla).
In his studio in LA just beginning to score a new film, Wayne Kramer gave us a call to 'Kick Out The Jams' with us and talk about his upcoming tour of Australia with Alice Cooper and MC50, the legacy of MC5, what's he's up to now, and much more…
You're heading back to Australia with MC50 and one hell of a line-up. How did this collection of musicians come together?
Through a long arduous process of phone calls and emails, I just wanted to be sure that I had people that were good solid people to begin with. Being a good player is important but it's not the most important, it's more important to be a good person and enjoy their company and that they have an intellectual curiosity about the world around them. There's a lot of guys that can really play but they're assholes and I don't be in a band with them anymore *laughs*.
What can people expect from the show?
They can expect a blast of hard rock delivered with ferocity that you wont find in most rock bands today, these guys can really play and they all have their own personal relationship with the music of the MC5, you know, they discovered the MC5's music on their own path at some point they said yes I like the way this sounds I want to be a part of this and then today here they are with me playing this music and I think it's meaningful to them and that means a lot to me.
It's been Fifty years since 'Kick Out The Jams' what do you remember about releasing a song that has become iconic?
Well you know the days were very polarising, we swung wildly from great elation and enthusiasm and joy to paranoia, fear, self-doubt, because what we were doing wasn't very popular *laughs*.
Fifty years on what do you think it is about that song that still gets people going?
I just think it's that indescribable element in all great music that is eternal, that if you hear 'I Want To Hold Your Hand' today, you're going to hear these four British young men just bursting with enthusiasm and joy for what they're doing, and I think 'Kick Out The Jams' has it's own version of that, that these were five guys that were completely out of their minds *laughs* just over the top about what they were doing and how they were doing it and had a kind of bravado and commitment to them that you just don't hear in a lot of records and I think that it's kind of a pure shot of energy and I think it effects every generation that discovers it, the next generation grows up and they try to figure out who did the bands that they like listen to and then then who do those bands listen to, and if you start to connect the dots ultimately you end up at The MC5 and The Stooges.
A lot of the bands I grew up with in the 80's always used to cite MC5 as influences or you'd see them in an MC5 shirt…
Yeah! It's something I'm very proud of.
You've continued to make music, but it's been a while since your last release 'Lexington', but you just mentioned you're scoring a film, so can you tell us a bit more about that?
Well it's my day job, I've been doing it for about ten years now and I enjoy the process, it's collaborative which is the same thing that I enjoy about being in a band, writing the songs and coming up with new ideas, that's the best part of being in a band for me at this stage I'm not looking to get laid anymore and I'm not looking to get high anymore, I am interested in trying to play some good music and write some good stuff and carry a message, so I get to do that in film. Film and television are exploding right now as content becomes king there's more and more content being produced and there's a place for someone like me to write music and to be part of that most mosaic of art forms.
Is it a secret what you're working on?
No, it's a movie called 'Freak Power' and it's the prequel to 'Fear and Loathing in Las Vegas', it's the story of Hunter S Thompson's run  for the office of sheriff in Aspen, Colorado, but it's a fun movie.
Being in the business now for 50 years spanning six decades it can be easy to say what's changed but what is the one thing that's stayed the same over your time making music?
Work. Putting in the work has stayed the same, how the work is processed and delivered has changed, how it's consumed has changed, but the actual doing of the work that hasn't changed, you still have to put in the hours, you have to review and revise constantly, you have to try to stay focused on what you're doing in order to be coherent at the job at hand, so that part hasn't changed. I just finished working on Alice Cooper's new album and we did the exact same thing we did fifty years ago which is you sit in a room with a couple of guys and some note pads and guitars and you start writing songs *laughs* and you try to figure out how to say something and what you want to say and be witty about it and not embarrass yourself too badly and that's stayed the same.
Of course you are headed back here with Alice, can we expect to see you get up with him for a bit of a jam?
Yeah, it's fun!
Over your time as a musician you would've seen changes in trends, technology, and more. What for you has been the most pivotal moment you've seen happen in music over that time?
Well the coming of the digital age was mishandled so profoundly that it destroyed a billion dollar industry in a couple of years, I mean if you look at the period from 1995 – 2000 you see the coming of Napster and then digital downloading and then bit torrent and people generations now, a couple of generations believe that music is something you download for free off the internet and it's destroyed the record industry, it's gone, it doesn't exist anymore. So we've all had to try to figure out ways to try to survive in a world that doesn't exist anymore, it's been a huge challenge and I don't think that we've sorted it out yet, I think we're gonna have to come up with some more fair ways for artists to be compensated or we're gonna have less and less music to deal with. This is what happened, this is the bad news about capitalism, I'm a capitalist, I handle American money, I work money, money is the terms of the culture, I understand that completely but there are elements of capitalism that put profit ahead of people and I think that's where it goes off the rails, when making a profit becomes more important than the human beings that consume the product or use the product then we start getting in to trouble, you know then the environment goes down the drain and products take on a kind of meaninglessness about them, the end of expertise *laughs* "yeah I know all about that I read an article about it, yeah I know everything I need to know about that I read it in a magazine…" It doesn't really work that way.
After so long, what do you still enjoy about doing what you do?
I enjoy the process, I enjoy the collaborative give and take of you know I write a line and then you write a line and then we try to put it to a melody. I really enjoy it, it's like solving a problem, it's all problem solving and I really enjoy performing for people, I fond that it's easy for me, music comes easy for me and performing comes easy, and I enjoy the process, I really have a lot of fun on the gig and I cant see that really changing *laughs*.
Lastly let's look ahead to the future, finish this sentence for me, in 2020 Wayne Kramer wants to…
I want to live *laughs* you know I'm 71 now it's starting to become an issue! I want to stay alive, I want to be a good father, I have a little boy these days and fatherhood is the greatest and it's the most important thing that I do. I also would like to be of service to my fellows, you know we do a lot of work with the prison systems and I'm looking forward to bringing some of that to Australia with us, we're gonna do some prison visits while we're there and I want to continue to help those of us that we always thing of last, if we think of them at all and that's the people that live under lock and key.
Thanks for your time, Wayne, we're looking forward to seeing you in Australia.
Yeah I'm really looking forward to it, the whole band is very excited about it.
ALICE COOPER
"OL' BLACK EYES IS BACK"
AUSTRALIAN TOUR DATES 2020
Special Guests : AIRBOURNE & MC50
Saturday 8 February – Perth, RAC Arena
Tuesday 11 February – Adelaide, Entertainment Centre
Friday 14 February – Melbourne, Rod Laver Arena
Saturday 15 February – Sydney, Qudos Bank Arena
Tuesday 18 February – Brisbane, Entertainment Centre
Tickets: www.ticketek.com.au
Essential Information
From: Detroit, MI, USA
Band members: Wayne Kramer – guitars, Kim Thayil – guitars, Brendan Canty – drums, Billy Gould – bass, Marcus Durant – vocals
Website:  http://www.mc50th.com/