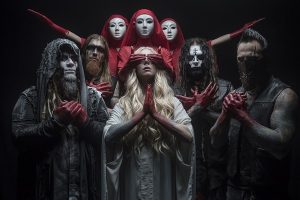 In This Moment have confirmed that they will release their seventh album Mother on March 27 via Roadrunner/Atlantic. The band have also shared the video for first single "The In-Between," a sonically gorgeous labyrinth of sound steered by frontwoman Maria Brink's beguiling vocals, which swirl around guitarist Chris Howorth's heavier-than-granite riffing. The album is available for pre-order HERE.
Mother follows 2017's beloved Ritual. Excitement for this record burns at a fevered pitch, as In This Moment landed on several "Most Anticipated" lists, including Alternative Press, Loudwire, and Revolver.
Fans can also look forward to some super exclusive pre-order bundles that they will most certainly want to add to their collections.
"The Beginning — Interlude"
"Fly Like An Eagle"
"The Red Crusade — Interlude"
"The In-Between"
"Legacy"
"We Will Rock You" (Feat. Maria Brink, Lzzy Hale, and Taylor Momsen)
"Mother"
"As Above So Below"
"Born In Flames"
"God Is She"
"Holy Man"
"Hunting Grounds" (Feat. Joe Cotella of Ded)
"Lay Me Down"
"Into Dust"
FOLLOW IN THIS MOMENT AT: