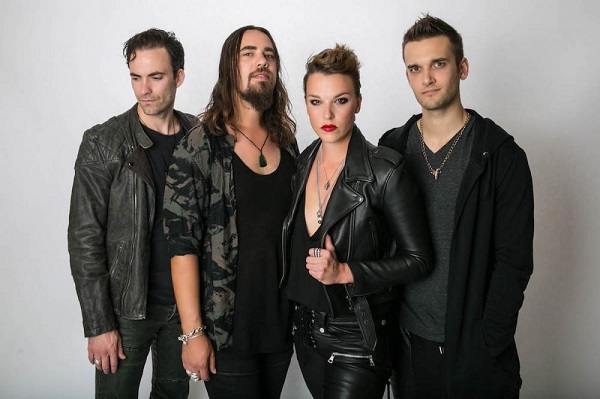 "…it's been a beautiful thing, just this feeling of family and unity and not that we didn't feel that before but it's just been elevated this time around."
From Release: Halestorm have toured extensively with a diverse variety of artists, including Eric Church, Avenged Sevenfold, Alice Cooper, Rob Zombie, ZZ Top and Evanescence – and were here last earlier in 2019 for Download Festival Australia – where they blew everyone off the stage. They've played around 2,500 dates around the world to date, and performed at festivals like Taste of Chaos and Rockstar Energy Drink Uproar Festival. The band scored a Grammy for Best Hard Rock/Metal Performance in 2013, and Lzzy was named the "Dimebag Darrell Shredder of the Year" at the Metal Hammer Golden Gods Awards in 2016. Both Halestorm and The Strange Case of… were certified Gold, further evidencing Halestorm's massively supportive fanbase.
While still at home before leaving for tour Lzzy Hale gave us a call to talk about the upcoming Australian tour, their recent album cycle, new music, achievements, and much more…
Always great to talk to you, Lzzy, now it's been almost four years since we last chatted, so let's catch up, how have the last four years been for you?
Oh it feels like I've lived about fifteen different lifetimes, but all in a very good way. I think we had a lot of these moments in the past four years that have kind of been, you know those moments when you say if my thirteen year old self could see me now *laughs* like their mind would be blown. We're happy, and we're I don't know, we're discovering new things about each other and our band and we're getting better live, the shows have been amazing, it's crazy, it's awesome.
You're headed back to Australia, thankfully you keep coming back, what can we expect on this upcoming run of shows?
Oh my goodness, well we've upped everything, we've upped our production and our shows, our shows have become just monumentally better and I'm not saying that in any egotistical way it's just that we've been learning a lot of new things and just growing as musicians and actively trying to grow as a band and I'm excited for everybody to see this show and to see it's going to be different from last time and I'm happy about that.
Seeing you guys live is a treat, how important is the live aspect of Halestorm?
Very important, I would say it's probably our first love as a band and makes up about 90% of what we do. Even when we go into the studio it's usually us trying to create that magic that we feel when we play live in front of people which is quite difficult and I feel like every time we go into the studio that's always the goal, and so yeah it's pretty much the pinnacle of what we do, we're primarily a live band. You know how it is so with rock shows and especially with us we don't use any click tracks, we don't use any tracks of any kind it's all us, it's just the four of us playing and listening to each other and also especially in this past four years we've started to switch up the set every night and there's also these elements of improv that we'll do, so we'll decide kind of before a show which song it's going to be, but we'll play a song and then we won't end it perse *laughs* where it's supposed to end and we don't really know how we're going to get out of it so we have to listen to each other and get on the same page and ride that same wave with each other, and when you make these moments that you're creating on stage live and when all of a sudden when the audience catches that same wave with you it's just magical. So there's that risk factor every single night that it could go amazing or it could go horribly wrong but that's up to you *laughs* so I like that rush that you feel that it's almost a beautiful panic, it's not a horrible anxiety you have to sharpen yourself up to be prepared for that. It's exciting I can't wait for you guys to see it.
Speaking of risk factors, how do you play in those shoes?
*laughs* Thank you, very carefully. I'm not as silly as I was when I was younger, when I was in my early twenties I would get up on the half stack in my heels and jump off of them and I don't do that anymore but I've become so comfortable in the heels and this is a riot because I play the wah peddle and obviously I have the peddle board and all of that and I noticed that when we're in rehearsal and I'm in my boots, just my flat boots I can't work the wah in the same way that if I have my heels *laughs* I'm a better player in the heels *laughs* than I am without them now. So I know that there's going to be a point in time where I have to retire them, but I keep saying to myself well Tina Turner wore heels well into her seventies right? Maybe I can hold on a little longer, but right now it's such a fun element because I started doing that when I was a teenager because it was one more thing that the guys in other bands couldn't do, it was one more thing, and its just become this fun element because I'm pretty good at balancing on one foot and that usually makes the people in the front that are taking pictures freak out a little bit and so it's just a fun element to play with.
Now, with 'Vicious' being out now for almost eighteen months, how has the cycle been since its release?
Oh it's been beautiful, better than anything we could've expected because what as happened monumentally is I think that we have elevated our core, for some reason on this album cycle people are paying a lot of attention to what I'm saying in the songs and the meanings behind them and I don't think we've ever had an album cycle where there has been more people with tattoos of my lyrics on them, like people will show up with full verses, not just the chorus or the main tagline *laughs* it's full verses like on their thigh and arms and stuff and it's amazing, a little nerve wracking because people are listening to what I'm saying for better or worse, but it's been a beautiful thing, just this feeling of family and unity and not that we didn't feel that before but it's just been elevated this time around. It's a beautiful launching pad for them for whatever we're going to do next *laughs* so I'm excited about that as well.
From the new to the old, you're just about to release a 10th anniversary edition of your debut album, two part question, where the hell did 10 years go and what are some of your fondest memories of releasing your first album?
Oh my goodness, to the first part of your question I can't even tell you how many time I've said that, like it's already been ten years, what happened? Time is elastic, apparently it's not even a real thing, time goes by and kids get older and all of a sudden all the little kids that were coming to our shows with their parents are graduating high school and doing the whole thing in college now, it's crazy. Oh man, making the first album was a whirlwind, trying to make a very long story short we were signed to Atlantic in '05 and then we went right out on the road with a five song live EP hence when the live thing became hugely important *laughs* it always has been in Halestorm, and we went right on the road and so around '07 we settled down, we went to LA we were going to find a producer we were going to do some writing with people and just collect songs and make our first record. Now during that time our A&R guy got fired, there was a fire, a mudslide, two earthquakes, and we the one producer that was going to do our record couldn't do it, then we ended up having this guy who then became our A&R guy Pete Ganbarg got hired as a freelance, he was just a freelance A&R guy and he was put on our project to help us organise it and so we organised everything and then he got hired by Atlantic and then we were his first project. The whole process we were in LA, in the Oakwoods in this crappy apartment complex in Burbank, California for nineteen months from the time that we got there through to the mixing process of our entire first record. It was total craziness but I've got to tell you it was such an exercise in togetherness for the four of us but through all the chaos and we would have all these moments where we thought well that was a good run we're going home I guess, we're seeing all these bands that were our peers that were getting dropped from their labels and every time something happened we though we're next, we're next on the chopping block and for some reason we survived through the entire making of that first record and the whole time we're fighting to do something special and to have an opportunity to be known as a band and put our first record on a major label, and so it was such a beautiful fight and we came out of it so much stronger as friends and as a band, so we're really proud to say now a decade later we ended up including in this bundle all these old demos that we literally recorded most of them in my parents basement before we went to California and then there's some that we did in California and so we included all of this in the special release to kind of show a different side of us, some of the demos we loved and some of the demos we hated but we included all of them in there anyway *laughs* so I'm so happy to have kind of made it to the other side to this point to now where we're on our fourth major release on Atlantic now and about to do our fifth, like it's crazy, like I said if my thirteen year old self could see me now, it's really nuts *laughs*.
About to do your fifth? Some new music coming?
Yeah well I write all the time anyway but we've begun collecting some of our demos together and gearing up, now we're going on this tour starting tomorrow we leave and we'll be out for about six weeks, so that's basically going to be this last run on this album cycle and we'll settle in to do another one and I'm excited for that too it's only moving forward and that's a beautiful thing.
When we first spoke back in 2012 you were just about to release The Strange Case of… hadn't been to Australia yet, now you've been here 3 times with a 4th time coming, released another 2 albums, won a Grammy, played all over the world, and come so far. Do you ever get a chance to stop, step back and look at how far you've come?
Oh absolutely, we have a lot of these moments now as a band and friends we call them mile markers, the way we've always rolled with Halestorm is that there is no real end to the highway that we're on, the glory is in the work and in doing it and all of these things that you listed on these beautiful mile markers we literally all stop and go hey guys isn't this so cool? *laughs* Like we just had one the other day, my little brother said "Hey do you remember the first time we were ever in somebody's tour bus?" and like yeah it was like Sevendust invited us up for something and we're sitting there and we're all awkward and we don't know what to do in tour busses it's weird, it's somebody else's home  it's all fancy, and he's like "remember I asked hey do you think we'll ever have our own tour bus?" and I'm like "I don't know man" this is before we were ever signed, and now little bro says "and now, a tour bus is just part of our normal life" that's what we do when we're on tour we're on a tour bus and he's like isn't that cool, it's so cool. All these little moments, we collectively look at each other and yes this proves we were indeed crazy for doing this but we weren't stupid. For some reason we did the right thing by following our dreams and our hearts and as cheesy as that sounds we talk about it a lot, even in front of audiences, they're singing back at you, they're singing these silly songs that you can remember sitting on the floor in your living room trying to make a demo of this silly song you're trying to write and now people are singing it back to you and they have it tattooed on their arm, those little moments are just so mind blowing to me and still it makes me emotional about it because this is so much more than a career choice for me this is an extension of me and what I do, so you take those things personally in the best way. It's such an amazing thing.
Lastly let's look ahead to the future, finish this sentence for me, in 2020 Halestorm wants to…
*laughs* Halestorm wants to… turs out you never run out of dreams… I think Halestorm wants to own and airplane *laughs* that's what I want, I want Haleforce One, that may not happen in 2020 realistically but I'm gonna throw it out there in the universe *laughs*. We've done so much flying and oh man if we just had our own plane *laughs*. We just won't let the drummer fly it though *laughs*.
Catch Halestorm in Australia with special guests Villainy
Friday 6 December – Sydney
Enmore Theatre
Saturday 7 December – Brisbane
The Tivoli
Monday 9 December – Adelaide
The Gov
Tuesday 10 December – Melbourne
The Forum
Tickets from www.mjrpresents.com or www.halestormrocks.com
Essential Information
From: Pennsylvania, USA
Band members: Lzzy Hale – Vocals, Guitar, Arejay Hale – Drums, Josh Smith – Bass, Vocals, Joe Hottinger – Guitar, Vocals
Website: http://www.halestormrocks.com
Latest release: Vicious (Out now – Warner Music Australia)
Check out our review of the 'Vicious' HERE