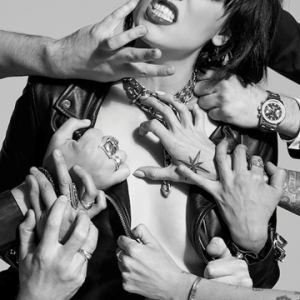 How has it been three years since a Halestorm album? Wow! Thankfully here they are in 2018 with album number four and things are about to get 'Vicious'. I've been sitting on this for a couple of weeks and in listening through a number of times, just be ready that you're in for a treat.
Straight away the 'Black Vultures' start circling, and after the initial intro blast Lzzy's vocals come in and this rocker truly sets the pace for the record, the groove laden verses take you into the faster paced chorus and immediately you can hear this one being played live, with a breakdown mid song this one alone shows me how far the band have come in the way the write and structure their music. This is gonna be a fun ride! 'Skulls' is groovy as fuck! You can't help but get the head moving while listening to this one and I have to say any vocal issues Lzzy had in the past seem long gone as she gets the scream going before the song gets doomy and this is really impressive. 'Uncomfortable' was the first taste we had of the new album and the frantic riff that kicks it off drops out as the let's fit as many words as we can in the verse without tripping over them is amazing! The arrangement on this one is 100%, through the bridge, chorus, middle 8, it's all good and it's so good to hear Halestorm getting their heavy back! Don't get me wrong, I loved the last album but watching them evolve over ten years has been a treat and just seeing how this has come out so far is like watching a child finish school, they've graduated with flying colours. I have no idea where I'm going with that ha ha. Oh yeah, the song, love it!
The album continues with 'Buzz' this straight up middle of the road rocker, once again they put this one together with an almost bluesy feel to it at times and it fits perfectly into the record and the slinkiness of the riff and chorus work so well together. 'Do Not Disturb' is as sexy as you can imagine it would be with a title like that and why the hell not, I mean when it opens with "I think we should make out…" you get the idea what you're in for! Then to follow it immediately with 'Conflicted' is almost a continuation to the story, and this one is almost as sexy as its predecessor, and I do love the way this one builds and explodes at one point but is brought back around nicely to the acoustic guitar driving the song. Up next is my favourite on the album, 'Killing Ourselves To Live' sounds like it could be an Iron Maiden power ballad at times but it immediately hits a riff and Lzzy almost growling this one with that grit she has and wow it works, but that chorus takes a turn from the verse and is all power! I dig the sentiment of this song and just the feel and imagining fists thrust towards the stage as they belt this one out is something to hope happens in the future. The song breaks down and builds once again before exploding into a blistering solo from Joe which kicks ass! The rhythm here is so driving and the Arejay / Josh combo nail it perfectly, and it jumps straight back into the chorus and yep, this may have become my new favourite Halestorm song, sorry 'Beautiful With You' I think you just took a back seat. Who am I kidding, there's room for both of you.
'Heart of Novocaine' is our first ballad on the album and this acoustic guitar driven track is needed after what was an onslaught of the last seven tracks, it's almost like a you can take a breath and regroup with this one. It's nothing but heartfelt though and Lzzy's vocal power on this one is something to behold. Remember that breather we had a minute ago? Well 'Painkiller' takes that breath away and rocks the hell out of everything. Oh man, what a track! That one will blow the stage up when that's played live. As will 'White Dress', damn all these songs are written to be played live that's for sure and this one has one of those choruses that just hook you and plain and simple, it rocks. Time for the title track and I'm always curious as to why albums get named the way they do and why certain songs get that accolade, here we have 'Vicious' and within 45 seconds you know why, when it hits the chorus it'll tell you why and this one a stand out for sure. "What doesn't kill me makes me vicious" hell yeah it does. Closing the album with 'The Silence' and we go out soothingly, another acoustic guitar driven ballad that showcases the diversity of the band the way they can bounce between volume levels is perfect, and the way that Lzzy can well pretty much sing anything is testament as to why they're still doing what they do. This song is actually pretty damn impressive and I recommend listening to it once, then hitting repeat and really listening to it. What a track. What an album.
If there were any doubts from people after their last album, there truly shouldn't be any more, as Halestorm have outdone themselves with 'Vicious', as this is one hell of a rock record. Is it 2021 yet for album number five and even more new Halestorm? No? OK, I'll be patient…
Check out our new interview with Arejay Hale HERE
Essential Information
From: Pennsylvania, USA
Release date: 27 July 2018
Produced By: Nick Raskulinecz
Record label: Warner Music Australia
Website:  http://www.halestormrocks.com
Track Listing:
Black Vultures
Skulls
Uncomfortable
Buzz
Do Not Disturb
Conflicted
Killing Ourselves To Live
Heart Of Novocaine
Painkiller
White Dress
Vicious
The Silence