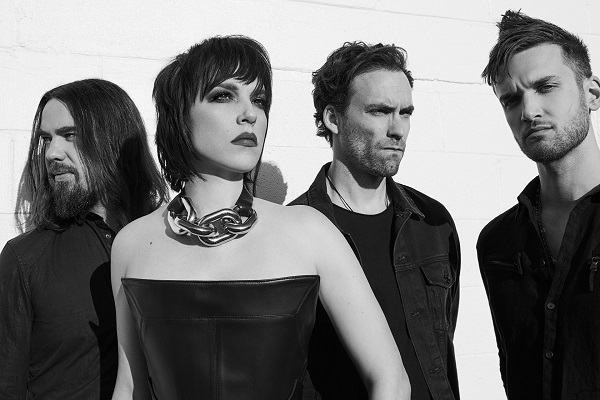 "…when we started this band we were just four huge dorks that cracked jokes and now here we are we've been a band for so long now and we're still the same four dorks that we were *laughs* but I think the thing that's changed though is it leaks through more in our live show, we don't feel as inhibited to just be one and honestly ourselves."
From Release: Widely acknowledged as one of the most vital and iconic bands in modern hard rock, Halestorm made a spectacular debut with their 2009 self-titled LP. This was followed by 2012's The Strange Case Of… – which featured the GRAMMY® Award-winning single, Love Bites (So Do I) – and 2015's Into The Wild Life. One of the hardest working bands in rock or any other musical genre, Halestorm has spent much of its lifetime on the road, performing thousands of live shows since their inception. The band has also made their mark on the Australian live circuit, with tours in December 2015 and January 2017. Now the GRAMMY® Award-winning band have announced the impending release of their fourth studio album, Vicious, out July 27. Vicious, which was recorded earlier this year in Nashville with producer Nick Raskulinecz (Foo Fighters, Alice In Chains, Rush).
While at home in L.A. and enjoying the sunshine Arejay us a call to talk about Halestorm's new album 'Vicious', its creation, Australia, changes, anniversaries, and more…
Arejay it's crazy to think it's been six years since we chatted, so let's catch up, how have the last six years been for you?
Oh my god I can't believe it's been that long, it's crazy how everything just feels like it's longer than it is but at the same time it feels like time flies by so quickly so it's a very strange world that we live in *laughs* constantly travelling, constantly being on the go, it can be tiring but also time can just get away from you, so it's been a very busy six years I'm sure that it's pretty obvious, it's been a wild ride.
Of course we're here because album number four is out next week and as it's the fourth album so can you give me four words that you think sum it up perfectly?
*laughs* Well the number one word is probably the title, Vicious. It's vicious, it's meaty, it's just like meat and potatoes type record *laughs* no frills and nothing fancy just basically it's honest and straight up. So, vicious, meaty, honest and evolved *laughs* let's do that, just to throw in a fancy word.
So did you set out to do anything differently this time around compared to your previous albums?
You know every time we go in to make a record we always feel more experienced, we feel more confident going in, so we really didn't have too much pre-planned before we started working in the studio, we pretty much went in the studio and just started writing from the ground up. We got to work with one of our favourite producers Nick Raskulinecz who we've been wanting to work with for a long, long time, he has just always been busy every time we were going out to make a record. So this time around we felt very confident because we were working with a producer that we've always wanted to work with for a long time and vice versa, he has been wanting to work with us for a long time. So going into it we just thought with every record we feel a little bit stronger as songwriters and with this record we felt a little more confident to go into the studio with nothing pre written, nothing co-written and just start writing the four of us together in a room. So I think this is the most genuine and the most, we've been calling it the most Halestorm sounding record to date probably *laughs*.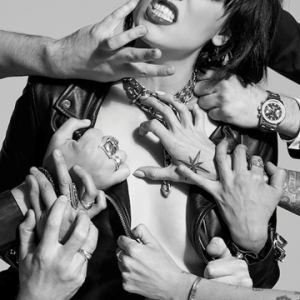 I've listened through a few times and it's back to that big rock sound, it's so good.
Thanks! When we made our last album 'Into The Wild Life' we experimented a lot more with different sounds and we had synths and keyboards and our producer Jay Joyce was very creative in that way but for this record we felt like after touring on the Wild Life record and performing the songs live and kind of realising that the songs translate better to our audience when we play them live and this time Nick wanted to capture that energy on record, so that's what we were going for.
I always like to pick one song out that stands out above the rest for me, I'm a sucker for a big power ballad and 'Killing Ourselves To Live' sounds like an Iron Maiden power ballad at times, can you tell me the coolest thing about that song in your eyes?
*laughs* Well that song was written very honestly, I think that song is the most autobiographical song on the record lyrically, it basically sums up our entire journey, starting out and working our asses off to get to the point we're at now, it really feels like we're killing ourselves, we're breaking our necks so we can do what we love , we're killing ourselves to live. I think that one is just very, very blunt and very honest to our lives.
When we last spoke you guys hadn't yet been to Australia, you've now been twice! Question is, any idea when the third time may be?
Yes! Oh my gosh I hope so soon, I was just talking to our booking agent yesterday and we're hoping to get back really soon, hopefully if not this year next year we're hoping in the next two years to get back over there because it's just become our favourite place to tour, we just love it so much, we love the people, we love the culture, it's just a beautiful country, and we also love Jim Jeffries and he is a total national treasure for you guys *laughs*. I love Jim Jeffries, he's become one of my favourite comedians of our modern day so thank you for making him *laughs*.
I've followed you guys from the first album and it's been so good watching you kick ass all over the world, but has there been a pinch me moment you've lived that you still shake your head about?
Yeah I think one of them definitely is when we're travelling so much all over the world we've been doing it for a while now, sometimes it's easy to focus more on the gruelling travel aspect of it and just kind of think 'oh my god it's just one airport after the next and then hotels and bus and then once we hit the stage and we're performing in front of an audience on the other side of the world from where we're from it's surreal, it really blows your mind to think you can go so far from home and people know who the heck we are. So yeah, every time in Australia for instance, our first tour in Australia was a headline tour we weren't even opening for anybody and it was just so shocking that we're so far from home and there's people there that want to come out and see us you know? It keeps you humble and it makes you appreciate what we do and makes it all worth it.
What's on your list of things to do that you haven't yet had the chance to do?
Oh gosh, so much, honestly, I feel like I've never really grown past the age of seventeen, I feel like my ambition is just maximising with every year that goes by *laughs*. There's so much that I want to do, mostly musically, I love to sing, I love to write and I'd love to experiment with that aspect I've been playing drums for a long, long time and I feel like the more you grow the more you mature musically and the more you do it the more you like to kind of branch off into the other realms of the art of music, of all the aspects of it, not just what you bring to the table with your instrument but also everything behind it, producing and song-writing and singing and all that stuff. Yeah just a lot of musical horizons I would like to chase after so you know life is short, but the good thing is I don't know how to sit still, when we're not touring I'm at home making music and doing all sorts of stuff but the list is quite long for the things that I still want to be able to do.
So it's sometimes easy to say what's changed in your time in a band but what would you say is the one thing that's stayed the same in your time together in Halestorm?
You know the one thing that never changed  is the dynamic between the four of us, when we started this band we were just four huge dorks that cracked jokes and now here we are we've been a band for so long now and we're still the same four dorks that we were *laughs* but I think the thing that's changed though is it leaks through more in our live show, we don't feel as inhibited to just be one and honestly ourselves.
Next year is the tenth anniversary of your brilliant debut album, are there any plans for something special to celebrate?
Oh wow, we haven't really thought of anything but you're exactly right, 2019 will be ten years since the debut record, we don't really have any plans yet but I'm sure that we will do something special. Keep an eye out.
Lastly let's look ahead to the future, finish this sentence for me, by the end of 2018 Halestorm will…
Oh my gosh *laughs* by the end of 2018 Halestorm will, oh my gosh that's tough to say because we will… Halestorm will be at the next chapter of our career and of our lives, that's the only goal, to keep on going and keep on doing it, and keep on moving up and out. Just speaking to our team and seeing what's a head, we have a lot of touring ahead of us by 2018 Halestorm will have a lot more countries and a lot more miles under our belts *laughs*.
Thanks Arejay, please send our love to the guys and we can't wait to see you back!
Oh I'll definitely give your love to everybody in the band and everybody on our team, man, we really appreciate your support over the years, honestly if it wasn't for you guys I don't think that tour in Australia would've ever happened so thank you guys for all the support and the love and allowing us and enabling us to get over there, and I can't wait to get over again, let's hang out we'll have a beer.
Definitely! Thanks again and good luck with the record.
Thank you so much, man, talk to you soon.
Essential Information
From: Pennsylvania, USA
Band members: Lzzy Hale – Vocals, Guitar, Arejay Hale – Drums, Josh Smith – Bass, Vocals, Joe Hottinger – Guitar, Vocals
Website: http://www.halestormrocks.com
Latest release: Vicious (Out now – Warner Music Australia)
Check out our review of the 'Vicious' HERE