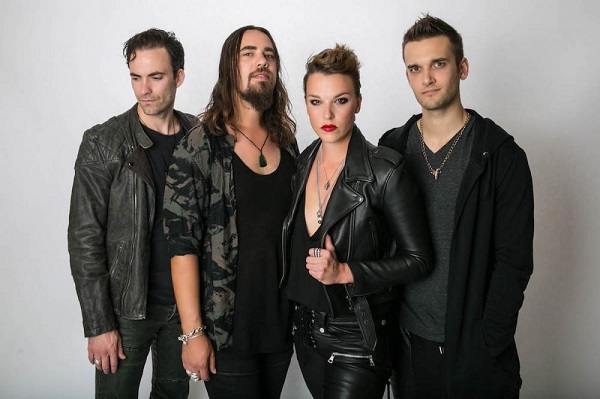 Halestorm were here earlier in the year at Download Festival but they're back now for a headline run to promote their newest album 'Vicious'. Can't wait to see what they do tonight!
Villainy who stepped in for Black Stone Cherry are opening the night and 'Wannabe' opened their set with some big riffs and sets the scene for their set. They find their stride in song two 'Raised In The Dark' and in their first visit in three years the guys from Auckland hit us with 'Safe Passage' which was awesome, followed by the chaotic 'No Future' which got things pumped a little. So much yelling leads into a killer melody for 'IFXS' followed by 'Cut' with its slow riff and a catchy hook makes this a stand out in the set. Closing the set with 'Dreams' is the best way to close this one and this is my favourite of the set and a song I'll check out after the show. Great structure and one hell of an unexpected key change make this a winner hands down.
The lights go down as Lzzy Hale walks on stage and belts out some notes before the band walk on stage and with a "Hello Australia" straight into 'Do Not Disturb' and what a powerhouse she is vocally, just destroying it in here. As Joe showcases his talents on the solo you can instantly hear the coherence of this band and we are in for a treat. With a "1, 2, 1, 2, 1234" this shit is on as 'Love Bites (So Do I)' rips things apart. The crowd gets clapping and she has them in the palm of her hand. Lzzy takes the guitar solo and these guys are just on fire. Special mention to the band as a whole as that rock ending rules. Throwing it back to the debut with 'I Get Off' and it's hard not to watch Arejay punish his drums on this one, this band honestly has their shit together, this collective of four just know how this works and boy do they make it work. Things get rocked up as the riff for 'Mz. Hyde' kicks in and I wasn't expecting this one this early but man they're just hitting us with the big ones early and I'm ok with that. That rocked things up big time. Lzzy is showing us her vocal ability right now with Josh on the keys and a low drowning melody and an amazing rendition of 'Familiar Taste of Poison' before Joe and Arejay return for 'Amen' and holy shit that was amazing. That's the best live version I've seen them do of that and they just smashed it, as they play it out with an amazing musical outro the band is just 100% on point, these guys can play, this is spectacular.
Josh and Arejay stay on stage to solo and after some stellar bass work, Josh leaves Arejay there to just be amazing and smash the living shit out of his kit. The big sticks come out ala Hall and Oates 'Out of Touch' and then as the band returns for 'Freak Like Me' and I'm a big fan of a telecaster and Joe solos on it like a dream. The energy and the power is still high and this is rockin'. Things get 'Uncomfortable' in here and once again it's like the band can do no wrong tonight, the power in the vocal is off the charts. 'Black Vultures' keeps us on their latest album and for me hearing these songs live for the first time is perfect, they come across so much heavier live and with a "are you with us, Sydney?!" and a resounding cheer response the crowd are settled in and ready for anything.
'Chemicals' is heavy as all get up for Halestorm and this was so good to hear live. 'Apocalyptic' keeps things in that groove and damn this band just keeps getting better. 'I Am The Fire' sees many actual lighters being held aloft and what a joy that is to see. The band leave the stage leaving only Lzzy on stage with a keyboard and an awesome delivery of 'Rock Show' mashed up with 'White Dress' allowing the crowd to join in and then 'Dear Daughter' and Lzzy's delivery is off the charts. I could listen to her sing the phone book and I'd be happy, wait… do they still have phone books? Right now she's gone full Adele with 'Someone Like You' and watching the way people around me reacted to this one was just awesome. Damn, Lzzy. Damn.
'Here's To Us' gets arms waving and seeing Lzzy without a guitar on is weird but this the power is intense in this one. That was brilliant. A huge note leads in 'I Miss The Misery' and this absolute beast kills it this late in the set as it gets a little 'Free Bird' and Joe solos the shit out of this and damn. Crowd sing alongs are had to outro the song. Holy shit. Seriously. Wow. That ends the set and the night. The band accept their kudos and are all smiles as they leave the stage.
Tonight was straight up awesome. Four people on a stage that form one kick ass band to deliver an amazing night of rock and roll. Ladies and Gentlemen, Halestorm.
Catch Halestorm in Australia with special guests Villainy at these remaining dates:
Saturday 7 December – Brisbane
The Tivoli
Monday 9 December – Adelaide
The Gov
Tuesday 10 December – Melbourne
The Forum
Tickets from www.mjrpresents.com or www.halestormrocks.com
Check out our interview with Lzzy Hale here
Essential Information
Venue: The Enmore Theatre
Date: December 6, 2019
Presented by: MJR Presents
Special Guests: Villainy
Website: http://www.halestormrocks.com
Set List:
Do Not Disturb
Love Bites (So Do I)
I Get Off
Mz. Hyde
Familiar Taste of Poison
Amen
Solos
Freak Like Me
Uncomfortable
Black Vultures
Chemicals
Apocalyptic
I Am The Fire
Rock Show / White Dress / Dear Daughter / Someone Like You
Here's To Us
I Miss The Misery