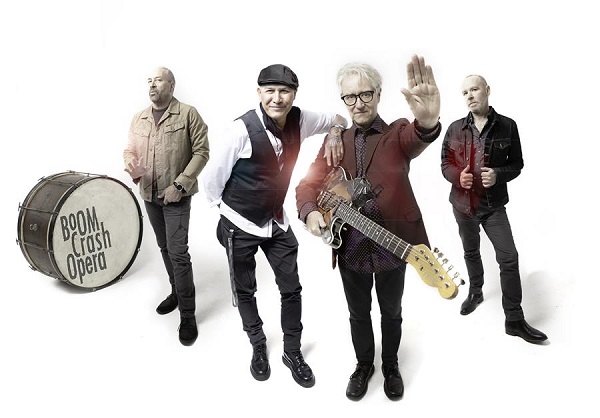 "I'm back, I didn't think I was going to come back but I'm back."
From Release: Much loved 80's Australian band BOOM CRASH OPERA is set to make a stunning comeback with charismatic lead singer, Dale Ryder.  Ryder will join Peter 'Maz' Maslen, Peter Farnan and John Favaro for the November tour which celebrates the 30th anniversary of the band's second album, 'These Here Are Crazy Times'. Boom Crash Opera were one of the biggest Australian bands of the late 80's, who went on to crack the US with the album 'These Here Are Crazy Times'.  Featuring the hits 'Onion Skin', 'The Best Thing', 'Great Wall', 'Get out of the House' and 'Dancing in The Storm'.  The band cultivated powerfully catchy and infectious tunes that still remain permanent fixtures on Australian radio today.
While he was sitting out in the cold in Melbourne we gave Dale Ryder a call to discuss his return to BCO, the thirtieth anniversary of 'These Here Are Crazy Times', their upcoming tour, the possibility of new music, and more…
First thing's first, welcome back!
Yeah well thank you, thank you, it's been five years and it's good to come back *laughs*.
What was it like taking your spot back out front of Boom Crash Opera?
It's pretty easy actually, we did a rehearsal a couple of weeks ago and we haven't had a gig yet but we did a rehearsal and it all just fell into place it was like I hadn't left you know? The lyrics came back, the band sounded really good, everyone was smiling *laughs* and that's a good sign. It was a great start we started counting 1,2,3,4 into 'Great Wall' and I went hey this is pretty good.
Were there any nerves of concerns about coming back?
Nah, I quit Boom Crash for five years because there were scheduling problems and so much other work, singing work, nah I've been singing all that time anyway for the last twelve years because Boom Crash took a holiday from I think '93 to 2000 and something so I've always been working and singing those songs in other bands or whatever.
It's crazy to think it's been 30 years since the release of 'These Here Are Crazy Times', let's look back to that time, what do you remember about releasing that album?
Well the first album came out and was received kind of OK I guess and then 'These Here Are Crazy Times' came out and it was gobbled up, there was about five or six singles off there 'Dancing In The Storm', 'Best Thing', Onion Skin'… and we recorded that in Australia which was nice because we spent a few months in England recording the first album it was just nice to be in Australia recording that and Richard did most of that tracking stuff. Yeah I'm pretty proud of that album, it's pretty good and it still sounds good after thirty years and the kids like it *laughs*. I think the football on television really, really, really helped because they just loved that song 'The Best Thing' in Melbourne anyway in Victoria they used it all the time, and 'Dancing In The Storm' has got that *sings* "Here we go!" that anthemic kind of bogan yelling *laughs* which goes really well with the Aussies, it was good.
When you talk about hits, that album was a hit machine for you guys and had songs that have truly stood the test of time, but is there one song from it that you feel epitomises what BCO are?
I would probably thing 'Dancing In The Storm' because wherever I go no matter I'm doing I have to play that song, it's always asked for I guess. It's just one of those I don't know it's got that kind of parochial Australian sound to it because in the day we were touring a lot so it just epitomises all the hard touring that most Australian bands had to go through, Midnight Oil, Barnesy, everybody, INXS, we all had to go through that fire and I think it epitomises that. I think that's why people still like it, again it's easy to sing *sings* "Here We Go!" *laughs*.
I did see the band a couple of times with Andrew out the front and even though it sounded different because it wasn't you, the crowd was still going nuts for it…
Yeah it's one of those songs I think people can identify with some of the lyrics and we've all had fights with our partners, that's what that song is about, it's about lying in bed and arguing and turning away from each other instead of talking about it, so we can all identify with that song and it's got that kind of celebrating chorus which we all kind of tend to like. Talking about Andrew he's an amazing talent, he's got a wonderful voice, Andy used to be my bass player in my other band for about ten years, I suggested him *laughs*.
Yeah I had seen him prior and it just was different…
That's another thing I said don't try to get anybody to be me get somebody else, I actually suggested a girl as well, Angie from Frente!, I said maybe you should get a girl and make the best of it, but then I'm back, I didn't think I was going to come back but I'm back.
You're heading back out on the road this November, have you got an idea of how these shows will shape up set wise?
We're trying so hard to just do the entire album as is because it's 'These Here Are Crazy Times' thirty years so we're trying to do it, but some of those songs are kinda hard like 'Superheroes' there's a lot of yelling in there, like why was I yelling so much, why did you allow me to yell so much in the old days? Just screaming my guts out at like sixty five I can't do that anymore *laughs* so trying to mellow out that song and make it sound as poignant as we tried to make it those days, we'll do our best. There's a lot of good songs on that album, 'Talk About It' is a great song, we're trying to do that as well and then while we're doing that we'll put some of the old songs in there like 'Her Charity' and 'Great Wall' and stuff, so it's gonna be good, going to be good fun, especially working with The Machinations it's going to be really good fun.
I make no apologies for the use of this amazing pun, over your entire time with the band, if you had to pick one moment, what is the best thing that has ever happened to you?
I think hearing my single on the radio for the first time, 'Great Wall' you know my Dad was always "Get a proper job" and then when he heard that he rang me and said "Dude this is my son" he was proud as punch and he's got all my records on their wall now, so I think that would've been it just listening to your song on the radio, you dream of that, I used to dream of that when I was a kid being in a band and having a song on the radio and there it was, it was pretty trippy stuff.
And to this day your songs are still played on the radio which is testament to good songs…
Yeah I'm happy about that, I feel bad for the young bands coming up because there's not much going on for them but I'm happy for myself *laughs*.
Not to get ahead of ourselves, but do you think there may be a chance of new music from the band in the future?
There's always that change, Peter Farnan you can't hold him down he's a very prolific song writer so he's always writing it's just scheduling time because after this November thing we've got Red Hot Summer for months, I think from January to April, it's about forty gigs every weekend but we'll see, if I don't die of a heart attack on the stage we'll give it a ago *laughs*.
Of course the last thing you did was a reworking of old material back in 2009, but it would be nice for something new…
Yeah well people keep saying that and I'm happy to do something if it sounds good *laughs*. I mean recording an album is hard work you've got pre-production, you've gotta pick your songs, so let's see. It'll be good.
Lastly let's look ahead to the future, finish this sentence for me, in 2020 Boom Crash Opera will?
Will be voting from Trump to come back in *LAUGHS* nah nah nah we'll be probably playing somewhere very close to you I would imagine, it's all a work in progress at the moment, but it's good.
'THESE HERE ARE CRAZY TIMES' 30TH ANNIVERSARY TOUR
WITH MACHINATIONS
Presented by Triple M
For all ticketing information: www.facebook.com/BoomCrashOpera
Nov 1st            The Gov                     Adelaide, SA
Nov 8th           Southport RSL            Southport, QLD
Nov 9th           Hamilton Hotel           Hamilton, QLD
Nov 15th         Bridge Hotel                Rozelle, NSW
Nov 16th         Bridge Hotel                Rozelle, NSW
Nov 17th         Cambridge Hotel         Newcastle West, NSW
Nov 22nd        Yarraville Club             Yarraville, VIC
Nov 23rd         Memo Music Hall        St Kilda, VIC
Essential Information
From: Melbourne, Australia
Band members: Dale Ryder (vocals), Peter Farnan (guitar/vocals), Peter Maslen (drums/vocals), John Favaro (bass/vocals)
Website: www.facebook.com/BoomCrashOpera/ and www.instagram.com/boomcrashopera/