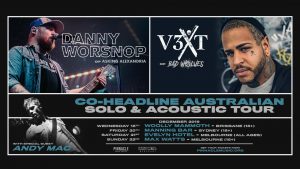 Two of rock's most iconic modern day voices are coming to Australia for a world-first set of co-headline acoustic dates! Asking Alexandria's Danny Worsnop and Bad Wolves' Tommy Vext will bring their raw, un-plugged sound to Australian audiences this December as a special pre-Christmas treat.
Founder and vocalist of British metalcore royalty Asking Alexandria, Danny Worsnop is a name synonymous with on-stage charisma and pure vocal talent. Since his return to Asking Alexandria in 2016 and the release of their self-titled fifth studio album, Worsnop and the band continue their rise to the top with their latest single "The Violence". This will be Worsnop's first set of Australian dates since 2014's Soundwave Festival.
Formerly of Divine Heresy & Snot, Tommy Vext is the frontman of platinum-selling metal supergroup Bad Wolves, who saw a meteoric rise to fame with their 2017 debut release "Disobey", featuring their iconic cover of The Cranberries' "Zombie" which has seen hundreds of millions of views across the web.
Both Worsnop and Text are without a doubt two of rock's most recognisable voices, and both of them will be heading to the land down under for a string of intimate, acoustic nights that are not to be missed!
Brisbane native singer-songwriter Andy Mac will be opening every night on this run. Mac is the manifestation of pure, home-grown Australian musical talent and is widely regarded as the next rising star of Australia's music scene.
Danny Worsnop (Asking Alexandria) & Tommy Vext (Bad Wolves)
Solo & Acoustic Australia December 2019
With Special Guest Andy Mac
Wednesday 18th – Brisbane, Woolly Mammoth (18+)
Friday 20th – Sydney, Manning Bar (18+)
Saturday 21st – Melbourne, Evelyn Hotel (All Ages)
Sunday 22nd – Melbourne, Max Watts (18+)
Tickets via Oztix & Moshtix
VIP Meet and Greet Upgrades via:
www.pinnaclemusic.eventbrite.com