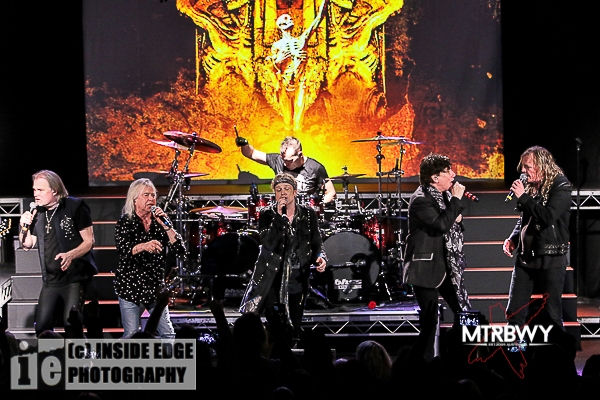 Another first for Australia gets ticked off the list tonight as Tobias Sammet finally makes it Down Under with Avantasia! Here with a who's who of rock and metal and this is going to be nothing short of Avantamazing, no wait, Amazitasia, nope, ooh Avamazia, better but just read on.
As the seven piece band take to the stage, and what a stage it is they start playing as Tobias runs in and 'Ghost In The Moon' opens the show and what an opening. Melodic amazingness within seconds and it's just going to be a night of hooks, melody and superb vocals and musicianship. Tobias' voice is exactly as I'd hoped it would be, powerful and perfect. This is going to be a night to remember. After some awesome crowd pops the song continues and with key changes and a close to fifteen minute epic puts most show openers to shame. 'Starlight' keeps things rockin' and fuck I love German metal. Holy shit here's Ronnie Atkins from Pretty Maids!! This is already exciting. Wow. Staying with the 'Moonglow' album it's 'Book of Shallows' and the vocal balance between Tobi and Ronnie is so good. This crowd is loving it and as they bloody well should, this is great. Tobias takes a break as Adrienne Cowan comes down from backing vocals to blow us away and this just keeps getting better.
It's time for a story about 'The Raven Child' before starting this twelve minute epic begins and it just hits that groove and is stepped up a notch or twelve as Jorn Lande makes his way to an Australian stage for the first time. What a treat to hear that man sing live. Finally. This song is all sorts of amazing as it slows down, speeds up and just covers everything you need in a power metal song. Jorn addresses the crowd to introduce 'Lucifer' and things slow down as just the keyboards and bass play as Jorn starts before being joined by Tobi before it turns all sorts of metal which I'm quite OK with. Our singers leave the stage leaving the band to rock out as Geoff Tate walks on stage to start 'Alchemy' before Tobi comes back and it's insane how well his voice works with all of these unbelievable artists. This song also allows the band to shine in particular lead guitarist Sascha Paeth who helps mastermind this project with Tobias and his playing is killer. The band leave the stage bar the keyboard player Miro and Geoff stays with Tobi to deliver 'Invincible' and this ballad is an amazing interlude and break to the onslaught we've already had.
Geoff goes and the band return and it's time to 'Reach Our For The Light' as we go back to the first Avantasia album and truly gives drummer Felix a workout. Talking about workouts, Adrienne comes up front and those vocals are truly insane. Wow. From the first to the newest and the title track to 'Moonglow' which is one of my faves from the album and let's Adrienne duet with him for the whole song. Oh man this live version is just that little bit heavier and is perfect. It's time for Eric Martin of Mr Big to take the stage for the brilliant cover of 'Maniac' and wow. The only man brave enough to sing it. After a quick chat (tough for Eric to do) the in my opinion best song of the night so far is happening right now 'Dying For An Angel' and man that song is something else. This kind of music should be what rules the charts, I truly don't know how it isn't. Eric leaves the stage after two absolute rippers but he's replaced by Bob Catley of Magnum for 'Lavender' and these voices are just insane. Another one making his first time down here which is crazy, he stays out for 'The Story Ain't Over' which is as powerful of a power ballad as you'd want. This is the best.
Talking a bit about the band Tobias takes us to the title track from 'The Scarecrow' and Jorn returns to blow us away again. As all singers leave the stage the band treat us to some brilliant guitar work and that tone on both guitars is out of this world. Bloody hell this show is epic. 'Promised Land' brings Eric Martin back to the stage to sing with Jorn Lande. It's so good hearing Eric sing these metal tunes! These two work so well together and I just can't get enough and some amazing guitar work with killer harmonies tips this one over the edge. Eric calls Geoff Tate back to the stage for 'Twisted Mind' and damn this got heavy. Never thought I'd see the day that the singers from Mr Big and Queensryche would share a stage but Avantasia allows this to happen and I thank them for this.
Time for the track of the band's namesake 'Avantasia' with Geoff and a returning Tobi which rocked the place. 'Let The Storm Descend Upon You' clocking in at twelve minutes is up and I feel like at this stage with seven songs to go that I'll be late for work tomorrow and I'm good with that. Jorn is back again and I'm also good with that and it gets even better as Ronnie Atkins returns for the first time in a couple of hours. Another epic piece I just can't keep up! Ronnie stays out for a chat and some jokes they lead into 'Master Of The Pendulum' which was insanely good. Then for something different Olli Hartmann on guitars takes lead vocals joined by Herbie Langhans who has been on backing vocal duties all night. 'Shelter From The Rain' is off the hook. Adrienne joins in as Bob Catley returns and the night somehow just keeps getting better. Tobi returns and Bob stays put as it's time for 'Mystery Of A Blood Red Rose' and just when you think it's over the second twenty minutes of it kicks in. I kid, but man these songs are long and it's fucking awesome.
'Lost in Space' comes up as we're getting closer to the end and this one is outstanding. The crowd are still 100% invested in this show three hours in and yelling the lyrics back as loud as they were at the start. The band leave the stage but not for long as they return for 'Farewell' then one last song, the 'Sign Of The Cross' and as he introduces the band they get into the closer and introduce all the amazing singers to join in. Each of them take turns and makes this song the definition of epic. I'm so glad they all came back for the closer. They all take front of stage to integrate 'The Seven Angels' and blow everyone away. A deserved bow and roaring applause for an absolute spectacle.
Sure six months has passed since the show began, I mean 3hrs and 20 minutes, but in that time we witnessed truly the best voices in rock and metal deliver something truly special. That was one for the ages. Wow.
Essential Information
Venue: The Metro Theatre
Date: May 12, 2019
Presented by: Overdrive Touring
Photo By: Peter Coates – Inside Edge Photography – Check out our full gallery HERE
Website: http://www.avantasia.net
Set List:
Ghost In The Moon
Starlight
Book Of Shallows
The Raven Child
Lucifer
Alchemy
Invincible
Reach Out For The Light
Moonglow
Maniac
Dying For An Angel
Lavender
The Story Ain't Over
The Scarecrow
Promised Land
Twisted Mind
Avantasia
Let The Storm Descend Upon You
Master Of The Pendulum
Shelter From The Rain
Mystery Of A Blood Red Rose
Lost In Space
Farewell
Sign Of The Cross / The Seven Angels