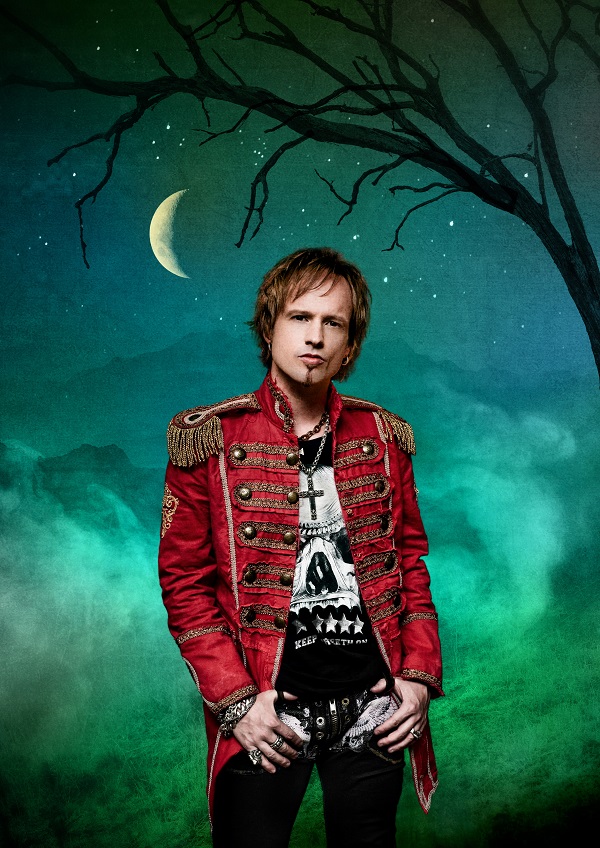 "The whole album is pretty much a celebration of the love for the abnormal *laughs* I can say, and I can relate to that and it's a very heartfelt and honest album."
From Release: AVANTASIA, the all-star rock opera spaceship piloted by EDGUY singer, songwriter and producer Tobias Sammet, have released their eighth full-length album, 'Moonglow', via Nuclear Blast Records. This new 11-song record sees Sammet, among the most talented and popular names in German hard rock and metal, reunited with some familiar faces from previous AVANTASIA albums. These include original QUEENSRYCHE lead singer Geoff Tate, PRETTY MAIDS frontman Ronnie Atkins, Michael Kiske of HELLOWEEN, Jørn Lande (ex-MASTERPLAN), Eric Martin (MR BIG) and MAGNUM's Bob Catley. 'Moonglow' also introduces new collaborators Hansi Kürsch of BLIND GUARDIAN, KREATOR's Mille Petrozza and BLACKMORE'S NIGHT frontwoman Candice Night in truly spectacular fashion.
While sitting in his study watching out the window, Tobias gave us a call to talk about the brilliant new Avantasia album 'Moonglow', it's creation, its vocalists, cover songs, the band's first ever tour of Australia coming up, and more.
We're here because of your new album 'Moonglow', tell us if you had to use three words to describe the album what would they be?
Honest, flamboyant, and get-intimate *laughs* I cheated a little.
Do you go into writing an Avantasia record with a concept in mind?
Yes, absolutely, for me I wanted to write to get things off my chest personally and I always want to write things that matter to me as a person because writing is to me therapy and getting things off my chest. At the same time I want to create worlds that drag the listener into a different reality and I always want to deliver some opportunity for escaption or escape and for me it's also an opportunity to escape and I created a world and environment that is highly influenced by the Victorian revival of the gothic novel so to speak, and it's a very, very grotesque setting, it could be a Victorian setting you know I'm using that language, I've been highly influenced by that language by novelists like Arthur Machen or Algernon Blackwood also Edgar Allan Poe, Mary Shelley, that type of stuff. For me the goal was to create a world where I can put in my own thoughts, I came up with that story about a creature that has been created into an environment that he cannot cope with, he simply cannot cope with the reality of the bold and the beautiful and he cannot live up to the expectations that his environment has towards him so he turns to the dark trying to be invisible and trying to find a gate out of his situation into an alternative reality into his own world. The whole album is pretty much a celebration of the love for the abnormal *laughs* I can say, and I can relate to that and it's a very heartfelt and honest album.
This time you've brought back a number of artists you've worked with in the past, was it an easier process for everyone involved this time when they have seen how things have worked prior?
Was it easier? Even the people that were there for the first time it wasn't a problem, but of course when you work with people that you've worked with before you know what to expect and they are people some of them I have been working with for a long time and they inspire me, they are there for the right reason, a lot of people confuse Avantasia they think it's all about the bells and the whistles and about the effect and the gimmick of having names that you don't expect, like who's he gonna have this time? Is it gonna be The Pope? Is it gonna be Sylvester Stallone on the record? Bugs Bunny? No… it's not about the gimmick. Of course I have some of the greatest voices in the history of rock and metal but these people are there because they are amazing singers and they inspire me, they stimulate my inspiration, my imagination and they do those songs justice and make those songs better and that's why I choose those people. There's never been a real issue with anybody recording, everybody I've worked with is truly a professional and that's why it's never been a big issue.
When writing these songs do you have a particular singer in mind and then approach them or do you just give whoever it is a challenge when recording?
Sometimes I have people in mind for example with Bob Catley, or Jørn Lande, or Ronnie Atkins, Michael Kiske, they are staples in my life and my working environment they are members of the Avantasia family and you write with them in mind and as I said that stimulates your imagination and your creativity, writing a song for Michael Kiske of course turns out a little bit to be like Helloween of course that's in my DNA, that's the music I grew up with. Of course when you write a song like 'Alchemy' and you have Geoff Tate in mind and subconsciously think of the force in Operation Mindcrime that's like a little child in a toy store and it's very good for my creativity and you go crazy and you fulfill your dreams. Sometimes you write a passage and you have a certain voice in your mind but you don't really have a name in your mind yet while you're writing the song. You write a passage and you think OK I know the voice it should be like that, then you have to really think and consider who has that voice that you were writing for? That was the case for example with Candice Night, I wrote the song I didn't have Candice in mind but once the song was finished I was trying to find out who has that voice and all of a sudden it hit me like lightning and I knew it's got to be Candice Night. It was also for Hansi Kürsch, I didn't know it was Hansi, I knew that I always wanted to work with Hansi but I had that passage at the beginning and originally I thought it had to be sung by a woman but then I thought that would be too obviously, Celtic intro with a female voice would be beautiful and I said no, no, no we've got to get some edge in there what about asking Hansi? I sent it to him and now that you listen to 'The Raven Child' and that beautiful intro no one else could done that song justice, sometimes things just fall in place and after they're done you know it couldn't have been done any other way, it is supposed to be like that, things happen for a reason.
Talking about doing songs justice, Eric Martin absolutely smashes 'Maniac' out of the park with you, why was he the one chosen to take on this bold but amazing cover version?
Pure hedonism *laughs* it was just a fun thing, it wasn't planned to be on the album in the beginning, I planned to do a cover version of the song because I liked it and told Sascha let's just do it, we are in the luxury position that we can just record a song and do it for ourselves if we want to. So we recorded the song and I thought you know what? This song is amazing and the only thing that is missing to make it a proper Avantasia song is some more diversity in the vocal performance, we need a guest singer, make it a duet and I think it has to be Eric Martin. I was not sure what he would think about the idea so I was very careful, Eric, would you mind doing a cover song for Avantasia? It's the first time a cover song is going to be on the album with Avantasia and he said sure, send it to me I know the song, I know it from the 80's, everybody knows it, of course I like it I'm gonna do it. No worries, I got the song back, he did it in San Francisco I got it back and it was absolutely amazing. I sang the whole song, Eric sang the whole song and Sascha chose which parts were best of which voice then he made it the duet. So we could have the song in another version where we are singing the other passages *laughs* respectively, but it's a great, great, great track it wasn't planned to be on the album but it turned out to be a great choice. Of course it doesn't make sense you have a conceptual album and you have a cover song that's got nothing to do with the concept but then again this is rock and roll, this is not science and not like working in a nuclear plant, you don't have to worry about doing something that doesn't make sense, when you're working in science things have to make sense, in rock and roll things don't have to make sense they have to be fun.
You're also heading back to see us in May but this is the first time you'll be coming with Avantasia, have you got an idea of how these 'Moonglow' shows are going to be structured?
It's gonna be a big show, we're gonna play about three hours we're gonna do the 'Moonglow' album not in its entirety but almost in its entirety and we're gonna do two more hours of best of material, classic material, trying to cover all albums of our history and all eras, I don't know if we play songs off of every album but it's gonna be a best of set. We're gonna have great guest vocalists there will be Geoff Tate will join us around the world, Ronnie Atkins will join us around the world, there will be Bob Catley, there will be Eric Martin, there will be Jorn Lande, there will be Herbie Langhams, Sascha Paeth, Miro, Felix of Edguy, I will be there, it's not a half-assed thing, it's the real deal and the full thing and I'm really proud that we managed to bring this to Australia for you. If you would have asked me about that three years ago I would've said it's impossible, it's a travelling party of twenty five people it's an arena show, we cannot fill an arena in Australia because we've never been there but we'll do it, we're not gonna play an arena we're gonna play a theatre but we're gonna deliver the full show.
The funny thing is everybody in the band is really excited about going to Australia because most of them have never been to Australia, even the singers, I mean I think Eric Marin has been there, Geoff Tate has been in Australia, but Ronnie Atkins and I believe Bob Catley of Magnum, and I think Jorn has never been to Australia too and they're all looking forward to going to Australia and there's a lot of talk about it within the group, like hey we're going to Australia and it's really funny all of a sudden everybody's like a little kid again and I myself as well because I've always been very vocal about how much I love Australia, how the first Edguy tour we did in Australia was a very, very, very special moment for me, it was more a vacation with a few shows thrown in there and I cant wait to come back, I love it and I hope we can get many Australian heavy metal fans to show up and prove to heavy metal promoters in Australia that they can book more heavy metal shows in Australia and that people actually reward the bravado of promoters taking over such huge undertakings in such a risk taking over international bands. I think wherever there are people and electricity there are heavy metal fans and I think it's worth the risk.
Lastly as we're out of time, let's look ahead, finish this sentence for me, in 2019 Avantasia will…
In 2019 Avantasia will release their best album to date and tour the world.
Thanks Tobi, see you in Sydney!
Yeah I'll be there, make sure you're there and bring a lot of friends, spread the word I want everybody to be happy, even the promoters who have the bravado to take this giant group of people over, so we need to spread the word and prove that this is possible and Avantasia can be successful in Australia and bands our size can be successful, not just Maiden and Metallica, also the medium size bands.
AVANTASIA AUSTRALIAN TOUR DATES

Sunday, May 12: Metro Theatre, Sydney
Event Page: Avantasia 'Moonglow' World Tour – Sydney
Tuesday, May 14: The Forum, Melbourne
Event Page: Avantasia 'Moonglow' World Tour – Melbourne 
Tickets on sale now via: www.avantasia.net
Essential Information
From: Germany
Band members: Tobias Sammet – Lead vocals / bass guitar, Sascha Paeth – Guitars, Miro – Keyboards, orchestration, Felix Bohnke – Drums
Website: http://www.avantasia.net  – http://www.tobiassammet.com/
Latest Release: Moonglow (Out Now – Nuclear Blast)