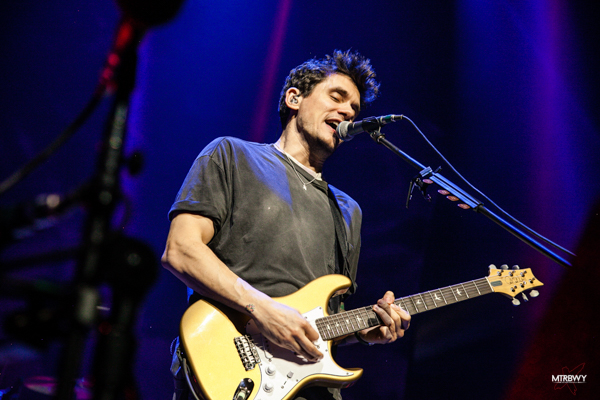 Surprisingly I've never seen John Mayer before. I feel like he's someone I thought I had, but regardless of that I'm ready and set to enjoy an evening with John tonight. He's going to be entertaining us with two sets this evening so it's gonna be a whole lotta Mayer going on.
Running a little late but the lights finally dim and the crowd cheers as we await the show to begin. He hits two notes and the place goes nuts as he then intros the opener 'Belief' and wow this band is as smooth as silk. Now this won't be the first time I talk about John's guitar playing but that tone and style is effortless. He absolutely slays the outro and the band stop on a dime. They are tight. Isaiah who is one of the other ridiculously good guitarists in his band is just showing off now as John joins him to jam this one in. 'Moving On and Getting Over' damn, this sounds like a soul track straight out of the 70's and damn his voice is just impressive. Hang on… he's not playing with a pick right now. Oh man you're just showing off John Mayer. "Good evening Sydney it has been a while… we're gonna go for a while tonight" he says to a rousing cheer. 'Love on the Weekend' Takes on a really Americana vibe and it's just such a vibe that is soothing. Oh man that was killer.
Damn I love his signature series guitar, those things are beautiful. 'I Don't Trust Myself (With Loving You)' is up and these songs, man you just find yourself tapping your foot and moving to the music, and again that guitar tone is just superb and then dropping the band to just have drums and vocals the balance was perfect. Closing it out with yet another blistering solo it's truly hard not to marvel in the talent here tonight. I'm mesmerized. John puts on an acoustic and 'Waitin' on the Day' as he plays it and has everyone loving it the song fades as the next starts 'Who Says' is a happy little country vibed tune and the pop he just got when he said 'Sydney' in the lyrics was well played. As he sings an intro before busting in to 'Half of My Heart' ha ha yes! He just busted out a Back To The Future joke!! "That's an oldie… well it's an oldie where I come from…" and he will forever now be known as John Mayer Goldie Wilson.
Just John and a piano start off 'Changing' before the band join him for this slower one and it still gets me when all the lights come out and light the place up. Now just giving us a solo to once again prove how good he is mid song it's just insane that talent. Oh yeah, a hit!! I know this one, 'Waiting On The World To Change' and the way they played it tonight in particular letting Isaiah shine once again was amazing. John comes back in to finish it off and a big cheer as expected. "This next song is very fun…" as 'New Light' gets a little funky in here then quickly heading back to the 'Continuum' record with 'I Repair' as they jam that out and then leave us for an intermission.
He's back! Just with an acoustic and 'Emoji of a Wave' and what a perfect way to start the second set as he throws on the twelve string steel guitar for 'Walt Grace's Submarine Test, January 1967' and with the backing singers there to help elevate this one and the acoustic session continues with a little song called 'Your Body Is A Wonderland' and it's easy to say that was the best received of the night so far, was great to hear the crowd join in and as he faded it out.
Alright!! A cover of 'Free Fallin' by Tom Petty is unexpected and just outstanding. What a song, and awesome when the crowd took part of the song and with just John and guitarist David and I have to say, played this way it was done justice tonight. The band re-joins them on stage and hit 'In the Blood' and this song just may be my favourite of the night. That song has feelings. The electric comes back for 'Edge of Desire' a song that took a massive build in the middle and as it continues to build Mayer comes in with a solo just taking it next level. It was so ridiculously good that that last song I said was the best, nah, this one is now. 'Paper Doll' is another smooth rocker and just keeps the bodies swaying while he continues to school everyone on how to play the guitar.
David the guitarist has just opened his mouth and with a "baby baby baby" every woman in here just lost their mind as he continues to sing as that was the introduction for another 'I have to get my phone out to capture it' kind of song. 'Slow Dancing' has the crowd so unbelievably quiet and respectful as John just plays a nice solo only to build us back up again and finish the song with a blistering solo that he once again makes look effortless. The acoustic is back for a happy little riff and tune called 'Why Georgia' that had the crowd in love from its first second. Side note, 'How to take off a shirt' is not only the best google search but also a great name for an album. The next song is presented in three parts 'If I Ever Get Around To Living' part one set the scene, part two keeps it going but with a solo of perfect tone shining though. Part three is now just showing off allowing Isiah to show us what he can do once again.
'I Guess I Just Feel Like' is a newer one and it was great to hear it in this environment and he also did the guitar swap mid song to now be shredding away and just making it look so damn easy. Introducing his phenomenal band before thanking us, and now with a harmonica around his neck he starts 'Dear Marie' which built into an amazing crescendo of whoa ohs and an all-out musical treat to close the show as the band leave the stage (won't be long as John already said he was coming back for two more.)
This crowd is amazing. They are so loud and started singing the outro to 'Dear Marie' again as John comes back with the band and he reprises the ending before the band come back on stage ready to give us maybe a couple more. The bass is grooving right now before John joins in and hits the opening of 'Vultures' and this foot tapper is classy as all get up. Then things get very bluesy in here as 'Gravity' lights the place up again with phones and as the stage goes dark the place is lit up like daylight. Asking for us to sing along we do just that. This one was perfect. The backing singers took lead and blew the roof off the place before John took one last solo.
With that, a standing ovation and much respect for not only John Mayer but his amazing band who tonight not only gave us An Evening with John Mayer, but gave us An Evening with John Mayer that we won't forget.
Essential Information
Venue: Qudos Bank Arena
Date: March 29, 2019
Presented by: Live Nation Australia
Photo By: Annette Geneva – Every Day Is Saturday – Check out our full gallery HERE
Website: http://www.johnmayer.com
Set List:
Belief
Moving On and Getting Over
Love on The Weekend
I Don't Trust Myself (With Loving You)
Waitin' on the Day
Who Says
Half of My Heart
Changing
Waiting On The World To Change
New Light
In Repair
Emoji of a Wave
Walt Grace's Submarine Test, January 1967
Your Body Is A Wonderland
Free Falling
In The Blood
Edge of Desire
Paper Doll
Slow Dancing in a Burning Room
Why Georgia
If I Ever Get Around To Living
I Guess I just Feel Like
Dear Marie
Vultures
Gravity