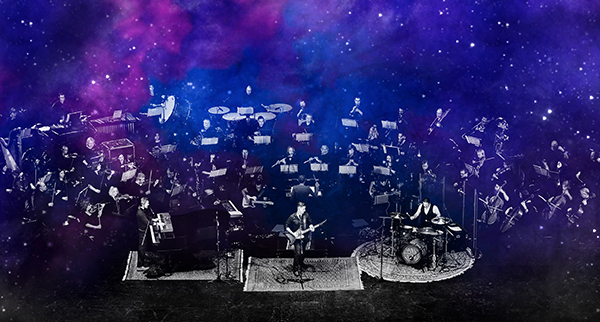 I couldn't think of a more iconic venue for Hanson to bring their 'String Theory' show to Australia, tonight we are in the Sydney Opera House. Hanson have always delivered live so in not looking at track listings or any footage from this String Theory tour tonight I am ready to immerse myself in a journey. Looks like the sold out venue is coming along with me too…
Cheers as the lights go down and the orchestra sit waiting but the cheers are deafening as Hanson take the stage. Isaac greets the crowd as Zac and Taylor explain the show and with a "this is String Theory" Taylor takes his place behind the piano and as he hits the opening to 'Reaching For The Sky (part 1)' the orchestra fills the room accompanying his voice and you could hear a pin drop in here. Wow. What an opener. Zac steps up and takes the lead next but this is the first time we get to hear those unbelievable Hanson harmonies as 'Joyful Noise' turns things up a bit and wow this is special. I don't know that song very well but I will now. The phones come out as the fansons know what's coming and a version of 'Where's The Love' that is in a way somewhat non recognizable as the orchestra suits this song like it was written this way. Do I hear a bassoon?! I damn well hope so because if there's one instrument that song requires it's a bassoon!! Just want to apologize people, this is going to be one of those reviews as this is already off the charts. It is so easy to listen to and just comforting. All I need to say about 'Dream It Do It' is that it just gave me chills.
Isaac throws on an acoustic as the guys take to the front of the stage and those opening notes take us to the song that tonight has matured and acts its age. This version of 'MMMBop' is the only way I'll ever listen to it now as this arrangement with the performance of the violins and the way they hit those musical stings is perfect. They've made a song that was once so cheesy it was a cheap cheddar and has now turned it into the most mature aged cheese that people fight over at parties. Like it's the good stuff. You know what I mean. Wow. The versatility of the band is shown once again as Zac takes centre stage on guitar, Isaac on piano and Taylor on drums. Zac on lead for 'Chasing Down My Dreams' and I can't get past the sound in here. It's just superb. Musical chairstruments again as they all switch and things rock up a little with 'Tragic Symphony' and this is worthy of a movie soundtrack. Without taking a breath things get smooth in here and 'Get A Hold On Me' and it was over as quick as it began but it seamlessly became a simple piano and orchestra to intro fan favourite, 'Yearbook' and it gets epic. I'm actually enjoying watching the conductor on this one, he's into it. Man, this show is something special.
It's all drums at stage front as they bash away but keep those ridiculously amazing harmonies so far on point that there's no point in anyone trying to be more on than this. In fact we can never use the term on point anymore as this is the only thing that is now. 'Siren Call' was nothing short of spectacular. The orchestra stops as Taylor's voice and a piano fill the concert hall along with those harmonies for 'Me Myself And I' before the orchestra takes it next level. Isaac takes lead on the second verse and Zac the third. It's just right. A single cello and the piano have the room silenced as it finishes and we hear "That's the end of part 1 and we'll be back in a few minutes with part 2…"
The cheer level remains as it was at the beginning if not louder as part 2 begins. 'Reaching For The Sky (part 2)' brings it back around before those all but familiar piano notes start for 'This Time Around' and as with everything else tonight it's taken to the next level and presents the first clap along moment for the evening. That truly could've been the show closer for me. 'Something Going Round' keeps the vibe up and just the way this is arranged allows it to shine. The way the orchestra cuts through doesn't take anything away from the song and the way it stopped was flawless. Taylor has a tambourine, I repeat, Taylor has a tambourine. As he treats it with respect during the verses of 'Battle Cry' he gives it a good thrashing in the choruses. It shall now be known as a Taylorine. This is a new one that I haven't heard before due to my waiting for this show but damn I mean I'd use a swear word here usually but this is a family show. Damn. That was a song and a half.
'You Can't Stop Us' keeps things moving but as it slows to a sea of violins before Zac brings the drums in I literally once again have goosebumps. They have absolutely done all of this right. The arrangements are spectacular. Musical chairstruments again as Zac and Taylor swap for 'Broken Angel' and didn't they love that one with Zac on lead. He returns to the kit but stays on lead vocals for 'What Are We Fighting For' which was great. The bongos exit the stage and oh man a big ballad with strings. You know how to win me even more over, Hanson. 'Breaktown' just may be close to my favourite of the night. What a beautiful song. A middle 8 too?! You're killing me. Now a guitar solo? Stop it! Ok amazing song you win the night.
Taylor puts a guitar on and all of a sudden everyone stands up. Is that a thing?! Must be. Weird but I can dig it. With 'No Rest For The Weary' they got people singing and clapping and that kept going as 'I Was Born' got the string theory treatment and the song was already crazy good in terms of arrangements before in terms of its stops and timings but those violins wow. 'Sound Of Light' and its 'whoa ohs' are fun to hear oh man that was tight. A message before 'Tonight' which is a builder and a great message indeed. What a way to end the show. A standing ovation and so much respect for what people just saw.
There were times tonight I forgot the orchestra was there because it just sounded like it was supposed to and I mean that in it didn't feel at all forced or done because they just thought it would sound good. I've seen a few orchestra shows in my time but tonight the way that these songs were reinvented and arranged to be performed with an orchestra tipped this over the edge for me. This had thought behind it and those thoughts were genius. What Hanson did tonight was truly special and I'm beyond stoked I was here to witness it.
Perfection.
HANSON | STRING THEORY AUSTRALIAN TOUR 2019  – REMAINING TOUR DATES
Presented by Chugg Entertainment
SYDNEY
Tuesday 5th March – Sydney Opera House Concert Hall (All Ages)
sydneyoperahouse.com
CANBERRA
Wednesday 6th March – Canberra Theatre Centre (All Ages) 
canberratheatrecentre.com.au
GOLD COAST
Friday 8th March – The Star (All Ages)
ticketek.com.au
BRISBANE
Saturday 9th March – Concert Hall QPAC (All Ages)
qpac.com.au
Essential Information
Venue: The Sydney Opera House
Date: March 4, 2019
Presented by: Chugg Entertainment
Website: http://www.hanson.net
Set List:
Reaching for the Sky (Pt.1)
Joyful Noise
Where's the Love
Dream It Do It
MMMBop
Chasing Down My Dreams
Tragic Symphony
Got a Hold On Me
Yearbook
Siren Call
Me Myself and I
Reaching for the Sky (Pt. 2)
This Time Around
Something Going Round
Battle Cry
You Can't Stop Us
Broken Angel
What Are We Fighting For
Breaktown
No Rest for the Weary
I Was Born
Sound of Light
Tonight