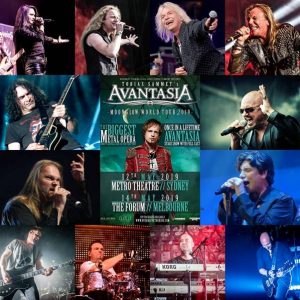 As it was announced late last year that the world's biggest Metal opera was finally coming to Australia. 20 years after the release of the original Metal Operas, Musical mastermind Tobias Sammet decided to bring the full AVANTASIA stage show to Australia!
As the AVANTASIA dates, inch closer and closer to Australia, set for impact this May, the cast of this once-in-a-lifetime event has been announced! Amidst sheer praise and admiration for 'Moonglow' (Which hit #1 in the German album charts), Tobias Sammet has out-done himself with a world-class roster of singers and musicians that will be making the trek down under this May:
TOBIAS SAMMET – Lead vocals (Edguy, Avantasia)
BOB CATLEY – Lead vocals (Magnum)
ERIC MARTIN – Lead vocals (Mr. Big)
GEOFF TATE – Lead vocals (ex-Queensryche, Operation: Mindcrime)
JORN LANDE – Lead vocals (ex-Masterplan, JORN)
RONNIE ATKINS – Lead vocals (Pretty Maids)
HERBIE LANGHANS – Backing vocals / Lead vocals (Sinbreed)
ADRIENNE COWAN – Backing vocals / Lead vocals (Seven Spires, Winds of Plague)
SASCHA PAETH – Guitars (Producer for Avantasia, Edguy, Angra, Shaaman, Rhapsody of Fire, Kamelot, After Forever and Epica)
OLLI HARTMANN – Guitars / Backing vocals (At Vance, Hartmann)
MIRO RODENBERG – Keyboards (Producer for Angra, Shaaman, Luca Turilli, Rhapsody of Fire, Kamelot and Heavens Gate)
ANDRE NEYGENFIND – Bass (Avantasia)
FELIX BOHNKE – Drums (Edguy)

Having blown crowds away with headline sets at both Wacken Open Air in Germany and Barcelona Rockfest while touring their previous album Ghostlights, AVANTASIA proved they are one of the biggest names in operatic and symphonic heavy music. Sammet is a masterful storyteller, creating epic fantasy worlds that can barely be contained within his sprawling concept albums. They can barely be contained on stage either with AVANTASIA shows typically lasting for up to three hours!
WATCH The Tour Trailer: https://www.youtube.com/watch?v=EZZD9X_qkiY
AVANTASIA's eighth studio album, 'Moonglow' was released via Nuclear Blast in February and boasts an incredible list of performers including Jorn Lande, Eric Martin (Mr Big), Geoff Tate (ex-Queensryche), Michael Kiske (Helloween), Bob Catley (Magnum), Amanda Somerville, Candice Night, Hansi Kursch (Blind Guardian) & Mille Petrozza (Kreator)
It can absolutely be said that Australia has never seen a tour like this. From the depth of storytelling, to the range of the cast, to the sheer musical brilliance – this is a once in a lifetime tour! Do not miss this!
AVANTASIA TOUR DATES:
RSVP & Ticket Links:
May 12th – Sydney, Metro Theatre
RSVP: https://bit.ly/2tJfcGX
Tickets: https://bit.ly/2IMBZMr
May 14th – Melbourne, The Forum (SELLING FAST!)
RSVP: https://bit.ly/2TkNyid
Tickets: https://bit.ly/2Uk2c6E
Presented by Overdrive Touring