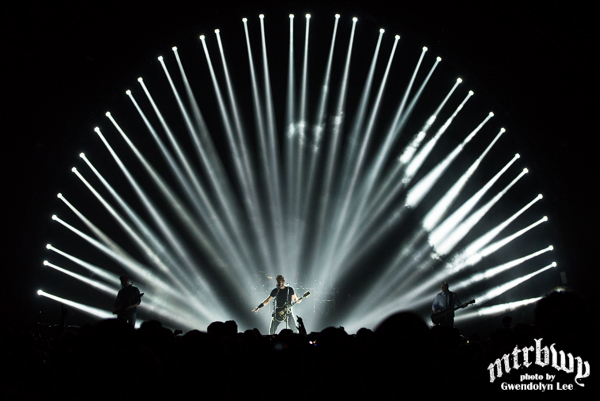 It's time to feed the rock and roll machine! Nickelback are Nickelhere in Sydney tonight promoting their newest album 'Feed The Machine' and being a Nickelback friendly zone here at MTRBWY we never miss these guys when they're in town, so tonight we're ready once again!
Warming up the crowd tonight Bad Wolves instantly hit it and hit it hard. Bit of a tough sell early on (Nickelback fans aren't really the "let's open this pit up" kind of crowd) but watching the way they did get those fists pumping early on was good. This is a damn heavy way to start things off. Oh man what a sound, this one is pure melody mixed with some big heavy sounds, and I have to say that I'm digging the hell out of it. Hitting us with the heavy subject of suicide they throw in 'Remember When' and this metal power ballad is fucking amazing. The set continues and these guys are so good, a tight band and huge sound is the best way to warm a crowd up and as they continue it's time for another big ballad and I'm good, I do love a big rock ballad as you know and when it's heavier this one ticks all the boxes!
Time for some covers and in a weird choice they start with Queens of the Stone Age 'No One Knows' followed by some SOAD with 'Chop Suey' and now some Nirvana. Oh man some of these are a hard sell but they slogged on. Then dedicating one to Pantera they get back into their originals with 'Officer Down' which is a whole lot of heavy. Very heavy. Closing their set with their awesome cover of 'Zombie' and an emotional tribute to Delores O'Riordan the room was singing along and they lit the place up with phones and it looked amazing. A very emotional singer thanked the crowd as Bad Wolves delivered a big heavy great warm up set! I'd love to see these guys in a smaller venue as the place would be insane!!
Lights down and red bathes the arena as Daniel Adair takes his seat behind the drums and as the rest of the band follow onto the stage they waste no time in jumping straight into the album opener 'Feed The Machine' and the heaviness of Nickelback live shines through instantly. These four guys bring a heavy game to the stage every time and as they power through the opener the scene is truly set. Holy shit they jump way back to Silver Side Up and 'Woke Up This Morning' and it sounds just as good as it did back in 2001. The twin guitars in this band are what fill this out ridiculously and they deliver it impeccably. After a chat it's time for 'Photograph' and tonight is set to be hit after hit and I'm ok with that. I love it when bands throw the big ones in early and this one is one of the biggest. Sticking with 'All The Right Reasons' it's time for a big Nickelballad and 'Far Away' is up and it gives everyone the chance to sway and catch their breath while the band hit the key change perfectly. They sure can nail a ballad.
It's time for a drink before 'Savin' me' and the catalogue keeps delivering. Playing another one from 'Silver Side Up' and an album cut which is outstanding they play 'Hangnail' which I never thought I'd hear again, it's been seventeen or so years!! It just sounds so heavy here in the arena. They nailed it. Pun intended. It gets even heavier in here if that was even possible as 'Something In Your Mouth' rips the place apart and to hear everyone yell this one back is a pleasure to not only me but the band also. Oh nice!! Unexpected one with 'Hero' and made even better by Ryan Peake taking the second verse. Always a good song and live so much better.  'Figured You Out' keeps those amazing Nickelback lyrics up front yet you just love them. It's so damn heavy and the vocal work between Chad and Ryan is spot on.
Daniel drums the next one in as the guys play in before 'Someday' begins and the cheer was amazing. The crowd joins in as they belt this hit out perfectly. Chad's vocal technique in this one is always a pleasure to watch and listen to. The guys minus Chad stay on the stage to outro the song and the cheers stay as loud as they were at the start. An eerie intro leads into Ryan on the piano for 'Lullaby' and a guitarless Chad wanders the stage and the Nickelballad parade continues. After yet another bevvy of cheers things get a whole lot more rock and roll in here with 'Animals' and it's chunky as hell. And fuck this is tight. They've always run a slick production but man. On. Point. Wow. Two acoustics come out as the crowd join in for a sing along before 'When We Stand Together' starts and with a "hey eh eh hey yeah" we all sing together. They get a couple of people out of the audience to sing 'Rock Star' and mad props to Cody who owned it!! That was awesome. Things get back into it with 'Gotta Be Somebody' and it hits such a groove live. Just watching these guys play is a treat. Damn that's a good song.
It's time for a mega sing along intro for 'How You Remind Me' and this is always going to be the biggest song of the night. It still stands up after so long and they still play it like it's the first time they played it but it just happens to be in front of a whole lot more people now. After that killer tune they leave the stage but the crowd are so damn loud it's not long before the stage rumbles and the band return. They hit the stage at a 'Million Miles An Hour' and smash this rocker out of the park!
There's just something about 'Burn It To The Ground' that gets me pumped up! The riff, the groove, the whole damn thing. As the band once again bathed in red absolutely slay this killer track it's fair to say we're close to the end. I don't want it to end as this is a straight up rock and roll show and a fuckin good one!
Nickelback always deliver, that's all I need to say. Wait, one more thing. Just go and see them, you'll love it!
Catch Nickelback at their last Australian show on this tour tonight!
Melbourne – Rod Laver Arena – February 16
Tickets details at livenation.com.au
Essential Information
Venue: Qudos Bank Arena
Date: February 15, 2019
Presented by: Live Nation Australia
Supported By: Bad Wolves
Photo By: Gwendolyn Lee – Check out our full gallery HERE
Website: http://www.nickelback.com
Set List:
Feed The Machine
Woke Up This Morning
Photograph
Far Away
Savin' Me
Hangnail
Something In Your Mouth
Hero
Figured You Out
Someday
Lullaby
Animals
When We Stand Together
Rock Star
Gotta Be Somebody
How You Remind Me
Million Miles An Hour
Burn It To The Ground