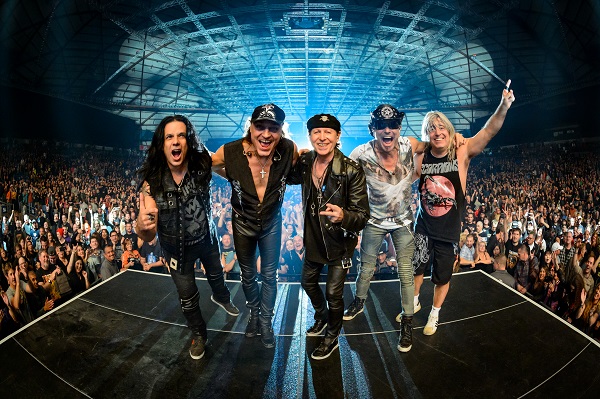 "Now we got the offer to play with Def Leppard, YES, very special guests because Def Leppard when I remember the 80's they were often our support band and special guests and stuff and we have a very good feel with those guys."
From Release: In 1988, Scorpions were the first Western rock band to play ten consecutive sold-out shows in the then Soviet Leningrad. Returning the following year to play the Moscow Music Peace festival, Scorpions ultimately conquered Russia inspiring frontman Klaus Meine to write the track that became a theme song to the Iron Curtain's fall: "Wind of Change." The 1991 megahit ballad peaked at #2 on the Billboard chart and hit #1 in eleven countries, while the anthemic "Rock You Like A Hurricane" has been covered more than 150 times by different musicians.
At home in Germany recovering from their Mexican tour Rudolf Schenker gave us a call for an awesome chat about their upcoming tour of Australia with Def Leppard, the longevity of Scorpions, generational fans, new music, what inspired 'Wind of Change' and more…
Thank you so much for your time today, Rudolf, we're here because you're heading over to see us in November with Def Leppard, how pumped are you to finally be touring Australia?
I tell you one thing because in 1991 when we got the offer to play there my friends and I were tired because we played already one and a half years on the road and then we got this offer because I think 'Wind of Change' was number one or number two in the Australian charts and my friend said I tell you one thing, it's too much, let's do it next year or in two years and then grunge came and alternative and all that sort of thing and everything had a different face. So in this case when we did the 50 years anniversary tour we got the offer to play in Australia in Melbourne and we said OK in our history we didn't play even when we could play so let's go and put this needle on Australia. Then everything was sold out so quickly and the concert was fantastic, also the whole venue so that was a great experience like coming from New Caledonia that we played one day before or a few days before it was our routing that was fantastic. Now we got the offer to play with Def Leppard, YES, very special guests because Def Leppard when I remember the 80's they were often our support band and special guests and stuff and we have a very good feel with those guys. I tell you one thing Judas Priest and Def Leppard were involved by founding the album title 'Blackout' because I had a blackout when I partied with the Leppies and Judas Priest and this was the result which ended up that we recorded an album called Blackout. Troy in this case we enjoy it very much, the package is very good, Scorpions and Def Leppard it's a fantastic thing and we are looking very much forward to coming to you guys.
A few years ago was the 50th anniversary of The Scorpions, an unbelievable feat and you're still rockin', what do you attribute this longevity to?
I tell you one thing, it's the philosophy, I was a guitar player I actually was a soccer player but was a music lover no question about this but I even started playing guitar even when Elvis and Little Richard and all those guys were involved in making great music, but it was somehow not working with me I was more a team player playing soccer again but when The Beatles and Rolling Stones came there was my sign, I said that's what I want to do, four or five friends travelling around the world making music, that's what I'd do. I started rehearsing guitar again and was looking around where I find good musicians and people I can build a friendship with. That was the basic, the formula which I always kept in the whole situation, you have to have friends around to enjoy, especially being up to spend this high you need friendship because you have to go through a lot of difficult times and if you have friends you overtake this bad times much easier than have some egos that are very, very good but not understand friendship and what it's all about with a band and the function and the food of the band can stay together for this long and always when we have new members there was always a situation of is he fitting in, can he be our friend, is he a nice guy, and that was the situation why Mikkey Dee is now in the band because after we found out James is difficult to get back on the track, Matthias called Mikkey Dee and asked him can he replace for a short time, Mikkey said immediately yes and we  found out this guy was always a Scorpions fan, we were always very much connected with Motorhead because we had a kind of friendship with Lemmy and because when he first started building his band Hawkwind and starting Motorhead he was in '74 our support band in this case it was the first time we were running into each other in this moment and we always somehow ran into each other later before he died on the Hellfest in France and we had our congratulations, he congratulated me for fifty years of rock and roll, I congratulated him for forty years of rock and roll. So in this case we were very much connected, so when Mikkey Dee he kicked our ass again because always when new people come in they have something to say and to tell and we're feeling fantastic and we are very happy to come with Mikkey into Australia, that's the reason we are fifty years together, over fifty years, fifty two now.
You also would've seen generations of fans now come along to your shows, is this something you've witnessed personally and how does it make you feel to see how much the music has allowed this to happen?
I mean I love it because that's the reason when we did the farewell tour and somehow facebook came around we found already that we had one million people from the beginning 80% of fans they were between 16 and 26 years old, we could see this also in front of the stage and we were overwhelmed because we said that's fantastic that in this year and at this time because of computers and all this dance music or whatever is happening that there are still people into rock music and even coming with the new generation with the kids and keep putting us especially after MTV asked us to do MTV Unplugged  and that was the situation we could never do in the 80's and 90's because we were always booked, we said we have to put it into our career and then everything moved by itself because of the young people also, the old fans hanging in, it's fantastic, it's like a family, it became family music, it started a revolution *laughs* it's kind of a family for people who love pure music and I think that's what it's all about. That's the reason Wacken is so big, 80-90,000 every year because people were enjoying hanging together with music lovers and that's fantastic and I think that's for us on stage it's great, it's amazing.
So, we had 'Return To Forever' a few years back, are there plans for new material any time soon?
I tell you one thing, we are open minded but we are not in the situation to say oh we have to do a new album, when something inspires us and that's the very important part, it has to inspire you, you don't go in and say OK you want to do this and say that's alright let's do it, so no, it has to be a power which actually forces you to create new stuff, that's the only way, that's one and one is three, that's the situation you can actually do something special. Are we waiting for the momentum and we'll see, we are open for it, we don't have a plan, but we are open for it.
Over time it's easy to say what's changed but what would you say is the one thing that's stayed the same in your time with Scorpions?
Friendship *laughs*. I mean the music is there, but the friendship is there, especially in the 90's when grunge and alternative, you have to find a way, you want to find alternative and grunge or what can you do? The good thing about Scorpions were we already in the 70's and 80's and the 80's especially we went to places nobody else went, tour Asia, we built already our fanbase there, we had twenty times platinum in Thailand, ten times in Malaysia, in Indonesia , and so in this case we had a playground where we could play when grunge was very strongly in America and in Europe. So we played to stadiums there and surviving momentum by doing the right thing at the right time because before everybody jumped on the same train, so in this case it was fantastic for us and I think that's a very important point for Scorpions, our slogan was in the old days was we play everywhere where electricity is, and that's great, an adventure that gives you new inspiration for writing new stuff. So now Australia, Australia could be an interesting inspiring moment.
I want to ask about the Moscow Peace Festival, although some time ago it's a privilege to talk to someone who played on it with that spectacular line up! Do you have a great memory of that experience?
I mean there was 'Wind of Change' because one year before we played in Leningrad, ten shows in Leningrad, that was the old USSR then one year later we did this Music Peace Festival with all our friends like Ozzy and Bon Jovi and Motley Crue and we saw the world is changing in front of our face, we were going by boat to Gorky Park where the big party was happening. All these things gave us the signs there is something in the air and this was 'Wind of Change', 'Wind of Change' came out of this kind of experience. See that's what rock and roll is all about, be inspired and then you can deliver.
Def Leppard with special guest Scorpions Tour Dates:
PERTH ARENA
FRIDAY NOVEMBER 2
ADELAIDE ENTERTAINMENT CENTRE
SUNDAY NOVEMBER 4
BRISBANE ENTERTAINMENT CENTRE
TUESDAY NOVEMBER 6
ROD LAVER ARENA, MELBOURNE
THURSDAY NOVEMBER 8
ICC SYDNEY THEATRE, SYDNEY
SATURDAY NOVEMBER 10
SPARK ARENA, AUCKLAND
MONDAY NOVEMBER 12
For complete tour and ticket information, visit: livenation.com.au
Essential Information
From: Germany
Band members: Rudolf Schenker — rhythm & lead guitars, Klaus Meine — lead vocals, guitars, tambourine, Matthias Jabs — lead & rhythm guitars, Mikkey Dee — drums, backing vocals, Pawel Maciwoda — bass
Websites:  http://www.the-scorpions.com  , twitter.com/scorpions  , www.facebook.com/Scorpions