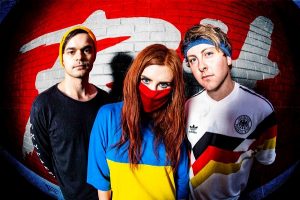 After their 2018 debut single 'Minute On Fire' exploded on YouTube with 1.8 million streams (largely thanks to fan-generated content) Sydney-based screaming rap-rock-electro-pop mutants RedHook have returned with their new single, 'Turn Up The Stereotype'.
"I might be a fuck up, but at least my fuck ups are original," roars vocalist Emmy Mack in the song's psychotic two-step glitch breakdown, in a loud and furious statement of the band's identity.
"I wrote this song because I was pissed off," Mack explains.
"No matter who you are — whether you're a musician, a sports person, a student, or if you work in some other field — you've probably encountered the type of person who takes pleasure in seeing you fail. Maybe who even goes out of their way to try to make it happen," she continues.
"'Turn Up The Stereotype' is one part F-U to those real life bad guy stereotypes and a call for them to take a long hard look in the mirror, and one part empowerment anthem to everyone else who's ever felt victimised by their sh*t."
A combustible cocktail of Mack's acidic lyricism and venomous vocal hooks and guitarist Craig Wilkinson's groove-fuelled riffage and EDM-influenced production, 'Turn Up The Stereotype' was produced by Stevie Knight (Trophy Eyes, Stand Atlantic) and Dave Petrovic (Northlane, Tonight Alive), mixed by James Paul Wisner (Paramore, Hands Like Houses) and mastered by Steve Smart (Parkway Drive).
RedHook will toast the release of 'Turn Up The Stereotype' in their hometown of Sydney with a now totally SOLD OUT live launch at alternative nightclub AM//PM (a stage that now feels very much like home) on Saturday, 27th October.
The release of 'Turn Up The Stereotype' also coincides with the band's announcement as part of Australian Music Week's curated four-band heavy music showcase, which will take place at Cronulla's Miranda Hotel on Thursday, 8th November.
After a year spent earning a dedicated following on the live circuit and sharing stages with the likes of Dream On Dreamer, The Getaway Plan, Stand Atlantic, Dear Seattle and Thornhill, RedHook are now launching full force, with an arsenal of more huge tunes still to come.
'Turn Up The Stereotype' is available worldwide now
Click to stream 'Turn Up The Stereotype'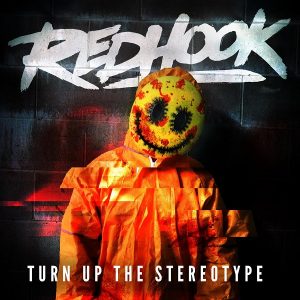 REDHOOK
'TURN UP THE STEREOTYPE' LAUNCH SHOW
SAT 27 OCT | AM//PM @ THE BURDEKIN HOTEL, SYDNEY NSW – SOLD OUT –

THU 8 NOV | AUSTRALIAN MUSIC WEEK @ MIRANDA HOTEL, CRONULLA NSW
Click for Tickets
SUPPORT FOR REDHOOK
"This is a rollercoaster ride bumpier than any other and i'm leaving invigorated af". – 4/5 Stars
– Declan Byrne – triple j (AUS)
"Dynamic and engaging – genre synergy at its best".
– Grace Farrell – FBi Radio (AUS)
"RedHook effortlessly combine pop-sensibility with modern rock and a touch of post-hardcore. Flawlessly catchy, modern and mosh-inducing".
– Heavy Mag (AUS)
"RedHook will punch you right in the guts from the first listen. That's not only because the music possesses a relentless intensity but also thanks to the emotional depth that sticks with you".
– Cool Accidents (AUS)
FOLLOW REDHOOK
FACEBOOK | TWITTER | SOUNDCLOUD | SPOTIFY | APPLE MUSIC