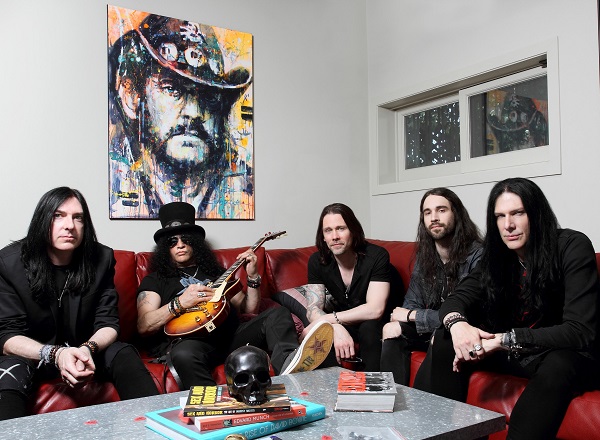 "The new record sounds like a very well-oiled machine of guys that do really understand each other well and I think it is our strongest body of work because of all that experience we've had together…"
From release: Slash has amassed album sales of over 100 million copies, garnered a GRAMMY Award and seven GRAMMY nominations and was inducted into the Rock and Roll Hall of Fame. Slash landed on the top of the charts with his first solo album, Slash (2010) which featured Ozzy Osbourne, Fergie, Myles Kennedy and more. The album debuted at #2 on the Australian ARIA chart and is certified as an ARIA Accredited Platinum album. Shortly after, he formed his current band Slash Ft. Myles Kennedy & The Conspirators–which features Myles Kennedy (lead vocals), Brent Fitz (drums), Todd Kerns (bass/vocals) and Frank Sidoris (rhythm guitar)–who've been touring worldwide and making music for over four years.
In Long Island on a needed day off Fitzy gave us a call to talk about their new album 'Living The Dream', the Australian tour, making music with this band, evolution, and more!
To start off, 'Living The Dream' is a damn good record, what if anything did you set out to do differently this time around?
Well I think the time apart has been a very great, healthy, for everybody in the band to have gone on and done something because on the last 'World on Fire' tour and 'Apocalyptic Love' we didn't take a lot of time off, we sort of built on the OK we've done a bunch of shows together, we're a very strong band and you know a lot of new music ideas always came from sound checks and being on tour together and riffs and ideas that Slash would come up with. Then we'd be in the middle of a tour and sort of come up with ideas and then tour would end and we'd go record them, but this time we had those two records back to back and we took a break, and I think the healthy not sure when and where and how we're going to do this again turned this into a great break that brought out a really great record, and Slash was very much always having intention to come back to this and that was explained out right near the end of the last 'World on Fire' tour when there was plans for him to go and do Guns N Roses and I'm sure he didn't know exactly how long this was going to be but this is what is gonna happen and everybody supported and everybody was still able to go and be creative and doing musical things. I've been playing with all different musicians my whole life and so right after Slash I was working with Brad Whitford from Aerosmith and then I was working with gene Simmons, so to come back around to this I think was the best thing to take a break and to go and play with some other people and get excited to come back and I think the album reflects some of that separation and that hunger to get back and make new music together.
That's true as over three albums did you find that as each progresses that you have finally found your footing and groove with each other in the studio?
Yeah that's a powerful thing. I don't tell Slash what to play, he doesn't tell me what to play and when you're in a comfort zone you might almost overlook things and go well, wow we just wrote a bunch of songs and it came together fairly organically and without a lot of… sometimes music you might run into where you're having a bit of like a road block of ideas, we've never not had a steady stream of ideas coming from everybody, and Slash is you've gotta be quick, he's always got great riffs and ideas and you've gotta have a good group of a rhythm section like Todd and I to be like oh, Slash has a riff let's jump on it right away and nurture that idea. So when we came back on this record we literally didn't even talk, we just said hey let's get together on this date, let's start working on some songs, we already had a bunch of songs on the last 'World on Fire' tour that we had worked on, so we almost had half a record done so we were just waiting to finish those songs. Then we got back probably November, December last year, he was a on a break from Guns N Roses and I was on a break from Gene Simmons and Myles was on break from his solo tour, and Todd was on a break from his stuff, and Frank was available and we all just sort of got around and quickly got into writing new songs and nothing was difficult, and the record got recorded pretty fast and we're already on tour with it and it's hard to believe. Wow, we made a record and we've already been out on tour with this and here we are in a couple of months coming to Australia and *laughs* it's just been happening really fast.
So what can we expect on the 'Living The Dream' tour when you head down here?
We like to play all the songs that we record, we've already played six songs from the record in the set that we've been doing in The States here, so we'll have had several months before we come to Australia to try a bunch of other songs from 'Living The Dream' in the set and see which ones are working. I'm just hoping that anyone that's a fan of the band that we're gonna definitely be playing all the new music from the record, and we're gonna play lots of stuff from the last two albums and focus on that, that's what our band focuses on, the songs that this band has written and certainly playing anything from Slash's previous catalogue is always welcome and it's up to him if he feels like I don't want to play Guns N Roses or I don't want to play a Velvet Revolver song tonight we're happy to play *laughs* I think we played a lot of the Guns N Roses songs well and we even used to play an Alter Bridge song on the first tour and it's a great band, so whatever we play and hopefully we'll play mostly the 'Living The Dream' record but if we slip in a couple of Velvet songs and a couple of GNR songs then that's OK too.
You guys are a force live too, what is it about the stage and this band that is such a powerhouse?
God, we've all been in so many bands and played with a lot of great musicians as well and with ourselves together collectively, so I think the strength is that we're all pretty seasoned guys and we've been through lots and other bands, but there's a certain energy that works and we've had success writing songs together, so not only is it playing in front of people playing live but we really get on well playing in a studio environment too, so it's the best of both, it's a great song writing band and it's a great live performance band and ultimately people have responded and enjoy coming to the shows because I think we look and act who we are which is we're having a good time and we all get along great together, and we all respect each other and that's how songs are written. I don't tell Slash what to play and he doesn't tell me and I respect everything about him as a musician and hopefully he feels the same and that's why we're in a band together that he hopefully feels the same about me and Todd and Frank and Myles and this is why we're gonna hopefully continue this band. All of us have other bands going on but it's been working and sometimes being apart from each other and looking forward to getting together again has been a great thing for this band.
Over time it's easy to say what's change within a band but what would you say is the one thing that's stayed the same in your time in The Conspirators?
Well, I think when we write the songs just because I know the process of each guy in our band and how we have worked on songs up to this point together and we sort of have a formula that's understood where we don't always have, it's not a melody and a lyric that we build a song around with Myles, it's generally gonna be a guitar driven idea that we jump on right away. So Slash is never short of riffs and great little parts but not fully realised songs but a good part we can turn it into something. So I think we never have a problem, it doesn't ever have to be discussed other than we speak in music form to each other about like getting idea worked up into a song that eventually Slash comes up with a riff and we try and put it into song form so at least Myles can come up with something and hopefully he'll respond and go "I love that riff".
When you write songs does Myles bring in stuff and Slash brings in things and someone will say, nah, keep that for Guns or for Alter Bridge is there any time when it doesn't feel like a song for this band?
No I don't think so, this band has a formula of jumping on a riff first not so much melody and lyrics, and we like to jam it together, there's no computer, there's no pro-tools, no technology involved just the instruments playing together and a lot of times the best time to do that is when you're on tour and you're doing a sound check and we like to sound check every day so a song can be written quite easily by starting a riff that Slash has come up with in a sound check and Todd and I will instantly we've wrote enough songs together that way that we're pretty quick with coming up with something that will complement that and then we just kind of give it to Myles before it becomes too much of a song and just let him go "oh I like that section of a song you came up with" and then let him start to come up with the melody. So we don't complete the song early on, we just start with the foundation of the music and then hopefully Myles has some inspiration for a lyric idea that will probably go along with the melody and then we circle back, it's almost like everybody has their time with to put their thoughts and stamp on it before we commit to something. In other words it doesn't go into a recording studio and on a computer and we don't start to cut and paste like 'oh let's make the chorus longer, or the verse' we've sort of edited ourselves so well after a couple of record snow knowing and just understanding each other with the song writing that I already know where Slash is coming from with the riff and I know to leave space for him to let that riff shine.
Me personally, my job as the drummer I'm a multi-instrumentalist and to my own detriment I'm coming in usually not focused on my drum parts but I'm more excited about how's the melody gonna work over the music meaning Myles' melodies, so I love to hear what Myles has to say vocally, maybe not so much having full lyrics written but some of the melodies and those will depict what I'm gonna play because I don't want to ever step on the melody because to me the melody is the most important part that complements the song and the music has to speak to the melodies, but my part as the drummer and as a multi-instrumentalist that plays piano and guitar and all the other instruments I'm always thinking what's good for the song? So I know  and everyone else understands that I'm that person too, and they understand the kind of musician I am and I'm not gonna overplay and I'm gonna leave room for everybody, yet, I'm gonna hopefully know what the right part will be, drum part to support the music. It's really interesting as the person that contributed to the albums and I look back and listening to the other records and I definitely hear an evolution ad a comfort. The new record sounds like a very well-oiled machine of guys that do really understand each other well and I think it is our strongest body of work because of all that experience we've had together, and the first record reflects a very new band, and the second record is the expansion of touring relentlessly for several years, but the new record in having the time away from each other but already knowing each other so well and coming back with that new hunger of looking forward to that we're gonna finish all these songs that we worked on I think that really translated well to a really, really strong record.
Slash Ft Myles Kennedy & The Conspirators Australian & New Zealand Tour Dates
Tauranga – Friday 25 January – Baypark Arena
Auckland – Saturday 26 January – Spark Arena
Sydney – Monday 28 January – Qudos Bank Arena
Brisbane – Wednesday 30 January – Brisbane Convention Exhibition Centre
Melbourne – Friday 1 February – Margaret Court Arena
Perth – Sunday 3 February – RAC Arena
Tickets to Slash Ft Myles Kennedy & The Conspirators tour go on sale at 12 noon on Friday 26 October from Ticketek.com.au
A Telstra Thanks presale, exclusive to Telstra customers, starts Tuesday 23 October, from 2pm and is open until Thursday 25 September, 2pm. Go to telstra.com/presale for further details.
Essential Information
From: Los Angeles, CA, USA
Band members: Slash – Guitars, Myles Kennedy – Vocals/ Guitar, Brent Fitz – Drums, Todd Kerns – Bass
Website: http://www.slashonline.com
Latest release: Living The Dream ( Out Now – Sony Music Australia) – Check out our review of the album HERE