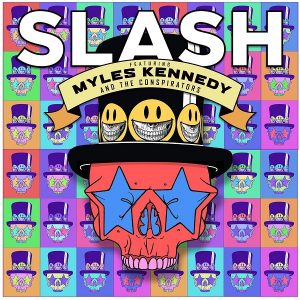 They're back! 'Living The Dream' is Slash's fourth solo album and third with his merry men of Myles and The Conspirators. I'm looking forward to seeing what they've done here as when a band has worked together for a while they truly get into a groove and I get the feeling this album will be the one that will make people stand up and truly take notice.
The album opens with that all too familiar guitar tone and straight away it's ready to go, 'The Call Of The Wild' hits the riff and as Slash's guitar tone has its own entity, as does Myles Kennedy's voice, the vocal layers here always showcase his range, and when this track hits the bridge and drops lower they've really put something cool together before it leads into a quick solo but there's more notes in it to show you who's boss, and a special mention to the cowbell at the end, good work Fitzy. This is the perfect opener for what I hope will be the kick ass rock record we need at this time! Ooh this is different, 'Serve You Right' is a groove laden slower rocker and completely suits this band, musically there is so much going on here and it is so well balanced, oh man, that solo over the top of it all truly rises above without overpowering, that's some excellent producing, Elvis! 'My Antidote' starts with big almost tribal drums and crunchy guitar before doing that thing where you go "fuck yeah" as it hits a riff and straight back into that crunch, oh man this is some killer production. A big rocker that has a hook laden chorus you find yourself humming along to (I say humming because I didn't know the words properly yet) but that one truly stands out and could easily be a single.
We get back into the old school GnR feel in a good way with 'Mind Your Manners' in this one that will go over perfectly live it just has that groove that people will instantly gravitate to and love, then we hit 'Lost Inside The Girl' and hello favourite so far!  This one clocks in at six and a half minutes and I could listen to this for a lot longer than that, it heads up and down and is the closest to an Alter Bridge song here without being that at all, when you hear that Slash solo tear through the song it just feels right. Then as they head towards the outro the underlying guitar pattern here is so damn good, truly a stand out on the album. 'Read Between The Lines' gets a little funky and allows Myles to once again use his vocal techniques and different registers here as the song takes on different feels throughout and the rhythm section here keep that groove going in an almost sleazier rock version of RATM which is really clever. I have no idea what's happening here at the start of 'Slow Grind' ahh there it is, interesting intro before hitting a riff and the verse, but it's not until it hits the Middle 8 here that it becomes clear to me, then once again a perfect solo complimenting the song, curse you and your awesome ability, Slash.
With a title like 'The One You Loved Is Gone' you'd expect a ballad and oh look, it's just that, called it! Hello new favourite, curse my love of ballads, the guitar tone here balanced with Myles' vocals is actually perfect, no other word to describe it. I get the feeling this will power up very shortly and if it does I may need a time out, but that chorus, damn, just give them the $10,000, we have a winner! I'm digging the buzz effect on the solo here and there it is, boom, power and what a way to make a great song even better, yeah I don't need to listen to the rest of the album now, we'll just say it's great or something, but I'm done, out, finished, it's a winner! In no way will they be able to top that one.
OK, you twisted my arm, I'll listen to the rest, geez! 'Driving Rain' we hard as the first single and it was the perfect choice as it just oozes Slash and what this band has become, it's simple but complex at the same time, yeah that confuses me too but it's commercially exactly what it should be, a straight up rock and roll song. This band has it down. "First you get the sugar, then you get the power, then you get the women" there's a Simpsons quote for everything and 'Sugar Cane', well, it has no Simpsons references in it but it has a kick ass riff and I really like this one, it's sweet. Pun intended. There's a whole lot going on in this one but once again production wise it isn't muddy and testament to a great producer in Elvis, he was the perfect choice for this record and he's smashed it out of the park. 'The Great Pretender' has a 'Don't Cry' feel to it and is another slower track and the balance of these big rockers and the slower ones is so well done with each song taking on the ability to be their own yet work as a cohesive album. 'Boulevard of Broken Hearts' closes the album and I'd rather visit this Blvd than the one about broken dreams as this one straight up rocks the shit out of everything. The album closes as strong as it opened and musically shit, there's even an Iron Maiden type guitar part in there making me want to run to the hills, or any damn hill I can find in the middle of Sydney. It's now 8:24am on Sunday morning and with my day starting by listening to this album I can say it was a damn good start to the day as this album is going to have many people feeling the same way, just maybe at a more reasonable time.
'Living The Dream' is by far the best thing that Slash, Myles and The Conspirators have done, they've made an album so well balanced that no one is falling off this thing. They've grown as a band and it shows, these songs are not only some of the best they've done, but some of the best rock songs I've heard in a while. Rock is in no way dead, it's alive and well and has simply got a one word name, and thy name is Slash.
Essential Information
From: USA
Release date: 21 September 2018
Record label: Snakepit Records / Sony Music Australia
Produced By: Michael "Elvis" Baskette
Website: http://www.slashonline.com
Track Listing:
The Call Of The Wild
Serve You Right
My Antidote
Mind Your Manners
Lost Inside the Girl
Read Between the Lines
Slow Grind
The One You Loved Is Gone
Driving Rain
Sugar Cane
The Great Pretender
Boulevard of Broken Hearts