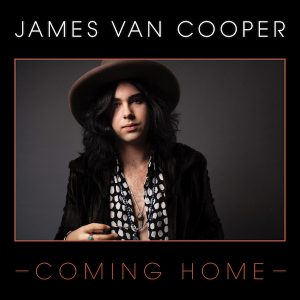 The first time I saw James Van Cooper play was a couple of years ago in his rock outfit called Van Cooper and in the set he played a couple of Butch Walker tracks, now what I love about what James has done is that much like Butch he's moved away from the big rock arena rock sound and made it about the songs and the craft of song writing. This complete 180 flip worked for Butch and I'm sure will work for James too as I can't put my finger on anyone in Australia that really has taken this kind of turn and this sound. So let's check out just what he's done with 'Coming Home'.
The album leads off with 'Passing Through' and it's just so damned easy to listen to. For someone James' age there's such a maturity to his voice and sound. This song was the first single lifted from the album and it's easy to see why, it's just got that friendly, familiar feel to it and if the rest of the album sits like this then wow, we are in for a treat. This song could easily be heard on a soundtrack as you watch the movie's star drive across the dessert taking in the spectacular scenery. That's what this song sounds like! 'Younger Then' sounds like Butch and Ryan Adams met up with Kevin Montgomery and said "hey, let's put all the best bits of our stuff into a song and see what happens" and this came out. Some great timing shifts and a great story to be told which is the way Van Cooper (James not band) has taken his direction and it's very welcomed.
'Come Home' slows things down a little for a nice Americana style ballad, then with the addition of Jaime Wyatt on this one it gives it that extra dynamic vocally. Once again lyrically this kinda stuff wows me, like what's gone in in your life, man? Where does this come from, as it's heartbreaking but amazing. 'Midnight Love' hits a funky kind of groove and keeps the album smoothly running, then 'Car Crash' instantly hits that Ryan Adams vibe and it just may be my favourite on the album so far, it's a little rockier and some excellent production with all sorts of guitars happening here and once again, I think he's truly found his niche in terms of sound and when a song perfects a middle 8 then you're onto something. The tempo picks up for 'Goodbye My Friends' and just as we were tapping away to it the balance of tracks here is perfect, 'Light's Don't Shine' starting with a single acoustic guitar and vocal keeps this one running smooth as slide guitars and harmonies fill it out.
With only a few to go, 'Don't Say It's Over' keeps that slower feel and James' vocal once again is so mature across this and all the tracks and just the way he delivers this style is where he should stay. At almost five minutes you didn't even blink as it just flowed so well. 'Demolition' this far in just became my equal favourite on the album tying with the opener, how does that happen at track 9? It's so familiar yet its own, but I'm most looking forward to hearing this one live as the structure of this song is a little different from the others but truly doesn't stand out like a sore thumb, it's most definitely the rockiest track on the album especially mid song when it hits. The album closes with 'Kew EQ' and I'm somewhat sad it's over, this track starting with some beautiful acoustic guitar work before the vocals come in and balance out basically singing the guitar part which I like. The song stays on this road and closes with a strum and like that the album is done.
This is the kind of album I suggest you pour a glass of something (whisky or wine preferred), turn down the lights and just take it all in, it's so easy to listen to and if you're a fan of Butch Walker, Ryan Adams and that Americana singer song writer style this this album is most definitely for you. Even though the album is called 'Coming Home' listening to the way he sings these songs and delivers his lyrics it truly doesn't warrant him coming home as he's already there.
Essential Information
From: Sydney, Australia
Release date: 7 September 2018
Record label: Independent
Website: http://www.jamesvancoopermusic.com
Track Listing:
Passing Through
Younger Then
Come Home
Midnight Love
Car Crash
Goodbye My Friends
Lights Don't Shine
Don't Say It's Over
Demolition
Kew EQ