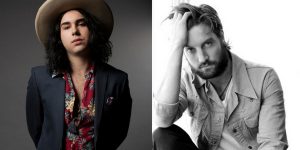 James Van Cooper has announced tour dates in support of his upcoming album release, Coming Home, now slated for release on 14 September, with acclaimed musician, Axle Whitehead joining him on the road.
James and Axle met in Los Angeles recently whilst James was there recording his debut album. Axle, a friend of US music producer Scott Campbell, sat in on a few off the sessions watching James and it was during that time that the boys discovered their musical tastes collided.  Given their creative like mindedness, they agreed to team up and launch a national Australian tour.
Headlining the tour, James will showcase his new record, Coming Home, a mix of new country rock and alt country cool.  Axle returns to Australia after starring in US TV productions Shameless and Marvel's Agents of SHIELD and is especially eager to road test a new collection of songs, which style-wise genuflect at the alter of Ry Cooder and Elvis Presley.
Audiences can expect the two artists to ricochet off of one another live, both brilliant performers in their own rights, with the shows providing a mouth-watering opportunity to see two of the country's most formidable guitarists in full flight.
The tour will see James performing with his 4-piece band, whilst Axle will be accompanied by ARIA award-winning, Carl Dimataga.
COMING HOME TOUR DATES
Friday, 14 September | SLYFOX, Enmore, NSW (Album Launch)
Saturday, 15 September | Heritage Hotel, Bulli, NSW
Thursday, 4 October | The Fyrefly, St Kilda, Vic
Friday, 5 October | Spotted Mallard, Brunswick, Vic
Friday, 19 October | The Brass Monkey, Cronulla, NSW
The first single and video from James' new album, Coming Home, Passing Through, features Matt Pynn on lap steel (Miley Cyrus Band), Steve Taylor on piano/keys (Bob Weir Band ex Grateful Dead), and highly respected LA session players, Hayley Brownell on drums and Rodrigo Moreno on bass.
Listen to Passing Through via iTunes/Apple Music & Spotify here: http://smarturl.it/Get-JVC-PassingThru
A catchy track showcasing an outstanding artist well beyond his years musically, the whole album has enough hooks and twangy guitars to satisfy those that like their country both epic and nuanced. Van Cooper's guitar playing is exemplary and his songwriting is full of cinematic imagery.
Coming Home is scheduled for release on Friday, 14 September via digital platforms, with CDs available at shows.
ABOUT
James Van Cooper is a 21-year old singer-songwriter and guitarist hailing from Sydney. James spent his early teens playing apocalyptic metal, most notably Motley Crüe and LA Guns. By the time James was 19 he'd vanquished the metal mayhem and followed his musical compass to a sound and style that was less attention seeking than his hard rock days, and a more mature, more provocative country music artiste emerged.
Developing into an Australian Americana/Country Guitar Rock performer, his sound is dedicated to the stylings of cool country hipsters, Jason Isbell and Ryan Adams. A gifted guitarist Van Cooper's playing leaves you in smoking ruins and his songwriting is beyond tweet-sized pop nonsense.
James is proudly a musical ambassador for RUOK? Organisation.
FOLLOW JAMES VAN COOPER
Facebook:  https://www.facebook.com/JamesVanCooper/
Website:  https://www.jamesvancoopermusic.com/
Spotify:  https://open.spotify.com/artist/1RZb3okhBVoKrYsQKv5quW?si=3n49uLjjSy2Az-jQiM9mig
Comments
comments