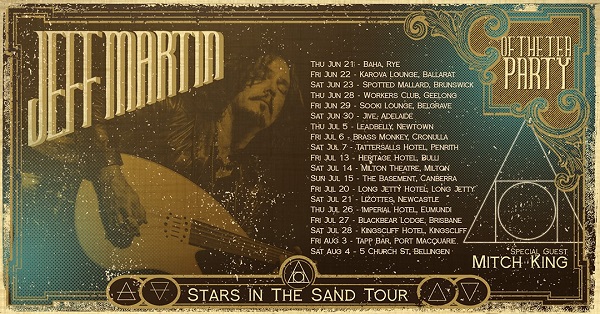 Seeing Jeff Martin solo is an experience, and this venue is just perfect for what we can expect tonight, and I have to say that I've been lucky enough to see The Tea Party play here previously back in 2012 and that was amazing, so now tonight getting to see Jeff Martin do his thing here but this time solo will without doubt be something just as special.
Jeff takes his seat on stage and in true Jeff Martin style the guitar rings and I'm not sure how but he can even make getting ready a work of art. His unmistakable vocals cut through as he opens the show with 'To The Forces' a song from his newest EP and it truly sets the scene for what's to come. What I love about seeing Jeff Martin in an environment like this is the respect. The crowd are silent and hanging off every word and it's just a pleasure to be at a show where the artist commands this kind of respect. As his foot stomps in time with the next one taking it into 'Sister Awake' there's a little bit of 'Kashmir' from Led Zeppelin thrown in for good measure and just the groove here is what this man is all about, his songs have it and they have feeling which shines through. As he explains his trip in 2015 to Morocco and rediscovering roots explaining how he worked with many people over there as well as using new instruments and the resulting work put into this new EP that he says will remind us of things in the past, the present and things to come. This one is for us.
That drone under the guitar is just something to behold as he showcases some talent on that twelve string almost teasing us with what he's about to play and of course it was what I was hoping and it's 'The Bazaar' and I have to say that when you hear it this way it still retains the same power than when you see it with The Tea Party which is truly the sign of a great song and great talent playing it. A quick guitar change, and with six strings less a dedication to his late friend Corey and with 'Requiem' he delivers a version that was just breathtaking. How one voice and one guitar can command so much is just beyond impressive and just when it couldn't get better it did, right now he's playing 'Hurt' by NIN of course leaning more towards the Johnny Cash version and hearing Jeff Martin sing this is an absolute treat. This could be one of his songs and I hope this stays in the set for as long as he plays music, then in true Jeff Martin style brings it back around to finish 'Requiem' and it was just as good as it was when it started.
A love song for his wife and also for those here in love 'Stars In The Sand' from the namesake from his new EP is just beautiful and what made it even more beautiful was it blending seamlessly into 'The Messenger' and this one I've heard in this manner before but man when his voice goes up and belts it out it just blows everything away. Wow. Powerful has a new definition in the dictionary and it's this version of that song. Jamming out 'Winter Solstice' as the crowd claps along it fades into a cover of 'With Or Without You' by U2 which when played by Jeff just sounds that little bit better and I'm hoping it blends in with my favourite Tea Party song as it has before but let's see. Ooh it didn't, but in a turn it's made its way into 'Save Me' instead which was a cool way to finish that brilliant cover off. After a story about fungus, dancing bears and talking eagles Jeff plays a song written about the experience and gives us 'Shadows on the Mountainside' taking us way back to 1995 and hearing it with simply an acoustic and his voice is damn cool. Staying in 1995 and with 'The Edges of Twilight' album 'Coming Home' gets the place stomping and clapping along and of course he nails it, and as it finishes he thanks the crowd and leaves the stage.
The noise intensifies as they await his return and as his support Mitch King comes out on the harmonica Jeff returns and the two of them belt out some blues with 'Bring It On Home' which is really suits exactly what Jeff can do, taking it into 'Black Snake Blues' with even a little bit of Chris Isaak and a touch of Zep's 'Whole Lotta Love' thrown in for good measure makes this just something different and what a way to end the show.
It actually amazes me how one man can captivate an audience the way Jeff Martin does but what he does is beyond special and it is truly something to behold.
Jeff Martin solo – 'STARS IN THE SAND TOUR' – remaining dates
Fri Jul 6 – Brass Monkey, Cronulla, NSW
Sat Jul 7 – Tattersalls Hotel, Penrith, NSW
Fri Jul 13 – Heritage Hotel, Bulli, NSW
Sat Jul 14 – Milton Theatre, Milton, NSW
Sun Jul 15 – The Basement, Canberra, ACT
Fri Jul 20 – Long Jetty Hotel, Long Jetty, NSW
Sat Jul 21 – Lizottes, Newcastle, NSW
Thu Jul 26 – Imperial Hotel, Eumundi, QLD
Fri Jul 27 – Blackbear Lodge, Brisbane, QLD
Sat Jul 28 – Kingscliff Hotel, Kingscliff, NSW
Fri Aug 3 – Panthers, Port Macquarie, NSW
Sat Aug 4 – 5 Church St, Bellingen, NSW
Tickets from www.jeffmartinofficial.com
Essential Information
Venue: Leadbelly, Newtown, NSW
Date: July 5, 2018
Website: http://www.jeffmartinofficial.com