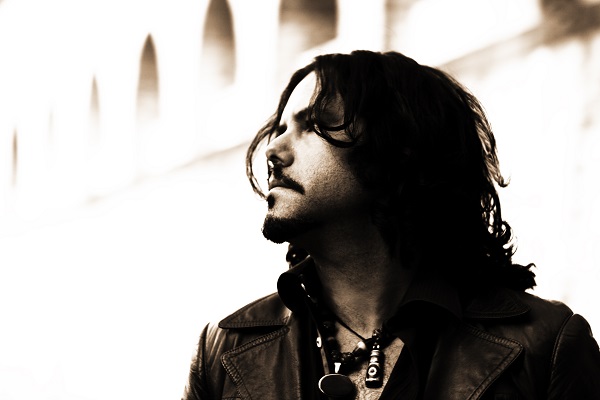 "I just want to do something different, and it'll be the same with Michael Stipe, the way he sang the R.E.M. songs I can't do it like him so I need to do what I do to my strengths but at the same time going back to what we said earlier I've got to maintain the soul and the integrity of the song."
From Release: THE ONES WE LOVE is a unique series of concerts in Brisbane, Sydney and Melbourne Celebrating R.E.M. featuring an All-Star line-up of singers – Jeff Martin (The Tea Party), Steve Kilbey (The Church), Ron S. Peno (Died Pretty), Trish Young (The Clouds), Alannah Russack (The Hummingbirds), Ashley Naylor (Even), Greg Atkinson (Ups & Downs), Peter Fenton (Crow), with special guest Amanda Brown (The Go-Betweens). Together they will pay tribute to R.E.M. by performing songs from R.E.M's rich back catalogue from the period 1982 to 1992 including – Losing My Religion, The One I Love, Man on the Moon, It's The End of the World, Radio Free Europe, Drive, Orange Crush, Everybody Hurts, The Sidewinder Sleeps Tonight, Nightswimming, Stand, Fall on Me, Driver 8, Shiny Happy People plus plenty more. Backing them will be some of Australia's finest musicians who will honour the sound that was uniquely and undeniably R.E.M.
We gave our mate Jeff Martin a call to talk about the R.E.M. Celebration, how it will work, inspiration, solo tours, The Tea Party, and more…
We have to get into this R.E.M. celebration tour because it's really interesting, how did you become involved with this tour?
Well so Paul the musical director of the band that's backing all these incredible singers that I get to be a part of he'd been in touch with Melissa for quite some time trying to get me to be involved with it, and the only reason I couldn't is that I had Tea Party commitments and also my production work here at Rover House a lot of clients that were in and out and having to finish and things like that, right. So we finally were able to come to a time frame where not only could I commit to three shows but I had time before the shows to totally commit to even my own rehearsals of the songs and getting my mind around it because it's something that's very important when you're asked to do something like this you've gotta do it justice and you've gotta put your soul behind it and your integrity, and the last time that I did a tribute thing like this would've been the Zeppelin thing like six or seven years ago and for anyone that's a Tea Party fan or a Jeff Martin fan that wasn't a stretch doing something like that, but an R.E.M. thing when it was presented to me a lot of my fans wouldn't realise that I've been a fan of R.E.M. for quite some time and it presented to me a very interesting challenge because I've been given artistic license from the music director to reinterpret the songs that I've been chosen to do and so it was basically an offer I couldn't refuse once all the stars aligned.
Please tell me we're going to have a dark and moody version of 'Shiny Happy People'…
*laughs* You can keep thinking that.
In all seriousness, I can't wait to hear your spin on these songs, so they will be Jeff Martin'd or will they be closer to the originals?
Well that's what I've been asked to do but at the same time you can do that to a certain extent but there's a line you have to be careful not to cross because you have to keep the integrity and the soul of the song intact, right, and you shouldn't put your own ego onto it, you can put a flare, you can put a flavour, but I think once you put your own ego onto it you've crossed the line and you're missing the point.
So, can you tell us what you'll be singing?
I've been asked not to let the cat out of the bag.
Fair enough, so what do you think it is about the music of R.E.M. that warrants this kind of celebration?
In a word, timelessness because what R.E.M. started out as and when I first listened to them I would've been thirteen years old and Jeff Burrows the drummer in The Tea Party was a year older than me, he was the cool kid in high school that listened to all the cool alternative music before anyone else did and so I remember him playing for me 'Pretty Persuasion' and that song was the first time that I heard that jangly twelve string Rickenbacker sound and then subsequently after that I found out who Peter Buck was influenced by and then I discovered Roger McGuinn, The Byrds and all that stuff but it was a pretty important moment for me. If you fast forward to what The Tea Party's most successful single has been it would be 'Heaven Coming Down' which is basically fueled by a twelve string Rickenbacker part, had I not listened to Peter Buck all those years ago probably wouldn't have happened.
That's really interesting to think, I never would've put R.E.M. and The Tea Party in the same boat at all…
Yeah, well there it is, the twelve-string electric guitar stuff if you think about it there's a lot of that on The Tea Party's music but it would've been a sound that maybe I wouldn't have discovered had I not listened to Peter Buck all those years ago.
Did you ever get the chance to meet Peter Buck?
No I did not.
So you've never played with R.E.M?
No, I saw them live in the early 90's in Detroit and I met Michael Stipe once in the village in New York maybe around the time of The Edges of Twilight we were performing there.
Just thinking when you were talking about Led Zeppelin and R.E.M. obviously, is it difficult for you to sing other people's songs?
Is it difficult? It's not difficult it's challenging because obviously with my vocal range when I did the Zeppelin tribute many years ago of course I'm not going to sing like Robert Plant because A) can't and B) don't really want to *laughs* I just want to do something different, and it'll be the same with Michael Stipe, the way he sang the R.E.M. songs I can't do it like him so I need to do what I do to my strengths but at the same time going back to what we said earlier I've got to maintain the soul and the integrity of the song.
Outside of the R.E.M. celebration you're heading out on a run of solo acoustic shows, how are you looking at shaping these up?
Yeah well essentially two years I spent some time in Morocco and I went around the country recording with traditional Moroccan musicians but a different musical styles and different musical traditions because Morocco even those it's a smallish country as far as African countries go, the diversity of musical traditions I would have to spend a year and a half there to even get close to exploring them all. What I did end up doing is recording with some incredible troops of musicians and reinterpreting songs of my past and ideas that I had at the present and what I did was I brought those songs back here to River House and used those field recordings and embellished them with instruments that I have here at the house and I came up with this EP that will be available for people that come to the shows and what the EP did for me was it also inspired me to upgrade the solo show that I do because basically I always thought that with The Tea Party it's all the bells and whistles and if I'm going to go out solo then let's just strip it back and keep it my acoustic guitar and my voice and that's what it should be. I decided now with a lot of the toys that I have lying around the house and in the studio and whatnot I've kind of decided to do this… well if it ends up sounding like it sounds in my head it's gonna be like this one man Pink Floyd sort of show.
That's a big call, I'm looking forward that.
Well you know, I'm all about the big calls.
It's also been four years since new Tea Party music, we heard a new one at the Live shows but are there plans for a new release soon?
That song is going to come out at the end of the year and there's an EP that will follow.
Looking back was there one piece of advice you were given when you started making music that's stuck with you to this day and that you still go back to?
It sounds cliché but everything that you do as a musician, integrity first you know? You think about success later it's your integrity first and foremost, and if your music is laced with it, dripping with it, it's pretty hard not to be successful.
A lot of things change over people's time making music and you've been in the business for a long time, what would you say is the one thing that's stayed the same in your time making music?
Knowing I can tell right away from note one if an artist has their integrity in check or not. I tell straight away before I get them here to the studio because what I ask for because I'll get so many different types of artists that want me to produce their music but what I ask them to do is especially if they're a singer, I don't want to hear your demos that you've done in the studio with all the bells and whistles and everything else, I just want you to strip it down to the campfire test, just give me your voice and acoustic guitar or piano and I just want to hear the sentiment of the song and I want to hear if I can hear that soul coming through and if that comes through that's the only criteria that you need successfully if you want me to produce you, if you do that test successfully it doesn't matter what genre of music you do, if I have the time I'll take it on.
What does the remainder of 2018 have in store for you?
After the R.E.M. shows and after the solo tour I think it's basically just gearing up for and pardon the pun, the other monster, The Tea Party touring again which will probably be if it's not right at the end of the year in Canada it'll be at the beginning of next year in Canada and then probably here in Australia around Easter time.
Ooh Bluesfest?
Well, you said it, I didn't…
THE ONES WE LOVE: Celebrating R.E.M. Dates:
Friday 31st August Brisbane, Tivoli Theatre
Thursday 6th September Melbourne, Palais Theatre
Friday 7th September Sydney, State Theatre
Tickets from: https://metropolistouring.com/tours/celebrating-rem/
Jeff Martin solo – 'STARS IN THE SAND TOUR'
Thu Jun 21 – Baha, Rye, NSW
Fri Jun 22 – Karova Lounge, Ballarat, VIC
Sat Jun 23 – Spotted Mallard, Brunswick, VIC
Thu Jun 28 – Workers Club, Geelong, VIC
Fri Jun 29 – Sooki Lounge, Belgrave, VIC
Sat Jun 30 – Jive, Adelaide, SA
Thu Jul 5 – Leadbelly, Newtown, NSW
Fri Jul 6 – Brass Monkey, Cronulla, NSW
Sat Jul 7 – Tattersalls Hotel, Penrith, NSW
Fri Jul 13 – Heritage Hotel, Bulli, NSW
Sat Jul 14 – Milton Theatre, Milton, NSW
Sun Jul 15 – The Basement, Canberra, ACT
Fri Jul 20 – Long Jetty Hotel, Long Jetty, NSW
Sat Jul 21 – Lizottes, Newcastle, NSW
Thu Jul 26 – Imperial Hotel, Eumundi, QLD
Fri Jul 27 – Blackbear Lodge, Brisbane, QLD
Sat Jul 28 – Kingscliff Hotel, Kingscliff, NSW
Fri Aug 3 – Panthers, Port Macquarie, NSW
Sat Aug 4 – 5 Church St, Bellingen, NSW
Tickets from www.jeffmartinofficial.com
Essential information
From:  Australia / Canada
Website:  www.jeffmartinofficial.com