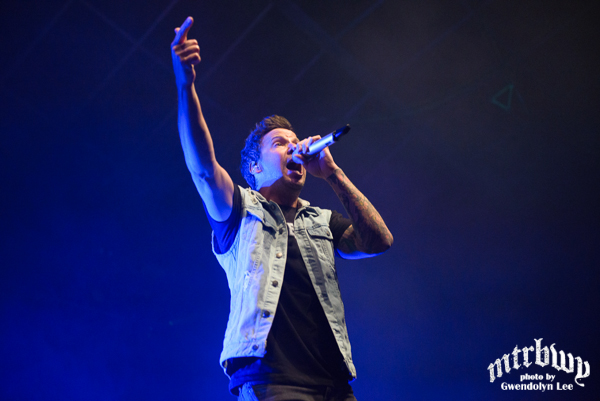 Tonight is a celebration of Simple Plan's album 'No Pads, No Helmets… Just Balls'. A celebration you say? Why yes I did, but what blows me away is that it's the 15th anniversary of it. Are you kidding? Way to make everyone feel old! In saying that though and in seeing Simple Plan a number of times before I can't wait to hear this album in full and see how all these songs come together on the stage. The sold out crowd I'm sure are thinking exactly the same thing.
Two supports tonight with Stateside and Eat Your Heart Out, both bands did a great job of warming up the crowd and busting out catchy pop rock tunes, very easy to spot the influences with both bands and that's such a good thing and I look forward to checking out more from both of them!
Oh man, the music between sets is amazing, special mention to 'My Own Worst Enemy' by Lit that the place was rockin' out to, although as much as we're reminiscing the late 90's and early 2000's, the lights dim and we're ready to go.
Sirens ring as the band walk on stage to thunderous applause and with that riff the set and the album begins with 'I'd Do Anything' and the most noticeable thing is that the band is a four piece on stage, obviously with David currently not on tour it's cool to just see the guys up there without a replacement player. They are immediately bounding around the stage, jumping, swapping microphones and delivering this opener perfectly. After a bit of Sydney love we get 'The Worst Day Ever' complete with excellent posing and stage antics. 'You Don't Mean Anything To Me' and it's great harmonies from Seb make this one a cracker and Pierre gets down into the crowd to say hi.
Jeff starts with the riff of 'I'm Just a Kid' oh wait, there's a bass player, oh that's cool he comes on after the photographers three songs. Classy, Simple Plan! The song builds and gets the crowd involved and I've never seen so many phones out for a song in a long time. Continuing on the album chronology with 'When I'm With You' and then some realization from Pierre that this album came out sixteen years ago which as mentioned above is just crazy. Then 'Meet You There' which gets them all clapping and this slower one is a nice break from the energy of the openers and this one stands out. Killer track!
Special mention and thanks group of girls next to me, I'm now deafer in my left ear after the screams when 'Addicted' started. Everyone is also taking satisfaction in screaming the lyrics back to the stage, it's actually cool to be here right now. This really is fun. Green lights flood the stage as 'My Alien' is up and this catchy ditty was much loved. 'God Must Hate Me' wins so far purely for its key change and crowd jumping ability. Band introductions and some shredding from Jeff which leads into 'I Won't Be There' which doesn't miss a beat. Beach balls come flying out into the crowd for 'One Day' which was a whole lot of fun and the album title actually takes shape as it truly was just balls.
One for the hardcore super fans 'Grow Up' and they love it. Chuck makes his way to the front of the stage as Pierre heads behind the kit and Chuck gets to live his dream of being a singer in a rock band. It also sees him stage dive which was pretty rad, but he belts out the rest of the song and they lap up every second of it.
The album closes out with 'Perfect' and the place is lit up with phones right now as Pierre takes this one acoustically. You can kinda tell this one means a lot to the people here as they smash it out and as the end of the first chorus is reached the band are back on stage and it turns into the big rock ballad it is. It sadly finishes and the band leave the stage.
It's not long before the guitars ring out and the band return and a change in backdrop before 'Shut Up' takes over and with arms waving they go one better with 'Jump' and the place does just that. That was crazy. 'Boom' complete with confetti was a fun one and perfect for a rock show. Ok here's my favourite and also the thing I have right now. 'Jet Lag' slots in as they bring on the singer from Stateside to sing it with them. She nailed it too! What a song!! 'Summer Paradise' was fun, and I know I've used the word fun a few times but what else can I use to describe it? It truly is fun!! This song has a very different vibe to the others but at this point the guys could be playing the phone book and the crowd would be loving it.
The guitar harmonics kick in and I didn't expect this one but we get 'Crazy' and Pierre even pops up at the back near us to finish it and nail the key change. They close the set with 'Welcome To My Life' and I can honestly say not one person would walk out of here tonight disappointed. Simple Plan always out on a great show and tonight was one step above that, yeah that was the best I've seen them and tonight truly was a celebration of a monumental album for them and the fans.
No complaints, no sadness… just love.
Check out our interview with Sébastien Lefebvre HERE
Essential Information
Venue: The Big Top – Sydney
Date: April 27, 2018
Presented by: Chugg Entertainment
Supported by: Stateside & Eat Your Heart Out
Website: http://www.simpleplan.com
Photo: Gwendolyn Lee – Gwendolyn Lee Photography – Check out our full gallery HERE
Set List:
I'd Do Anything
Worst Day Ever
You Don't Mean Anything To Me
I'm Just A Kid
When I'm With You
Meet You There
Addicted
My Alien
God Must Hate Me
I Won't Be There
One Day
Grow Up
Perfect
Shut Up
Jump
Boom
Jet Lag
Summer Paradise
Crazy
Welcome To My Life