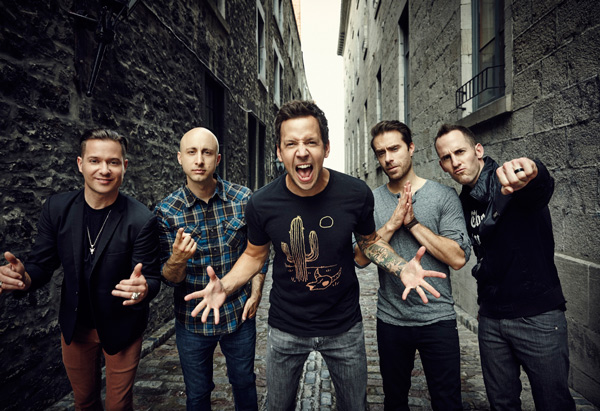 "…I think that hopefully the fact that the songs are good has something to do with it, aside from that I think something that we've noticed over the years is whenever we're very, very personal with a song that's when people can relate to it the most."
From Release: Multi-platinum Canadian pop-punk legends SIMPLE PLAN will bring their 'No Pads, No Helmets… Just Balls' 15th Anniversary World Tour to Australia in April for a special run of East Coast dates. With a slew of awards a mile long and over 10 million album sales globally, this is going to be a MUST SEE for any Simple Plan fan. Rolling Stone recently named 'No Pads, No Helmets… Just Balls' in their Top 50 Greatest Pop Punk albums of all time
Our old mate, Seb gave us a call while on holidays at home in Montreal to talk about Simple Plan's return to Australia for the anniversary tour, memories of the debut album, why people attached to it, why they're just the nicest guys around, and much more.
It's been about four years since we last chatted backstage at Warped here in Sydney, so let's catch up. How have the last four years been for you?
They've been great, I think we've been to Australia one other time since then on the 'Taking One For The Team' tour when that last album came out in 2016, and then we've just been busy ever since. 2016 all year was the 'Taking One For The Team' tour then 2017 we basically did the anniversary tour all year as well, so we're very glad to be bringing that to you guys.
You're heading back to see us on the 15th Anniversary of 'No Pads, No Helmets, Just Balls'. So tell us how will these shows play out?
They're gonna play out basically like the album plays out, we get on stage we play all the songs, we have a great time, there's a couple of moments in the set where everybody goes completely mad, it's great, and then we come back and play a few more hits and everybody is filled with a lot of amazing emotions but the most prominent one would probably be nostalgia which is great, it's a great feeling to have at a show. If you're a Simple Plan fan and you've seen us before you know we still play two or three songs from the first album but now you get to hear all of them, so it's just good times for everyone.
When you have to go back and revisit the album in full what was it like playing songs may not have played for a long time?
Surprisingly it was quite easy because here's the thing about that album, when we used to play shows back then we had to play all the songs so it just took us a minute to remember them but muscle memory we had played them all before, so it kinda came back very quickly. I think we booked a week of rehearsal and then two days in we were like "alright, we good" *laughs* what do we do with the rest of the week? Then we just started playing live and that was a lot of fun. It was good but at the same time it really does take you back, as you're playing songs you can remember something that happened at a show fifteen years ago when you were playing that song, so it's a lot of emotion when we're on tour with that one.
Let's look back; what is your fondest memory of releasing this debut album back in 2002?
I think it was just that every time did something it was the first time we did it, you know like that album marks our first tours, our first travel overseas, our first decent opening slots, our first sold out shows, our first gold records, our first late night talk shows that we played. Everything was just so new that I remember back then we used to have little meetings because we didn't know, so we'd sit down with our manager or with Chuck because Chuck is basically the band manager and he's like "OK, so this and that is going on in Australia and this is going on in Asia" and then he's like "You guys should be happy, like you would tell us if this is great, you should be happy right now" *laughs* so it's like "OK then I am happy, thank you very much"
What do you think it is about these songs and this album that people attached to so much?
That's a very good question, I think that hopefully the fact that the songs are good has something to do with it, aside from that I think something that we've noticed over the years is whenever we're very, very personal with a song that's when people can relate to it the most. For instance 'Perfect' is absolutely about band guys telling their parents they want to be in a band and dropping out of school and that became the song that people related to the most and one of our biggest songs because everybody can see themselves in the situation where they're disagreeing or not even disagreeing but wrongfully assuming their parents are disappointed you know and that just stirs up the well what do I do now kind of emotions and it's sorry I'm disappointing you blah blah and that just connected with people, so I feel that the honesty there and hopefully the catchy melodies as well as the songs and I'd say just the early 2000's was just very strong for this type of music as well.
You talk about bringing back a memory of a song but are you good with face? Are you seeing people that you may have seen fifteen years ago come back now?
Sometimes yes, sometimes no, it does happen sometimes you spot someone in the crowd and it's like I feel like I know you but then most of the time I'm mistaken and say "hey we've met before" and they're like "No", "Well OK , this is the first time we've met then" *laughs*.
So over time it's easy to say what's changed within a band, but what would you say is the one thing that's stayed the same in your time together?
A lot of it has stayed the same; I think that the way that we are with each other and the way that we are on stage I think that stayed the same. Obviously I think we play better now, we've got fifteen years of getting together on stage so that part I think we're better, but just the way that we are and the way we make fun of each other and we give each other the look and just how we are when we're with each other travelling on a plane or in a van or just like shooting the shit before a show. I feel like at this point fifteen years in I don't think that's ever gonna change so yeah that's the way we are.
I also think you guys are up there as the nicest guys I've spoken to and nicest band around, so that's something to keep up as well.
Oh thanks very much, obviously we've got our parents to thank for that, and other people say about other bands oh this guy turned into an asshole when he joined the band, probably not, maybe he was always an asshole and now you just see it more. I feel like we just keep each other in check as well, as soon as somebody has a bit of a rockstarish type request everyone comes down on them so hard that they're not to deviate from the simple first tour mentality I think that's always just gonna stay with us, that DIY thing where we're kind of in charge, we do our own thing, we don't overdo anything, we're just very low key and try and be as low maintenance as possible and obviously try to be nice to our fans, they're basically the reason why we're still here and why we can do this tour fifteen years later. So we've always tried to be accessible, we always want to meet them, hear their stories and all of that.
So, we had a new album back in 2016, are there plans for newer music sooner rather than later?
That is the plan, yes, right now we've obviously got a couple more places to go on tour, but we just started a little bit of time off now, we don't have any major tours until the Australian one so we're sort of getting a bit of rest, I've already started working in my studio and I'm sure the other guys have as well and just trying to come up with some ideas, see what sticks, see what doesn't and we'll get to it more officially in the next few weeks or next month or something like that.
What does the rest of year have in store for the band?
Hopefully this is the plan, as soon as we start writing things go amazing, every song that we write is great so we'll head in the studio quite quickly because we love to take a little less time between albums. However everybody wants to see this anniversary tour so we have to take a little break from writing to travel to come see you guys and other shows this year here and there which will be fun because there's always shows to play here and there, but that is the plan, we're gonna try to focus on writing and recording and the album I think that's the theme for this year.
So what do you still enjoy about being in Simple Plan?
I don't know I'm kinda over it, no, no, I'm kidding. We love getting on stage, we're still all friends we love getting on stage together and playing shows together and obviously some bits of it have gotten a bit harder since we've all got families but I think there's no way that anybody could do this job if it's not fun. I think it can take a lot from you as far as physically you know we're not eighteen anymore so jet lag hits us a bit more *laughs* I'll be in top shape when we get on stage for our shows in Australia. For me it's all about having fun doing something that you love and right now this is my job, this is my career, but this is also a nice way for me to have a good time so I'm just travelling with my friends and basically going to cool cities and I don't know anybody could think that sucks. *laughs*
I have to ask, how's David?
He's been dealing with a tough year so he's been taking a lot of time to rest and stay at home, he's going through a very difficult depression so he's just slowly getting out of it, and he's still in the band obviously so don't start any rumours but he and us felt it was better to stay home and rest instead of getting on a hectic touring schedule all year that was extremely busy. At the moment he's just making sure he feels good.
What's left to do that you haven't yet had the chance to do?
I think the main thing is to just stick around, keep being relevant, keep being a band and I think that's a challenge that comes with us for every album but luckily we've been able to keep going as a band and if this year proves anything it's that we can do that, we can still be a band and that's amazing and I think that's the one thing we all have in common, as long as we can keep it going and as long as people care to see us we're gonna keep coming to see you guys and keep making albums and then playing shows. Aside from that there's a few places that we've never gone to play some shows that I'd like to see, I'd love to go to Iceland although maybe I'd just love to go there on vacation and not play shows, *laughs* but I'd love to go back to South Africa we've only been there once and had a great time, I'd love to go back there. So a little bit of travelling but mainly if we can keep writing songs, have a number one worldwide smash hit, that would be an amazing thing to achieve, but for us just to stick around is a very fulfilling way to be in this band.
So what I do with everyone is I get them to look ahead to the future, so finish this sentence for me. By the end of 2018 Simple Plan will…
Be riding around in flying cars, I think that's what Back To The Future predicted anyway, right? *laughs* NO! By the end of 2018 Simple Plan will release some new music, that's what I'm hoping for, maybe not a full album, maybe not anything but hopefully by the end of the year something will be out, that's what I'm crossing my fingers for, don't put that on the schedule, don't put a date on that, don't go crazy on the fan sites that's just what I'm hoping for.
SIMPLE PLAN | 2018 TOUR DATES
With Special Guests Stateside + Eat Your Heart Out*
Presented by Destroy All Lines & Chugg Entertainment
AUCKLAND
Thursday 19th April – Powerstation (All Ages)
powerstation.net.nz
GOLD COAST
Saturday 21st April – NightQuarter (All Ages Event**)
oztix.com.au
BRISBANE
Sunday 22nd April – Eatons Hill Hotel (All Ages)
oztix.com.au
MELBOURNE
Monday 23rd April – Forum
ticketmaster.com.au
MELBOURNE
Tuesday 24th April – Forum SOLD OUT
ticketmaster.com.au
NEWCASTLE
Thursday 26th April – NEX 
moshtix.com.au
SYDNEY
Friday 27th April – Big Top Luna Park (All Ages)
oztix.com.au
*Supports not playing Auckland show
**Minors must be accompanied by a Responsible Adult
Essential Information
From: Montreal, Quebec
Band members: Pierre Bouvier – vocals, Chuck Comeau – drums, backing vocals, David Desrosiers – bass, backing vocals, Sébastien Lefebvre – guitar, backing vocals, Jeff Stinco – lead guitar
Website: http://www.simpleplan.com
Forthcoming release: 'No Pads, No Helmets…Just Balls' 15th Anniversary Tour Edition (April 6 – Warner Music Australia)