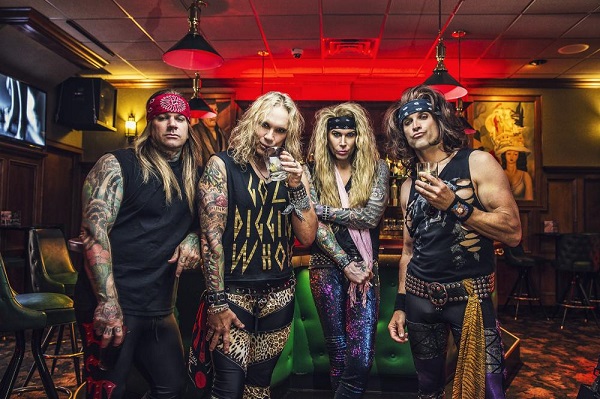 "…we want Steel Panther to be a place where people can come and be a freak for ninety minutes, that's always been the message. We have fun and we figure if it starts with us and it goes out to the crowd then they're gonna have fun and we're gonna have even more fun."
From Release: The Sunset Strip's favourite sons, Steel Panther, are returning to Australia in May 2018 for a WORLD FIRST run of shows! They are returning to Australian shores with their Sunset Strip Live! Tour, which is ALL PANTHER, ALL NIGHT. Two sets – One set of Steel Panther originals, and One set of Classic Covers! This is Steel Panther's third trip out to Australia since 2016 – and it seems like Australia can't get enough of the raunchy Panther boys from LA!
Sitting backstage at the Wiltern Theatre in LA getting ready for a corporate event we gave our old mate, Stix a call to talk about Steel Panther's return to Australia, covers, new music, pickles, and more!
Mate, it's been just almost six years since we last chatted, so let's catch up, how have the last six years been for you?
Fuck, that's amazing! Each one has been better than the last. We're doing pretty fuckin' good, man, we're killing it and we've gone all over the world several times and just grown this mother fucker.
You're heading back to Australia but this time changing it up and giving us a set of covers as well as originals. What was the idea of bringing the Sunset Strip to us?
Well we realised that we've been to Australia a few times so we could've come back and done the same thing that we've always done or we could do fuckin' something fresh! We built a career on playing covers and then we stepped away from it to go do original shit and we felt like we've established ourselves as an original band now and it was time to do something fuckin' fun for the fans, something different for the fans, and those bands that we cover they're not touring over in Australia. So we figured what's the fuckin next best thing? Let's bring some fuckin' Hollywood to fuckin' Australia and that was the idea behind it, let's do something that people have never seen and give people a reason to get fuckin really excited about something fresh.
With a decade of bitchin' songs to choose from, have you decided what tunes you'll be playing in the covers set?
Not yet but it'll be Bon Jovi, Motley Crue, Ratt, fuckin' Warrant, Whitesnake, Ozzy Osbourne, you know, all that shit. Dude, look, I hate to sound like a douche, but nobody sings the stuff better than Michael Starr and nobody plays the stuff better than Satchel, and we grew up on it, we love it and we've been playing it our whole lives, so we're excited to bring that to Australia.
With so many of your originals now loved, is it going to be tough to pick which ones you'll have to leave out?
Well we're gonna do two separate sets, we're gonna do an hour of Panther and yeah you know it's funny when we first started we knew we had the conversation at some point it's going to be hard to make a set because fortunately we've been able to do four records and picking songs from four records and cramming them into an hour that's not an easy thing to do. So it's really difficult.
'Lower The Bar' has been out for almost a year now, how has the cycle been since its release?
It's been amazing, not since 'Feel The Steel' have we felt that people took to a record so quick, people seem as excited about 'Wasted Too Much Time' and 'Goin' In The Back Door' as they are for 'Death To All But Metal' and 'Gloryhole' you know?
You guys sure did lower the bar, how has your approach to song writing evolved over your albums?
Well I think that on 'Lower The Bar' there are more songs and less individual riffs and more song songs, and as a record from cover to cover I mean we're proud of all our shit but this one I think is more Panther and I think we're spreading the sound out with 'Now The Fun Starts' and 'Wasted Too Much Time', and 'Pussy Ain't Free' they're sounds that we haven't put out there yet.
Have you already got an idea of what's next?
I do but I can't tell you. We're definitely gonna put out new music and it won't be that long but we're working on shit right now.
You guys seem to be non-stop touring which is rad, has there been a recent highlight or band you've played with that stands out for you?
No. *laughs* I'm just kidding *laughs*. We took out Fozzy again and they were fuckin' fantastic I love those guys, then in The States we've been playing with a band called Them Evils and they're all really good dudes and they're a really good band and they're just kind of getting off the ground now.
I saw you guys were out on tour with one of our favourites Bowling For Soup, how was that?
Oh they were fantastic, we took them out in The UK.
So it's somewhat easy to say what's changed over time, but on the other side of that what's the one thing you would say has stayed the same in your time together?
Just the fact that we haven't veered off the message that we started out wanting to send, that we want Steel Panther to be a place where people can come and be a freak for ninety minutes, that's always been the message. We have fun and we figure if it starts with us and it goes out to the crowd then they're gonna have fun and we're gonna have even more fun. So it's a big loop of ecstasy.
So is there one song from the Steel Panther catalogue that you feel defines the band perfectly?
Death To All But Metal.
Yeah I knew you'd say that, not even sure why I asked it.
*laughs*
Looking back, was there one piece of advice you were given when you started making music that's stuck with you to this day?
Yeah, so when writing a song the piece of advice that I got was just finish it, because it's so easy to start something and it's really difficult to finish a song, to put a period at the end of a song and say that one's done. If you can do that then you're ahead of 95% of the songwriters out there because it's really hard to finish a song and be happy with it.
Do you guys just sit around and piss yourselves laughing when writing and know it's exactly what you wanted?
Yeah you know for us song titles we're constantly coming up with song titles and album titles and everything would be a great band name or great song title, and whatever turns us on and fuckin' the shit that makes us laugh and we enjoy.
What do you put the longevity of Steel Panther down to?
Good songs, dude. Because if we had shitty songs nobody would give a fuck, people would just go 'ugh, that's the band with no fuckin' songs'. You know what I mean? Because if the song sucked you're not a band at that point you're just four guys that are fuckin' what? Together? You know what I mean, so I think it comes down to having good songs.
I'll be heading over to Cleveland next month to see Bon Jovi inducted into the Rock and Roll hall of fame, have you guys discussed when you're eligible and what you'll wear to the ceremony when you get in?
Oh I'll be wearing spandex to the ceremony, Troy, there's no doubt about it, that's not even a discussion. I could imagine I don't think it'll happen because the Rick and Roll Hall of Fame took so long to fuckin' acknowledge KISS so I don't know if they'll accept Steel Panther.
Lastly let's look ahead to the future, finish this sentence for me, by the end of 2018 Steel Panther will…
By the end of 2018, Steel Panther will hold the world record for the amount of pickles eaten within one minute and announce that they're going to the moon. Pickles and the Moon, dude.
There's your new album title!
*laughs* Yeah, love it!
STEEL PANTHER 'SUNSET STRIP LIVE!' TOUR DATES:
TUESDAY 15th MAY – MELBOURNE, VIC
THE FORUM
WEDNESDAY 16th MAY – MELBOURNE, VIC
THE FORUM – SOLD OUT
FRIDAY 18th MAY – SYDNEY, NSW
BIG TOP
SUNDAY 20th MAY – BRISBANE, QLD
EATONS HILL HOTEL
TUESDAY 22nd MAY – PERTH, WA
ASTOR THEATRE
INFO & TICKETS AT MJRPRESENTS.COM
Essential Information
From: Los Angeles, CA, USA
Band members: MICHAEL STARR – Lead Vocals, SATCHEL – Lead Guitar, LEXXI FOXX – Bass Guitar, STIX ZADINIA – Drums
Website: http://www.steelpantherrocks.com
Latest Release: 'Lower The Bar' (Out Now – Kobalt Music) – Check out our review HERE