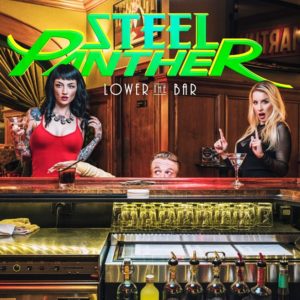 It's awesome in this day and age of music that a band like Steel Panther can be releasing their fourth album. Awesome because this band kicks ass, are killer live and never scared of writing songs that can make you laugh, cringe and if you're lucky, pick up all at the same time. That's talent and Steel Panther have it. So with 'Lower The Bar' they do just that and let's see how low it gets…
We get things started by 'Goin' In The Backdoor' and you can't fault Steel Panther for what they're truly good at which is writing bitchin' heavy metal music combined with the kind of lyrics you expect from this band, oh and if you don't really know what to expect from this band, well the opener will pretty much sum that up for you. A great way to kick off the fourth album and they waste no time the "even I didn't think they'd go this far with some lyrics" song, 'Anything Goes' and I guess my thinking of going too far doesn't make sense with a sing title like 'Anything Goes', so yeah just enjoy it, have a chuckle as you can do with most Panther songs, I dig the hell out of the riff though. If you haven't watched the video for 'Poontang Boomerang' I highly suggest you check it out, as the visual of the band helps the song out and plus it has a cute pussy in it. I do find myself singing 'Cherry Pie' over the chorus though, which I've done and can't undo it to myself, lucky I like that song! This song is a very typical Steel Panther song and one you'll hear live for many years to come.
OK, now you all know about my love of ballads, if not well I tend to go on about them for no real reason in reviews and at gigs and will probably talk too much about this next one 'That's When You Came In' which we first heard in an acoustic rendition for 'Live from Lexxi's Mom's Garage' but hearing this recorded version blows it away (I meant to do that). Starting off in a nice acoustic ballad type way, the song explodes with power and allows Satchel to deliver some pristine solo work and just the entire structure of this track makes it in my opinion one of the band's best tracks they've recorded and fingers crossed it makes its way to a single or video, but it needs to be heard. See, you let me rant, OK no more about that one.
'Wrong Side Of The Tracks (Out In Beverly Hills)' sounds like it has a little Guns N' Roses vibe to it tone wise, this one kicks ass, but what I was actually most intrigued by on this album was this next track as it sounds nothing like anything the band has done before, lyrically yeah, same old Steel Panther which will always be that way, oh ha ha they just name dropped themselves in the song, love it, but this slower almost groovier type rocker is great because it's different musically from them and I'd love to hear more like this as production wise this one stands out well and above the majority of the album. No sooner has that finished we explode into 'Pussy Ain't Free' with a down and dirty riff and lyrics that the title pretty much tells you the story of, but this outro is another new thing for the band and this sort of stuff works, I love that they're working in new things arrangement wise, I have hope for more in the future.
Another big ballad rocker, 'Wasted Too Much Time' and I love it lyrically and I can just hear this one being played live and I'm looking forward to hearing this and many of these songs live, as the band's catalogue grows it's great to know that their show will continue to evolve with these new tracks. Bitchin' middle 8 in this one too, you can't go wrong with a middle 8. This is my second favourite on the album, I think they need to make an album purely of ballads, actually no, I may question things… 'I Got What You Want' you may have seen a video for, and it's good but not the greatest track they've ever done, I think they left the hook in the tackle box before this one as it's just missing that something, I can't put my finger on it because last time I did that I got in trouble from her so I'm being careful. Although the last twenty seconds of it cracked me up! So… We've all done it, am I right? I mean… I'm talking about the 'Walk of Shame' and here we have a song all about it, a story of what happens so often in this day and age put to heavy metal music, it's an opus for society and one that needed to be told via song. The album closes with a cover, yes, the band that started doing covers has finally put one on an album and it's a kick ass version of Cheap Trick's 'She's Tight' that features Robin Zander. It's a great way to round this album out with a classic rocker and hearing Michael Starr belt this one out works perfectly.
You pretty much know what you're gonna get from a Steel Panther album and 'Lower The Bar' continues the tradition of outstanding musicality and vocal abilities delivering songs that at times could make your neighbour blush (as it's obvious you'll be playing this one so loud they'll (have to) enjoy listening to it.) They've done it again and just so you know, they've probably done it to your girlfriend too…
Check out our interview with Satchel right here!
Essential Information
From: Los Angeles, CA, USA
Release date: 24 March 2017
Record label: Kobalt
Website: http://www.steelpantherrocks.com


Track Listing:
Goin' In The Backdoor
Anything Goes
Poontang Boomerang
That's When You Came In
Wrong Side Of The Tracks (Out In Beverly Hills)
Now The Fun Starts
Pussy Ain't Free
Wasted Too Much Time
I Got What You Want
Walk Of Shame
She's Tight