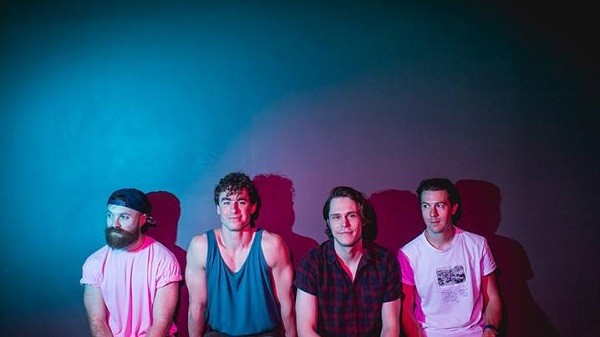 "…when we see some other bands we kind of take for granted that we all grew up together and we were kids just playing our songs and that's kind of still what we are, we're the same dudes we're just lucky to be able to do it on a bigger scale now, and I think that's the best thing for us…"
From Release: If you're looking for sing-a-long summer floor filling anthems, more swagger than Jay Z and infectious pop rock alchemy then DON BROCO is your new favourite band!! DON BROCO are quite clearly aiming for the stars leaving a trail of sold out venues in the UK in their wake. In November this year they will headline a 10,000 capacity venue in London but Australian fans will get to witness their bombastic live show for the very first time this December in intimate surroundings.
Sitting in his hotel room in Tokyo, Simon Skyped us to have a chat about Don Broco's upcoming debut tour of Australia, their forthcoming album 'Technology', video games, advice from Tom DeLonge, and much more.
Of course we're here because you're heading over to see us in Australia for the first time, so tough one but for those coming to see you, how would you best describe a typical Don Broco show?
I would definitely describe it as just a lot of fun, we're all about playing live it's kind of the reason we're in a band and the reason that we started the band in the first place that we always try and make that live show as kind of high energy as possible, just kind of big riffs and big choruses and yeah if you want to come down and let off some steam the crowd bring us their energy and we can just smash it right back at them.
When coming to a country for the first time how do you go about constructing a set list?
It's interesting, like sometimes we'll go kind of the geeky route and go and look at the metrics of which of our songs are the most listened to in that territory *laughs* and the hope that if some people like those songs then all Australians will like those songs *laughs* but sometimes we go with just what feels right to us, we've got new songs that we're putting out at the moment all over the world so the set list will be featuring a bunch of the new material.
'Automatic' has been out for a couple of years now and with a couple of singles this year are there plans for the new album anytime soon?
Yes, we are releasing our new record at the beginning of 2018 and we're super excited about it, we've released a bunch of songs off it already, it's a long record it's sixteen tracks and we definitely haven't given away the whole plot just yet and we just can't wait to get it out for people so we can start putting all the new shit in our set lists.
Let's talk about 'Technology', it's a killer video, and topical, what was the process like writing and putting that together?
Well Bobby our vocalist he always writes about the things which are playing on his mind so lyrically I mean he was kind of seeing this dependency and this dark element of narcissism in the fact that everyone's now got a smart phone and it takes over their lives to some degree and maybe we're part of the last generation, we're all like thirty now and we've kind of grown up without social media so we've seen both sides of it unlike now when you see people at shows and this new generation of kids they've never really known any different and there's a real kind of shift going on. He was just kind of writing a song about that and we took the lyrics and we pitched the song to basically our friend who has done our last few videos , the guy who did the video for 'Everybody' and the video for 'Pretty' and we pitched him what was going on lyrically and we pitched him this concept for the video and it kind of married so well and we were like yeah this is definitely the right look for the song that we're writing and yeah, the rest is history.
Well 'Pretty' is one pretty fucked up video, man, it's amazing.
Yeah *laughs* we really lucked out man, we found this guy in America who did the 'Everybody' video, we got on like a house on fire and then he pitched for all our subsequent videos and every time his idea was just so head and shoulders above everyone else's it was kind of like the more fucked up the better and that's what kind of gets our juices flowing, if something's going to slightly offend people then we're probably down to do it. *laughs*
It also has a game that goes along with it, so tell us the idea behind that and who's the top scorer in the band?
Oh wow, so we lucked out with the video game, basically our manager he has a mate who designs those kind of 8-bit video games and when we'd done the video his friend came to us and said I'll make you a game and you don't have to pay me or anything, I'll do it for fun and so we got delivered the game like a golden egg out of nowhere and we weren't even looking for it *laughs* so yeah it was really a great thing to really tie everything in and people really seem to love it. Top score wise would be Rob, he was playing it all the time and had this kind of weird chip on his shoulder about being the guy that had the highest score, so yeah, *laughs*
Two albums in now and the third, coming is there one piece of advice you've been given that has stuck with you throughout your time making music?
Yeah, the piece of advice actually was from Tom DeLonge the guitarist in Blink 182 who I never thought would be this prolific advice giver in my life but the thing that he had said which had really struck a chord because it was quite early on because we were starting to think about doing the band as more than just a hobby and he was like "move back in with your parents, because there's no way  you're going to be in a band while you're trying to hold down a job to pay rent on some flat or some whatever just to move out" and that's like the truest advice ever and one of our friends bands who was actually starting out in parallel to us they were all working kind of jobs so they could all live in a house together and they thought it would be awesome you know like we'll be in a band together and we'll be in a house together and it'll be so cool but they didn't have the time to be out on the road every night playing every crappy rubbish venue up and down every country going and that's what you need to do and that's the route we took and luckily it paid off. There's no way if we hadn't have been able to stay in our parent's houses that we would've been able to do that. So yeah if you want to be in a band you've got to make peace that you're not going to be able to move out for a while.
Over time obviously things change within a band but what is the one thing you'd say has stayed the same in your time together?
We're all just mates, that's the really lucky thing that we have, when we see some other bands we kind of take for granted that we all grew up together and we were kids just playing our songs and that's kind of still what we are, we're the same dudes we're just lucky to be able to do it on a bigger scale now, and I think that's the best thing for us, I've known Matt since I was four, we've known Rob since we were ten and we're all just the boys *laughs* that's the lucky thing we've got going for us.
Coming up to ten years in the band other than coming to Australia what's still on your list of things you want to do that you haven't yet had the opportunity to?
I mean that list is getting smaller because this last year we've been able to do so much stuff that we've always wanted to, I mean coming to Australia was a huge thing for us because we've got a lot of Australian friends in bands who have always told us about how incredible it is so we've wanted to get out for a long time. We've got to Japan recently which is another one we've always wanted to tick off the list, I mean a big one that still remains would be South America, we've seen bands go to South America and it's such a different world and different kind of climate but they've got such an appetite for live music and for rock music, so yeah, I'd love to go to South America that would be my next on the list.
Lastly let's look ahead to the future, so finish this sentence for me, in 2018 Don Broco will…
In 2018 Don Broco will release their greatest album to date.
TOUR DATES:
Thursday 7 December – The Brightside, Brisbane – 18+
Friday 8 December – Corner Hotel, Melbourne – 18+
Sunday 10 December – Oxford Art Factory, Sydney – 18+
Tickets avilable at www.tickets.destroyalllines.com
Presented by Destroy All Lines, Chugg Entertainment, Don't Bore Us and Hysteria in association with UTA
Essential Information
From: Bedford, London, UK
Band members: Rob Damiani – Vocals, Matt Donnelly – Drums, Simon Delaney – Guitar, Tom Doyle – Bass
Website:  http://www.donbroco.com
Forthcoming release: Technology (Out February 2, 2018)