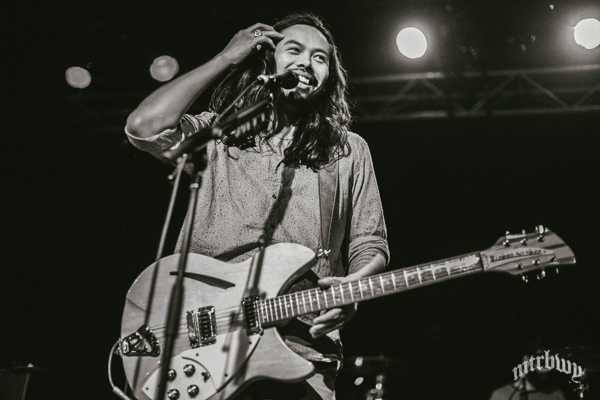 It's been a while since The Temper Trap have graced home shores and tonight on the opening night of their tour the sold out Metro tells me we're in for a good night.
"It's good to be back home, thanks for coming out, guys" is the greeting that leads into 'Fader' and as the crowd joins in for the chorus these guys sound great and have set the scene for tonight's festivities. The simple opening chords of 'Love Lost' gets a massive cheer and rightfully so, this is one of my favourites from their catalogue and hearing it live is great. Then the one I was waiting for and it came up this early! After a shaky start it's time for 'Fall Together' and what a song, it was obvious that the crowd knew this one well and they loved it as did I. What a perfectly crafted catchy rocker it is and I could go now and be happy but I won't though as there's a dozen or so songs to go. They stick with their newest album and give us the title track 'Thick as Thieves' and a special mention to the bass player and his awesome playing technique.
'So Much Sky' showcases the absolutely amazing vocal talent of Dougy and just how tight this band are as the aptly named 'Trembling Hands' is up while they've asked everyone to hold their phone up and they slowly lower as the hands get trembly during this tune then 'Fools' once again keeps this musical prowess moving, and hearing these songs I'm truly not 100% familiar with in this environment is something else. Ooh a new one and the first time playing it live ever is always something cool and with the working title of 'XOX' the guitars get a little buzzy and the bass groove is indeed groovy and wow they played it so well that there is no way you'd think that was its first run. It sounded like they'd been playing it for years.
'Ordinary World' slows things down a little and whoa I dig this one as it builds and again that vocal range, wow. 'Alive' sees the maracas come out and the most rockin' song there is right now and I'm not sure why but this one always gives me disco feels although it did start a clap along which suits it even more. Another new one to test out called 'You Better' and this one is a rocker too, I'm keen to hear what else they have up their sleeves for new music as this stuff is great. Bring it on. Seems the crowd knows this one, 'Drum Song' it is as a mini kit takes its place at the front of the stage and this instrumental just for something different is great and as the last note rings out they leave the stage.
They come back to rousing applause and to 'Soldier On' pun intended, but this slower one sees a three guitar assault, yeah even the drummer has one so cool, but when it gets rockin' it fills the room. So now it's time for the one pretty much everyone here knows and judging by that cheer that just happened I'm right. Never hearing 'Sweet Disposition' live makes tonight something cool as the dynamic of the song is so much more intense in huge, the energy from the crowd singing it back is making this an obvious stand out. Deserved applause keep them out for one more and when the computer breaks they rally to still give us the one more promised which is a super obscure B-side called 'Trouble With Pain', a slow one to close the set seems odd but a deep cut is kinda cool to hear.
There's no tricks, there's no theatrics and there's no need for any of that with The Temper Trap as when you can just deliver a stellar set of great songs with perfect vocals then what more do you need? Yeah. Think about it.
Remaining Tour Dates:
Nov 23  Croxton Bandroom  Melbourne, Australia
Nov 24  Melbourne Recital Hall  Southbank, Australia
Nov 25  Fat Controller  Adelaide, Australia
Nov 26  Queenscliff Music Festival  Queenscliff, Australia
Details: frontiertouring.com/thetempertrap
Essential Information
Venue: Metro Theatre – Sydney
Date: November 22, 2017
Presented by: Frontier Touring
Website: http://www.thetempertrap.com
Photo By: Annette Geneva – Every Day Is Saturday – Check out our full gallery HERE
Set List:
Fader
Love Lost
Fall Together
Thick As Thieves
So Much Sky
Trembling Hands
Fools
XOX
Ordinary World
Alive
You Better
Drum Song
Soldier On
Sweet Disposition
Trouble With Pain