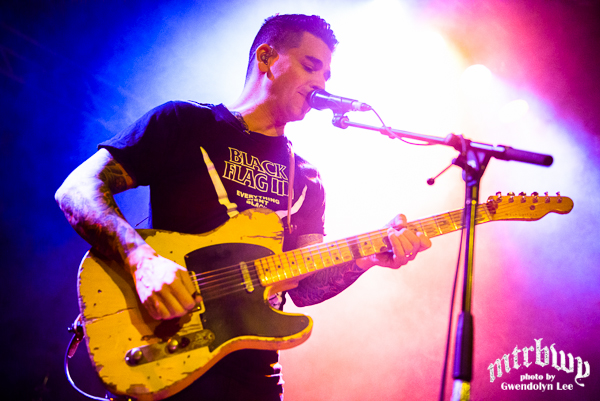 It's been five years since Dashboard have been in Australia and judging by the sold out show tonight it seems that they have been missed. So as I take my position at the back of the venue with the best vantage point to watch it all I know I'm ready!
Far Away Stables open the night and do their best to warm up the crowd, I have seen these guys before and they always belt it out and hopefully the future sees much more from them as they definitely have something.
As Dashboard Confessional walk on stage the cheers are deafening and straight away it's sing along time with the perfect opener of 'Don't Wait' and here I was just hoping they'd play it and they open with it so it's a win early on. Straight from that to 'The Sharp Hint of New Tears' they keep their pace up, and what I've always loved about their audience here is that they love a sing back and this one was no different and I'm tipping it'll be a campfire sing along all night. As Chris sticks with the old ones the collective cheer heard as 'The Good Fight' starts is large and continues as they rock the hell out of that one. Calling for requests is always a bad idea, although funny the loud mess of song titles shouted at the stage didn't work as they continue on with 'Saints and Sailors' and again lots of love, I feel like they could play anything right now and everyone would lap it up.
Slowing things down as Chris starts 'Several Ways To Die Trying' solo before the band comes in and just watching the way the band plays these songs is pretty special, they feel them they aren't just going through the motions which is refreshing to see. 'As Lovers Go' keeps things going and special mention to the guy in front of me who has his phone on full brightness and just burnt the image into my retinas. Much appreciated. I digress. Back to the show I can sort of still see and thankfully can still hear as things get slowed way down with a stunning rendition of 'Remember To Breathe' with Chris holding notes for a ridiculous amount of time and then as the band kicks in this becomes a monster and something pretty awesome to witness, then they tackle some Bieber, yeah I said it, don't yell at me for mentioning his name here but their version of 'Love Yourself' was pretty cool.
Introducing the band then 'Carry This Picture' is a nice almost country vibe style song but ooh here's a surprise, a cover of The Cure's 'Just Like Heaven' is actually really good! Then as we all clap he introduces 'Stolen' and collective minds are lost and phone lifted and it's fair to say that this is the best revived song of the night so far. Time for a new one!! 'We Fight' it is and that can happily stay in the set and I can't wait to hear that on the new album. Chris throws on an acoustic and gives us 'For You To Notice' let's the crowd sing most of it which was pretty awesome. 'Places You Have Come To Fear The Most' is pretty awesome indeed with some big notes and a performance of 100%. The acoustic stays out for 'Age Six Racer (So Long Sweet Summer)' and then one more after discussions of falling in love at Roller Rinks and a song by Corey Brennan called 'Skateland South' was thrown in, then unfortunately not a Warrant cover, but this version of their own song, 'The Bitter Pill' followed by another new one called 'Heart Beat Here' were both great and watching the way the crowd attaches to a new song is testament to what Dashboard represent and their fanbase.
The band return to the stage and things get turned back up 'The Best Deceptions' and this one is rad complete with rock ending! Surprise surprise another sing along with the infamous 'Screaming Infidelities' which was perfection and now they're playing a snippet of 'Fix You' by Coldplay and I actually like this version, someone punch me, quick. Also I may have peaked at the set list and know what's coming up so I'm just going to block my ears shortly. 'Vindicated' is awesome and so stoked they played this as I've always dug this one, as the band leave the stage once that powerhouse was done.
Of course only to come back to give us one more and we all know what it'll be. 'Hands Down' is the pinnacle, the one that people had been yelling from the second the band walked on the stage, so of course closing the show with it was always going to happen. This version was awesome and a lot of it taken by the crowd who of course knew every word.  Big rock endings and while the band leave the stage leaving Chris up there to reprise the ending and have everyone MEAN IT  was the perfect way to end the night.
Guaranteed it won't be five years before we see Dashboard Confessional back in Australia, tonight was so damn good and it was a shame it had to end.
Essential Information
Venue: The Metro Theatre – Sydney
Date: September 16, 2017
Presented by: Select Touring
Website: http://www.dashboardconfessional.com
Photo By: Gwendolyn Lee – Gwendolyn Lee Photography – Full gallery coming HERE!
Set List:
Don't Wait
The Sharp Hint of New Tears
The Good Fight
Saints and Sailors
Several Ways To Die Trying
As Lovers Go
Remember To Breathe / Love Yourself
Carry This Picture
Just Like Heaven
Stolen
We Fight
For You To Notice
Places You Have Come To Fear The Most
Age Six Racer (So Long Sweet Summer)
Skateland South
The Bitter Pill
Heart Beat Here
The Best Deceptions
Screaming Infidelities
Vindicated
Hands Down