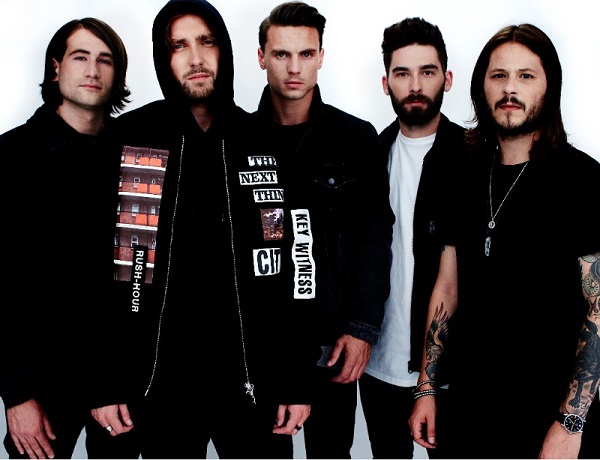 "…I think that's the best part about being in You Me At Six is that it really has reminded me that ultimately anything and everything in this life is possible and I think when you say what it's like being on our side it's been that learning process, being that student of life almost that really anything is possible…"
From Tour Release: Having gained a reputation as one of the best live bands in the UK, You Me At Six will be bringing their explosive live show to Australia this September in support of their fifth studio album Night People. You Me At Six will be joined by Sydney's Hellions and Brisbane punks Columbus at all shows. 2017 got off to a flying start for You Me At Six with the release of Night People (out now through Liberator Music/Infectious Music/BMG), which helped cement their status as one of the most important rock bands to emerge from the UK. With the help of the singles taken from Night People ('Night People' and 'Give'), You Me At Six became the first band ever to have 15 concurrent A-List singles on BBC Radio 1.
At home in London, Josh from YMAS gave us a call to talk about the band's upcoming return to Australia for a headline run, their love of Australia, growth within the band, possible new music, and more!
It's only been about six months since we last chatted, so in always catching up how have the last six months been for you and the band?
It's been eventful I guess because obviously we put out a new record and been touring that quite relentlessly actually and yeah it's been a busy time man, now we're moving forward and working towards embracing the ever changing landscape of the music industry and trying to have new music out as soon as possible. So yeah, just been busy being creative and having fun with it really.
Of course best news is that you're heading back to see us again, can you tell us a bit about what we can expect on the Night People tour?
Yeah I guess if you've seen You Me At Six before you know that we try and put on an energetic show, but ultimately our main ambition always is to give the audience an opportunity to switch off from the outside world and to hopefully for the hour and a half or whatever it is that we've got there the intention that we can take them somewhere that isn't where they've been all week and try and give them an evening to remember whether it be their friends or their partners, siblings, parents, whatever and just try to give them an opportunity to enjoy live music and just try and be a positive influence really.
As the catalogue grows are you finding it more challenging putting set lists together?
Yeah it does in terms of before it was like they're the singles and they have to be in the set but now it's like we've got five albums and four of which you play a lot of stuff from but once you've got all the singles or the songs that did well from those albums it doesn't leave too much scope to chuck in songs that we enjoy playing or you want to play live or that you think people will enjoy. Certainly the conversation is getting more and more in depth when we're putting the set together put it that way.
You may remember my love of power ballads when speaking to you guys so as long as you play 'Crash' in Sydney then all will be ok! Can you put that in the memory banks to remember that please?
*laughs* I'll ask the lads yeah, I think on this current cycle 'Take On The World' has been taking 'Crash's' place as the slow song in the set but yeah there's always room to try and add stuff in.
When we last spoke you spoke of the importance of 'Take On The World', with it being out now and being heard by the fans are you noticing the love and adoration for the song that it deserves?
Yeah I think that's been one of my favourite parts about this album campaign is seeing people not just take on the world but in terms of 'Take On The World' the way they've gravitated towards that song and really inhabited it, and it seems to mean when we're playing it live as much to our fans and the audience as much as it does to us on stage, so it was a very personal song when I wrote it and when you put it together that personal there's always that fear that now I'm exposed,  now there's a part of me that they didn't know before and that's a scary thing and that's kind of the deal you make when you're a musician and you put music out there is that what starts as something that could be really quite intimidating write about or self-truth, then suddenly it becomes everybody's song or whoever wants it be their song becomes their song. What I enjoy about it the most is seeing in people when I'm talking to them and I say why does that song mean the way that it does to them it's interesting to see the sort of impact it has when it has it it's a very gratifying thing and 'Take On The World' is one of those songs that I had an inkling could have an effect on people and I'm glad that it has in the way that it has.
Australia is almost like a second home for you guys, what is it that not only you love about Australia but what you think Australia loves about YMAS?
Well the thing that I love about Australia is that when I land in Australia I actually feel unlike I feel anywhere else other than England is that I'm home, and I actually felt that way the first time I landed there, we're never been there, we'd never done a show, this was before really Twitter and Instagram was really in its movement, so you didn't really know if you had fans in certain parts of the world you just went there and toured there. I remember landing in Australia thinking wow, there's something about this place that even the airport I liked, and as time has gone on I've really loved the way that the Australian people are, their character, their sense of humour, of course we have The Commonwealth in common and I think in a funny ironic way whenever we've toured with Australian bands that's always been like our sort of thing, we're all one in the same and especially when you're overseas and not in England or Australia it's like a brother and sisterhood and you sort of come together. I love the shows, I love the weather, and I love the energy of Australian people I think there's something very intoxicating about it.
In regards to I think why people like You Me At Six? To be honest it's one of those things that I can never really put my finger on, we seems to have been very lucky in Australia, we always seem to have good crowds and the crowds always seem to be growing and we've been lucky enough to do two types of awesome festivals over there whether it be Soundwave or Groovin' The Moo, both completely different ends of the spectrum so we really see different sides of the music listeners of Australia in that sense. Yeah, we've also had people work really hard on the ground for us over there, some of which over the years at different labels have become very close friends of ours and there's that work ethic that maybe the music industry in Australia they get it maybe more than other markets just in the sense that they understand how much it takes and how much it can take from somebody to make a record, and they really nurture it and really look after it and the working on it and I don't know if you get that same sort of level of compassion to your work elsewhere with other labels in other territories. So Australia's got lots of thumbs up from me for lots of different reasons.
I've loved watching you guys grow as a band and seeing you live so many times is a pleasure, in actually being a part of the band what has the experience been like on your side seeing the band grow to where it is now?
Well you know there's a few very simple milestones that we put out when we were younger which was it would be really cool if from music we managed to get on the property ladder and get houses and be able to see the world, that was the other thing and ultimately just to ride it as long as we could, and meet new people  and play new places and I think to an extent we've sort of done almost everything we set out to do especially in England, in our home country where we were desperate to really play a part in sort of guitar music and will go down hopefully in British rock music as a band that during the 21st century really had a big moment and was around at the biggest level getting number one albums and headlining festivals and that sort of shit, and it's stuff that we never though really was realistic but we wanted to try, and I think that's the best part about being in You Me At Six is that it really has reminded me that ultimately anything and everything in this life is possible and I think when you say what it's like being on our side it's been that learning process, being that student of life almost that really anything is possible, because if five lads from Surrey who were never given a leg up, none of us come from affluent families or families with money, or we were never really the band that was getting the hype from the mainstream media in England we had to really scrap and fight for everything we've got and I think it's just made me realise that if we can do it, if we can come up from where we came from with the resources that we had at out fingertips and get as far as we've got then anybody can achieve it, and it just gives me a lot of hope for my life moving forward and other goals and aspirations I have moving forward as a young man and what I'd like to do with my time in music or anything really, it's given me a confidence I didn't have as a younger man, so yeah that's been the really cool thing to get You Me At Six happening.
In now being a band for thirteen years it's easy to say what's changed but what is the one thing you would say has stayed the same in your time together?
The one thing that's stayed the same is every time you think that the music industry is getting filtered out of all the wankers there's just a whole new breed of them coming through, and that's the one thing that's stayed the same. You can always rely on people to let you down in terms of their behaviour, or their ethics, or their morals and that's never gonna change unfortunately, it doesn't matter how many good guys there are in the music industry there's always gonna be people out there that very much do not care about the artist or a band and look at everything as spreadsheet numbers and take all the emotion out of it and run it purely as a business and that's regrettable, but as I said that's the one thing for me that's never changed. Every time we put out an album I think we're all clued up on this, it won't happen again and then it happens again, and I was like why was I expecting anything different, so yeah that's the one thing that's been consistent.
Lastly as always let's look ahead to the future, finish this sentence, by the end of 2017 You Me At Six wants to…
Put out new music.
Really? You're already working on stuff?
We've got some stuff in the fire…
Catch You Me At Six on tour in Australia at the following dates
Fri 22 Sep
Eatons Hill Hotel (All Ages)
Brisbane, QLD 
oztix.com.au
Ph: 1300 762 545
Sat 23 Sep
Big Top Sydney (All Ages)
Sydney, NSW 
bigtopsydney.com
ticketek.com.au 
Ph: 132 849
Sun 24 Sep
Forum Theatre (18+)
Melbourne, VIC
ticketmaster.com.au
Ph: 136 100
On sale NOW – Presented by Frontier Touring, Triple M & Don't Bore Us
Essential Information
From: Surrey, England
Band Members: Josh Franceschi – lead vocals, Max Helyer – rhythm guitar, backing vocals, Chris Miller – lead guitar, Matt Barnes – bass guitar, Dan Flint – drums, percussion.
Website: http://www.youmeatsix.co.uk
Latest Release: Night People (Out now – Liberator Music / BMG) – Check out our review of the album HERE