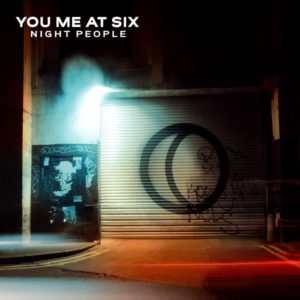 Now I've been a little excited about checking out this new album from 'You Me At Six' after their last effort 'Cavalier Youth' was one of my favourite albums of the last five years, so let's see how the last few years have treated the band and what they've come up with…
Opening with a big riff for the title track, it's a great set up for an album from a band that I feel have continued to grow, to mature and to become a force as one of the best rock bands out there today. Its groove, its gang vocals and overall feel are what fans were introduced to as a first single and it doesn't disappoint. A count in for 'Plus One' kicks it off and the production and arrangement on this track for me stands out, great use of simple drums and bass early in the verses leading to the guitars crashing in to fill out the tune, well played. Not to mention it's another big rocker that is destined to become part of the band's blistering live show but more on that later…
Time to slow it down just a little in an area where this band truly shine, and 'Heavy Soul' is absolute You Me At Six, if you were to define a sort of vibe or feel for the band, this one really hits the nail on the head. It's a stand out and Josh's vocals are perfect for it, oh man, it just got better mid tune as it breaks down with some outstanding guitar tones and a simple question of "what are you waiting for?" repeated throughout, they truly know how to structure a song. Now, on the slow it down aspect I was saying above, the one thing this band are the kings of is a good ballad, look at tracks like 'Crash' or 'Wild Ones' from previous releases for proof, but with 'Take On The World' they have 100% outdone themselves, in almost a growing up the band have delivered a track that should top the charts and would if it was given the chance. It's one of those songs that when you listen to it, I mean truly listen to it you just get it, the haunting underlying music and the real lyrics, not to mention the build-up mid song that makes it even more real, I should be thanking the band for creating a song like this. So, thank you, YMAS!
'Brand New' is probably my absolute favourite on the album, again, these guys have really developed as songwriters and musicians and have grown to be able to give us tunes like this, because when the chorus hits on this track there is absolutely no way you can't be tapping your feet and almost instantly start singing along with a song you've never heard before. Production wise once again it shines with so much happening in the song but the layers perfectly balanced to not get lost. Ahh why can't more bands write catchy hook laden choruses like this anymore? It's not that hard other bands, geez… Lift your game, YMAS are smashing it!! Ooh this is different, almost a fuzz style bass taking on 'Swear' and another rocker that comes in at just under three minutes but it's all that is needed to deliver the punch.
Let's talk briefly about how good of a live band You Me At Six are… actually, I'll make it very, very brief and use only one word. Outstanding. Actually let me elaborate on that, in my many years of seeing bands, it's absolutely refreshing to see a band like You Me At Six live as to me, that's where they truly shine and deliver that 1,2 punch of amazing arena style tunes and a band so tight that no water is leaking out of that vessel. So if you're new to YMAS, do yourself a huge favour, go and see this band live, hear these new songs live and you will not be disappointed.
Ok, sorry, that was a bit of a side bar, and I was writing that while listening to 'Make Your Move', a big rocker sure to make it into the band's set also. It sounds like I'm gushing all over this album and you know what I am a little because it's a perfect start to a new year when a rock album of this calibre kicks it off, I guess I 'Can't Hold Back'… pun intended… please see pretty much every comment above about the songs and put them together to describe this one as it ticks every box, OK maybe except for the ballad one but I'll let that slide… this time.
Back to ballad land… or are we?! Well sort of, before this gets f'n heavy! Now THIS is something I haven't heard from YMAS before, massive driving guitars and rhythm section fill this one out like a kid who got given a shirt too big for Christmas and all of a sudden had a growth spurt and boom, shirt fits. That's how filled out this song became and 'Spell It Out'?! Oh they sure did! Wow. If they play that one live I'll be watching the ceiling for the moment the roof flies off. Oh no way, how can there only be one song left?! That sucks… not the song, the song is great, the fact that it's the last one is what sucks, but 'Give' is the best way to go out with even more maturity and growth in n0ot only writing but overall feel of the song.
I'm just truly impressed with what they've done if you couldn't guess that already. Hey, remember that reviews are one person's opinion, so make sure you listen and make up your own mind on what you think YMAS have done with 'Night People', me? I loved it! You Me At Six to me truly are a breath of fresh air in a time where rock music is slowly going the way of the caribou, and hearing what that band have created with 'Night People' only gets me pumped for what the continued future holds for these guys. See you on the road, fellas.
Check out our interview with Josh Franceschi of You Me At Six HERE
Essential Information
From: Surrey, England
Release date: 6 January 2017
Record label: Liberator Music / BMG
Produced by: Jacquire King
Website: http://www.youmeatsix.co.uk
Track Listing:
Night People
Plus One
Heavy Soul
Take On The World
Brand New
Swear
Make You Move
Can't Hold Back
Spell It Out
Give