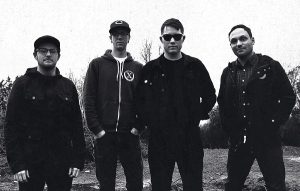 US Post-Hardcore pioneers, Hawthorne Heights will return to Australia for shows across August and September! This time around they will be playing their landmark first two albums, 2004's The Silence in Black and White and 2006's If Only You Were Lonely in full. Both of them!!
With huge hits such as Ohio Is For Lovers, Niki FM, Silver Bullet, Saying Sorry, Where Can I Stab Myself in the Ears? These two albums have been instrumental in shaping the sound of modern hardcore.
The albums feature the bands rhythm guitarist Casey Calvert who tragically passed away in 2007, but who's memory and influence lives on in the songs.
Keyboards and upbeat melodies mixed with screaming backing vocals and big pop punk choruses, Hawthorne Height's defined a genre!
Making this tour one of epic proportions, are some seriously special guests!
River Oaks is a project from Silverstein main man Shane Told. A true one man solo project, Shane plays every instrument on his debut EP which he will be playing along with select Silverstein tracks!
Acoustically driven, emotionally laid bare with Shane's signature pop punk sensibilities.
Check out the video for Let You Down here 
One of Sydney's longest running modern rock bands. Sienna Skies have become a staple in the local scene and with four full length albums and an EP under their belts.
The band have shared stages with practically everyone both local and international. They're perfect appetiser for Hawthorne Heights fans!
Forming in 1998 and disbanding in 2007, Chicago's Spitalfield achieved an enormous amount in their decade of existence.
The bands frontman, Mark Rose will be performing a full set of songs from the bands catalogue as an introduction to the massive night of retro post hardcore ahead!
TOUR DATES
Monday, August 28: Amplifier Bar, Perth*
Tuesday, August 29: Fowlers Live, Adelaide Lic/AA
Thursday, August 31: Corner Hotel, Melbourne
Friday, September 1: Small Ballroom, Newcastle
Saturday, September 2: The Bald Faced Stag, Sydney
Sunday, September 3: The Zoo, Brisbane
Monday, September 4: Shark Bar, Gold Coast*
Tuesday, September 5: Kings Arms, Auckland* **
*Sienna Skies not appearing **Hawthorne Heights only
Tickets are $35 + GST & BF
On sale Tuesday, June 27 @ 9.00am
Offical Event Page:
http://bit.ly/HAW17tour
Presented by: Destroy All Lines, Chugg Entertainment and Killyourstereo.com
www.facebook.com/DestroyAllLines
www.facebook.com/HawthorneHeights
www.facebook.com/riveroaksmusic
www.facebook.com/siennaskies
www.facebook.com/markrosemusic