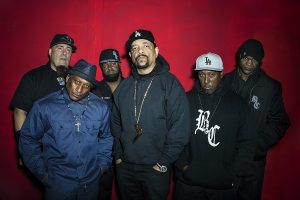 BODY COUNT CONFIRMED TO RETURN TO AUSTRALIA FOR THEIR FIRST SHOWS IN 22 YEARS THIS JUNE
PRESENTED BY TEG LIVE & SONY MUSIC – ON SALE DETAILS TO BE REVEALED NEXT WEEK. JOIN THE WAITLIST HERE
The wait is finally over, as ICE-T's BODY COUNT is back and more vicious than ever. Their highly-anticipated new, full-length album, Bloodlust, is out today via Century Media Records/Sony Music Australia. Bloodlust features guest collaborations from Dave Mustaine (Megadeth), Randy Blythe (Lamb Of God) and Max Cavalera (Sepultura).
Buy Bloodlust NOW 
*Exclusive lilac coloured vinyl for Australia is available now from JB Hi-Fi.
Bloodlust has been praised by critics far and wide and here's what they've been saying:
Check out our review of 'BLOODLUST' HERE
"Body Count's Bloodlust is timely and unforgiving. Ice-T has not missed a beat – it's brutally honest, hard as fuck and about damn time." – Briggs, A.B. Original
"Powerful and explosive track from one of Hip Hops OG's! United we stand, Divided we fall. #blacklivesmatter" –K.Sera at 96.1's Hip Hop show
"The band's most focused, vicious offering since their 1992 debut." – Rolling Stone Australia
"As deadly serious as it is entertaining – Bloodlust is legit."- Lochlan Watt, triple j 'The Racket'
"It's 46 minutes of hate and anger to bang your head to, backed by some of the best guitar riffs in hardcore to date."?– Josh Merriel, triple j 'Short.Fast.Loud'
"Anger is a gift, and Body Count channel it to the fullest." – 4/5 stars – themusic.com.au
"Black or white; wrong or right — Body Count are back; not dead yet. Power." – Heavy Magazine
"Ice and the BC crew are tired, pissed off and an inch away from going postal on y'all. It's exactly what makes Body Count an unstoppable force." – Hysteria Magazine
"Pissed-off-yet-polished production that sounds Godzilla-huge, songs that are aggressive but still inviting, and riffs, choruses, and breakdowns that aren't hooks so much as they're magnets". 4/5 stars – MetalSucks.net
"Body Count don't just rock, they also bite." –  4/5 stars – TeamRock 
"This is abrasive, in-your-face heavy metal at its very finest." – Metal Rules
"Ice-T hasn't lost any of his venom. His lyrics and subject matter is just as hard as it was 25 years ago, and every bit as current and relevant as it was back then." 10/10 stars – Metal Assault 
"An amazing collection and Body Count at their very, very best. Thoroughly sensational." – Silver Tiger Media
"'No Lives Matter' is the essence of Body Count, the distillation of Ice-T's thirty years of colour-blind activism, and this album is the best thing they've done since the first one." – Loud Online
"…Bloodlust is the band's most venomous record to date. " 9/10 stars – The Metal Forge
Body Count will be returning to Australia for the first time in 22 years this June.
BLOODLUST TOUR
June 1 – Brisbane
June 2 – Melbourne
June 3 – Sydney
Sign up to the waiting list and stay tuned for further details.
http://www.teglive.com.au/bodycount.html 
BODY COUNT,
the gangster-metal collective that made music fearsome to mainstream America, their renegade track
Cop Killer
sending politicians, parents and law enforcement officials into a proverbial tailspin when it was released unto the world a quarter-century ago. That's not to say
Ice-T
and
BODY COUNT
have been silent over the past 25 years, but as Ice is quick to point out, you can't start a movement if people aren't willing to move.
"Music happens in climates," the BODY COUNT frontman says when asked about his expectations for the band's new opus, the aptly titled Bloodlust, a razor-sharp collection of social right hooks and body blows that paint a picture of an America in utter and complete shambles.
"Groups like Rage Against The Machine and Korn were born when the world was in turmoil, then music went into this delusional period where hip-hop became about nothing more than poppin' bottles. Now we have impending doom again, racism is at an all-time high and it's our season again. This is the optimal time for a BODY COUNT record."
BLOODLUST TRACKLISTING:
01. Civil War (Feat. Dave Mustaine)
02. The Ski Mask Way
03. This Is Why We Ride
04. All Love Is Lost (Feat. Max Cavalera)
05. Raining Blood / Postmortem
06. God. Please Believe Me
07. Walk With Me…. (Feat. Randy Blythe)
08. Here I Go Again
09. No Lives Matter
10. Bloodlust
11. Black Hoodie