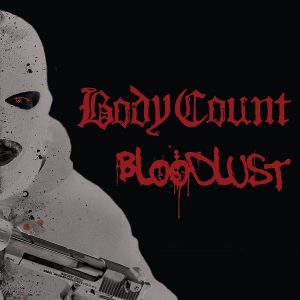 Body Count is back in The House, and I for one am extremely ready for this album and what the band is going to give us this time around. So let's settle in and press play on an album I feel like music needs today…
Sirens, heavy guitars, riffs, a warning message from Dave Mustaine set up the beginning of the new Body Count album 'Bloodlust' and with the opener 'Civil War' it's exactly what you'd expect from Body Count, truth, aggression, those unmistakable vocals from Ice-T and its MF'N kick ass. Not only did Mustaine provide the info he also rips out the solo in this one begins this journey. If the opener is any indication of what Body Count are giving us in 2017 then look out. Straight into 'Ski Mask Way' and this is so heavy! Damn I've needed an album like this for a while and I'm happy right now, although in between head banging I stopped to laugh when they used Instagram as a lyric, it worked though, then straight back to head banging, it somehow gets heavier with 'This Is Why We Ride' but the slower breakdown in this one is where it shines for me, man these lyrics are hardcore though and always have been with BC. 'All Love Is Lost' featuring Max Cavalera is brutal, again these lyrics, fuck, outdone yourself, T! Then the groove it hits?! Damn! I'm loving this truly heavy side of the band and it is MF'N on!!
A mini interview of sorts with Ice-T talking about origins and how Body Count came to be with him sighting Slayer as a favourite band takes us into a cover of arguably Slayers most well-known track and BC do it justice with 'Raining In Blood / Postmortem' and it is fucking awesome hearing this song done by Body Count! Ernie C rips it up and slays (pun intended), the song is the middle of the story here and as it leads into 'God, Please Believe Me' which is a slower groove that Ice-T tells a story over, kinda heartbreaking story but what I've ALWAYS loved about Body Count is their honesty and their way of telling stories, these songs are just that, part of a story. 'Walk With Me' takes us "where no one is safe" and is heavy, fast, and features Randy Blythe from Lamb of God making it one of my favourites on the album. 'Here I Go Again' is not, I repeat NOT the Whitesnake cover I'd hoped for, but instead it's a freaky as shit song lyrically, I love this one as it's kinda different for BC and I'm sure I'll have some great dreams tonight thinking of this delightful track about a serial killer. I hope the next one is about unicorns or something, oh but no, it's 'No Lives Matter' and the intro to this you may have heard on the video as it was the first single released from 'Bloodlust' and much like well, every song Body Count make, this is a song that only they could do and dare I say get away with. This one in particular is a touchy subject with racism the way it is in this day and age, but they manage to take that subject and write about it with an arrangement and musicality that gives this song one hell of a melody and I fucking love it and the message! I cannot wait to hear this song live.
The title track 'Bloodlust' has you head banging along from the beginning to the chunky riffs and driving drums and after listening to it it's obvious why it scored the naming rights to the album, I mean simply, it kicks more ass than one band should be able to. Closing the album with 'Black Hoodie' is the final chapter for what was a truly strong and real narrative on the world today. Do me a favour, take the time to listen to 'Bloodlust' as a whole as when played start to finish you'll understand Body Count's side & why an album like this is so important.
'Bloodlust' is a straight up, no bullshit album and that is MF'N OK in my books!
#Bodycountmatters
Check out our interview with Ernie C HERE
Essential Information
From: Los Angeles, CA, USA
Release date: 31 March 2017
Record label: Century Media / Sony Music Australia
Website: http://www.bodycountband.com
Track Listing:
Civil War (Feat. Dave Mustaine)
The Ski Mask Way
This Is Why We Ride
All Love Is Lost (Feat. Max Cavalera)
Raining Blood / Postmortem
God. Please Believe Me
Walk With Me…. (Feat. Randy Blythe)
Here I Go Again
No Lives Matter
Bloodlust
Black Hoodie