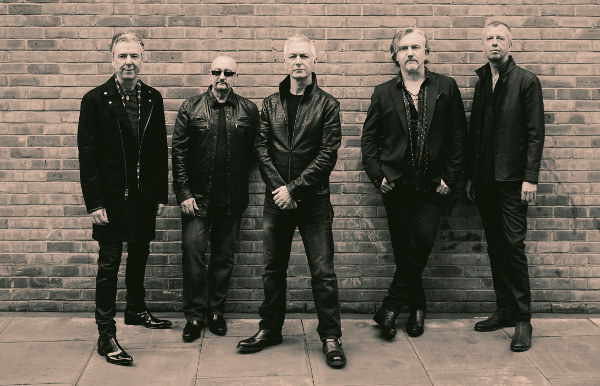 "I think we've always been very honest with our fans about the good and the bad, I think they respect that, I think they understand that like I said before we're always determined to give them a good show and give them the best performances and we've never been a band that wants to make the same record over and over…"
From Release: UK rock legends THUNDER are heading to Australia for their first ever tour this March… and it only took 27 years! Since forming in 1989, the Londoners have established themselves among the UK's most consistent attractions, notching up some twenty Top Fifty singles in their homeland and cultivating a well-deserved reputation as consummate live performers with the likes of Axl Rose (Guns n Roses), Aerosmith and David Coverdale (Whitesnake) amongst their fans. With a lineage dating back to the cream of British hard rock – Led Zeppelin, Bad Company, The Who and Deep Purple – and songwriting greats such as the Kinks, The Beatles and The Faces, the band's sound is a timeless marriage of unforgettable melodies and sheer rock power.
Lounging on his sofa at home we chatted to Danny about their first ever Australian tour, reunions, new music, Bon Jovi & much more…
What was the main reason behind the long-awaited Down Under tour?
I tell you it wasn't for a lack of trying, I have been nagging to anyone that would listen for years and years and years and years you have to understand that being in Australia for us is one of the biggest boxes that has never been ticked and here we are after twenty eight years. I mean the idea that it would take twenty eight years to get to play in Australia it just seems absurd, but trust me it has not been from a lack of trying.
When coming to a country for the first time how do you go about putting a set list together?
That's a toughie, I don't know the answer to that right now all I know is we're gonna do our level best to try and get a mixture of the classics, the old ones that we hope there's some fans out there that will want to hear those old tunes so we've gotta try and put those together almost like a greatest hits type things, and then we're gonna sprinkle some new stuff over the top. I think that's what we're hoping to do.
You've also got a new album coming, what can people expect from 'Rip it up'?
Well I think if 'Wonder Days' was the comeback record, this is the one that says 'OK that was the comeback, now we move on', this is where we kind of stretch ourselves musically and I think also from a performance point of view both collectively and individually we raised the bar very high, we threw out a whole bunch of stuff this time and changed it. I think that's kind of part of the story behind the title, if you don't like it rip it up and start again, you always have a choice and that's kind of the essence of the lyric and kind of why it fitted with the album. That's essentially what we did, we took a whole bunch of the elements from the last record and we threw them out and said let's not do that again let's try something new and we changed it and we changed it and it's just got better and better, so we're very, very happy with the record and we're confident I think is the word, quietly confident that the fans will like it.
How if in any way does making music as Thunder today differ from your previous albums and when you first started?
Well I think we drink a bit less now than we used to which certainly the march of time has told us that as you get older the hangovers get worse and they take longer to get over so we probably drink a little less and we probably drink slightly better wine now than we used to then *laughs*. We're essentially the same people, we've always been very lucky, very grounded, we're very normal, we kind of rip the piss out of each other the whole time, got a great sense of humour, we laugh, we take our music very seriously and we want to make sure we look after our fans by giving them great value for money and great performances. But we're not too serious as people and we really don't have a great deal of time for those people that are, shall we say a bit 'famous' in their heads you know what I mean *laughs*.

What was the main driver behind the return(s) from retirement at least twice in the past ten years?
I think essentially to come back you need to go away, and when you go away you go away purely and simply because in our case the first time which was sixteen years ago, we went away in 2000 we were I think the music business had changed a lot, grunge had come and gone then you had a bunch of navel gazing bands around and bands like us struggled to get written about, we struggled to get interviews, we struggled to get people to review our albums and it was hard. We had a great relationship with the audience, we sold a lot of tickets and the shows were always fun but it was very hard to try and do anything internationally and I think we'd felt like we'd come to the end you know? It was time to walk away and we did. Two years later the internet kind of happened and we realised suddenly that we could if we wanted to instead of being caught in that situation where you're going to record companies and them not really taking your ideas seriously and just really just penny pinching the whole time, we realised that we were in a fortunate position because we had money, the internet was there and we realised we could reach out to our audience and connect with them and they could communicate with us. So we decided to form our own label and we did that for six, seven, eight years I think and it was fantastic between 2002 and 2008 we had a brilliant time but the problem is that every record you make makes it harder to release the next one and stay on top of the business and it just gets harder and harder and harder. I'll be honest by the time we got to the end of 2008 I was on the edge of a nervous breakdown because I was running the band's business and managing the band and I had a broom hanging out my ass most of the time sweeping the floor, so it was kind of difficult and I needed to get away from it otherwise I thought I was going to have a heart attack or have a nervous breakdown or both. So I did, I told the band I was leaving and it basically pulled the rug out from everybody, I'm not pleased with it and neither were they but I had to do it for my own piece of mind. So we stepped away and when we came back again in 2013 to do the Journey / Whitesnake tour in The UK that kind of became the catalyst for the discussion about whether or not we should make another record. So I think the answer to the question is we came back because we couldn't stay away, I think it's a drug, it's a difficult thing to replace when you're used to being in a band and you're getting that kind of feedback it's difficult to replace that with any other thing. All the time there is an audience for you reminding you that you should come back, it doesn't take much to lure you back and that's exactly what happened to us.
What do you think is the secret of the most recent enormous success – selling out Hammersmith last Feb and the likes?
I think we've always been very honest with our fans about the good and the bad, I think they respect that, I think they understand that like I said before we're always determined to give them a good show and give them the best performances and we've never been a band that wants to make the same record over and over, we've always tried to push ourselves and drag our audience along with us and I think that desire to improve is something that the audience identifies with, and I think the fact that we don't take ourselves too seriously, I mean we're very serious about music and value for money and all that stuff because we recognise that if we didn't have fans who basically paid us to do what we do, if we didn't have them we'd all be digging a road and it's a very simple proposition, look after them and hopefully they'll look after you and it's worked for us. The fact that us as individuals collectively get on very well means that we're able to just keep doing it and they just keep coming back and we're very, very grateful for that, and permanently surprised. *laughs*
Has this all lit a bit of a fire under you and can we expect a lot more from the band?
Oh yeah absolutely, we're on a roll right now, we're probably as happy as we've ever been with the position we're in, we've got a great record label now having decided we've had the best of the years of self-releasing we decided to go back to a record company model, and were with a great record company who really understand what we do, really helpful, it's so different of how it used to be when you were fighting with labels all the time to get them to spend money on ideas and ways to reach an audience. That's not the case now we're very, very fortunate we're in a very good place creatively, physically we're doing ok we're a bit creaky now by comparison to the way we used to be but we're still in good shape, I look around me and I see people in much worse condition to me so I don't feel too bad about that. I think generally as long as we're enjoying it there's absolutely no reason why we'd stop.
I've always wanted to ask this as I have a poster on my room for the Bon Jovi shows at Wembley stadium in 1995, what do you remember about those shows?
I remember those shows very, very, very well… I remember it was very hot, the audience was enormous and I remember there was one particular guy, and I'm a bit of a control freak I like to have the whole audience joining in and I'm not very good if the audience doesn't join in and I have to find a way to make them do that. I don't really care how I do that, sometimes I'll set fire to myself, sometimes I'll set fire to an audience member, take my clothes off, whatever, I don't really care as long as everybody joins in and I remember there was one particular guy who was absolutely resolute and did not want to join in and I just made and enormous example of him and basically annihilated him in front of 60,000 people and they all looked at him and swore at him, and he eventually gave in and it was a very, very gratifying moment to know that you can punish one man out of 60,000 and I liked it.
Obviously a lot has changed over your time together but what would you say is the one thing that's stayed the same in your time together?
I think the individuals I think we're very lucky as a bunch of people, like I said we don't take ourselves too seriously, we're very grounded, we're very normal, we're constantly ripping the piss out of each other and I think if anybody tried to get famous in their head then we would be merciless, absolutely merciless and if you can't take that kind of punishment then you can't stay in our band *laughs* as the first bass player found out to his cost two years in. The second one left because he had girlfriend trouble but what can you say he was a nice man, he was supposed to be a Swedish Viking but it turns out he was a girl *laughs* what can I say.
What are you hoping to do as a band now that you haven't yet had the opportunity to do?
I think there's still loads of places that we haven't been, we haven't been to Australia yet so that's a big tick that's just about to get ticked, America has always alluded us we had great promise in America but our timing was just off by a couple of years and grunge kind of killed it so we want to go back there if we can. There's China and the Far East, all kinds of places that we haven't been, we played in Japan a lot but nowhere else out that way, so we really want to do as much as we can while we've still got the strength to do it.
Lastly let's look ahead to the future. Finish this sentence for me. By the end of 2017 Thunder was to…
Thunder want to spend less time at home and more time with the audience.
THUNDER
AUSTRALIAN TOUR 2017

Tuesday March 7: Factory, Sydney NSW
Wednesday March 8: The Corner, Melbourne VIC
Friday March 10: The Tivoli, Brisbane QLD
Saturday March 11: Capitol, Perth WA
TICKETS ON SALE NOW!
For More Information And Tickets Head To:
www.MJRPresents.com
Essential Information
From: London, England, UK
Band Members: Danny Bowes – lead vocals, Luke Morley – guitar, Ben Matthews – guitar, keyboards, Chris Childs – bass, Gary 'Harry' James – drums
Website: http://www.thunderonline.com
Latest Release: Rip It Up (Out Now – Sony Music Australia)