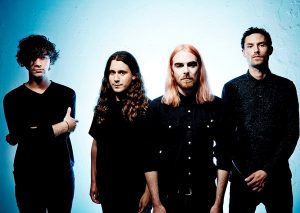 New album 'The Haze', due for release March 17th via Caroline Australia
PRE-ORDER
pulledapartbyhorses.com | facebook.com/pulledapartbyhorses | twitter.com/PABH
Leeds's Pulled Apart By Horses have announced their new album, The Haze, for release on March 17th 2017 via Caroline Australia.
Having recently shared their first new music since 2014's Blood LP in 'The Big What If', dubbed "an instant mosh-pit maker" by the NME, Pulled Apart By Horses today reveal the new album's opening and title track.
"We had to have 'The Haze' as the album opener – it gets down to business pretty quick!" vocalist and guitarist Tom Hudson reveals. "One of my favourite sections on the album is the Kraut-rock-vibe middle eight in this track. We wrote and demoed it in our 'middle of no-where' Welsh writing session, the weird atmospheric sounds at the start of it were recorded outside the lodge we were in. There were these giant whirring fans and birds tweeting everywhere. The bell that opens the album was this little brass doorbell that was hanging up in the porch too."
"With the third album [2014's Blood], we were making a conscious effort to think about everything and really analyse what makes good songs work," explains bassists Robert Lee. "This time around we wanted to get back to the spontaneity of the first record, to just hang out and have fun and see what happened, so we wanted to take ourselves away from our usual practise room, find a new space, both literally and metaphorically, and just immerse ourselves in music for fun once again."
"Basically," says vocalist/guitarist Tom Hudson, "we wanted to go with our guts and fuck everyone else." To facilitate this, at the beginning of 2016 the members of Pulled Apart By Horses, Tom Hudson, guitarist James Brown, Robert Lee and new drummer Tommy Davidson, an old friend recruited from Leeds noise rockers These Monsters, decamped from their lock-up rehearsal facility in their native Leeds to a tiny, remote cottage on a dairy farm in the Welsh countryside for 10 days.
"When we first got to the cottage we thought 'There's nothing to do here!'" says James. "But that was precisely the point. There was no internet, no emails, no-one checking how we were getting on. We were writing for no-one but ourselves. We became like a little family – cooking for one another, building fires, holding late-night karaoke competitions – and completely immersed ourselves in the music."
"One of the biggest influences in writing this new album was the new line up", Rob reveals. "We've known Tommy for many years, and he's created a whole new level of creative spirit within the band." "Tommy has a different style of drumming – he's a bit more hard-hitting, like a Dave Grohl / John Bonham type – and so that changed the dynamics," adds Tom. "He probably felt like he had something to prove, and in terms of creativity and pushing ourselves, his presence really made everyone step up."
Recorded by Ross Orton (Arctic Monkeys/MIA/Drenge) at his McCall Sound Studio in Sheffield, The Haze is twelve tracks of whip-smart, unpredictable, fierce and sussed hardcore noise-pop. "When we were making our previous album Blood we were referencing a lot of Ross's work, so it made sense to go straight to the source, and it was great to see him investing so much in the process" Rob reveals. "Ross essentially became a fifth member of the band for a month," adds James.
Dissected and diced, one might hear elements of The Jesus Lizard, Devo, Hot Snakes, The Stooges, Krautrock, Surf-Pop, The Beatles, Black Sabbath, Captain Beefheart, QOTSA, Fugazi and T-Rex amidst its dozen tracks, but fused by electric studio performances, it's a compelling snapshot of a rewired, recalibrated and rejuvenated rock band at the peak of their powers.
Pulled Apart By Horses are: Tom Hudson (Guitar/Vocals), James Brown (Guitar), Robert Lee (Bass) and Tommy Davidson (Drums).