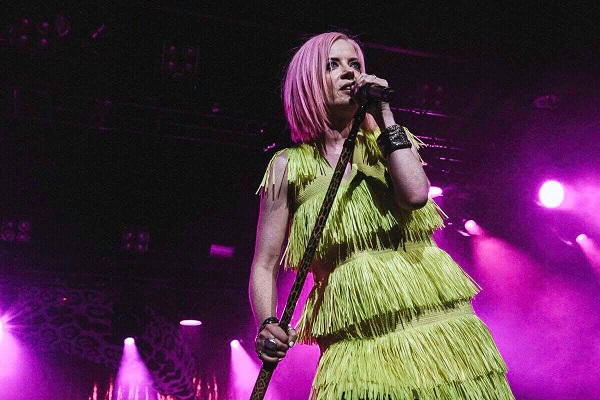 Would you believe I've never seen Garbage before?! Yeah I know right… so tonight upon their return to Sydney I finally get my chance and am looking forward to hearing these songs that I've heard for a number of years.
Opening with 'Supervixen' Shirley Manson graces the stage in her dress full of fringes looking like she stepped straight out of 1920's flapper land and it's just perfect, and tonight even without the mastery of Butch Vig who couldn't make it down on this tour the band are tight, and ready to deliver a set to the adorning crowd. The reception to 'I Think I'm Paranoid' was warranted as they chunk through a song that it looks like many here were waiting to hear.
Ooh another one we all know 'Stupid Girl' and it sounds as good as I'd hoped it would after many years of not seeing the band live. They deliver it with musical precision and give the crowd what they wanted which was a couple of big hits this early into the set, and just watching the place sing this one back to the stage was pretty impressive.
'Automatic Systematic Habit' has many in the crowd going crazy and special mention for the people in front of me losing their mind loving this song. The set continues with 'Blood for Poppies' and this just shows me how much Shirley Manson and the band can command the crowd, as the crowd continues to groove to 'The Trick Is to Keep Breathing'. 'Sex Is Not The Enemy' is lead in by an amazing introduction by Shirley on behalf of the LGBT community and the reception was overwhelmingly amazing. I love a band that's willing to proclaim something like this to the audience and this song tells it so well, such a great addition to the set tonight.
As the lights dim for the first time leaving the band in shadows they launch in to 'Blackout' sounding as tight as you'd want from a band that's been killing it for so long and as the song finishes and the stage lights up red, we get 'Magnetized' which got a great reception but not as much as 'Special' did when the opening notes hit. The crowd loved every second of it as they have the entire set so far as the band go on to discuss koalas and kangaroos as many international artists do and for everyone that isn't here Shirley has told you to search for 'George the wombat', then throwing out a massive shout out to Australia's own Kylie Minogue for everything she's done Shirley gets very Australian love as they lead into a song that Baz Lurhmann took under his wing and helped make garbage what they are in Australia with '#1 Crush' and I will come for you…
Slowing it down with 'Even Though Our Love Is Doomed' and bathed in black and white they continue to deliver a set of songs that showcase why Garbage are still relevant and out there touring the world. Oh wait. They all know this one as the band explodes into 'Why Do You Love Me ' but as they continue on with 'Night Drive Loneliness' a much slower song and they lapped it up. 'Bleed Like Me' continues on as does the set with 'Shut Your Mouth'.
But here we have 'Vow' and I'm happy as I've been waiting twenty years to hear this song live and it delivered tonight, and what a delivery of the song that introduced me to Garbage way back when and I could tell that many here had been there from the start too as the place was rockin' out to this one. Then to back that up with 'Only Happy When It Rains' tells me we're getting to the pointy end of the set and thankfully for us all as they pour some misery down on us all. Wow. Nailed it. 'Push It' was performed effortlessly before leaving the stage prior to the much warranted and deserved encore and with not much time passing they return to the stage to finish off what has been a tight, amazing set from a band that have continued to make music for now over twenty years and kill it with what they do.
Hitting us with the 'Queer' and that was the sexiest of the sexy with that one and 'Empty' is the perfect way to combat the previous and it rocks the hell out of the place. Now we have 'Cherry Lips' of course, how could this not be at the end of the set, watching as Shirley lets the crowd sing the shit out of this one was a perfect way to end an absolutely killer show. The band were on fire, there were no costume changes, simple and amazing lighting, a voice that is still as good as it sounded twenty years ago, other bands, this is how it's done.
Go Garbage go go…
Essential Information
Venue: The Hordern Pavilion – Sydney
Date: December 2, 2016
Presented by:  Frontier Touring
Website: http://www.garbage.com
Photo By: Annette Sheridan – Every Day Is Saturday – Check out our full gallery here
Set List:
Supervixen
I Think I'm Paranoid
Stupid Girl
Automatic Systematic Habit
Blood for Poppies
The Trick Is to Keep Breathing
Sex Is Not the Enemy
Blackout
Magnetized
Special
#1 Crush
Even Though Our Love Is Doomed
Why Do You Love Me
Night Drive Loneliness
Bleed Like Me
Shut Your Mouth
Vow
Only Happy When It Rains
Push It
Queer
Empty
Cherry Lips (Go Baby Go!)