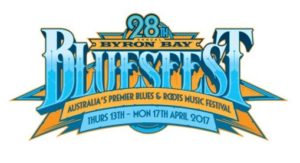 Bluesfest Byron Bay is delighted to announce that on Friday 14 April 2017 Neil Young + Promise of the Real will play a three hour set at Bluesfest Byron Bay. They join the illustrious names already on the bill including Santana, Zac Brown Band, Patti Smith, Mary J. Blige, Buddy Guy (exclusive), The Doobie Brothers and many more.
This announcement proves that in 2017, Bluesfest is capable of bringing together a line up of artists that is as good as their best ever. Incredibly there is still more to come with another major announcement scheduled for Sunday 9 October at 9am AEDT.
For this guitar-centric, full steam-ahead and highly-charged concert, Young is joined by Promise of the Real, an LA-based rock band fronted by Lukas Nelson (vocals/guitar), along with Micah Nelson (guitar, vocals) and their band. They have performed with their father, Willie Nelson and Young on previous occasions and wowed Bluesfest with their exceptional sets this year.
From Thursday 13th to Monday 17th of April 2017 over the Easter long weekend the Tyagarah Tea Tree Farm, just outside of Byron Bay will come alive when thousands of festival goers attend Australia's Premiere Blues and Roots festival. Featuring multiple stages with 12 hours of music each day, an eclectic range of food and market stalls, on site camping and free parking, Bluesfest Byron Bay 2017 will be the place to be this Easter.
Peter Noble OAM, Festival Director of Bluesfest, comments on the Neil Young + Promise of the Real joining the Bluesfest 2017 line up:
"Bluesfest is proud to announce our headliner for 2017.
Neil Young + his incredible new band Promise of the Real, are coming to Bluesfest to perform their full 3 hour set on Friday April 14 on our Crossroads stage. Neil's recent sets have included such classics as 'Heart of Gold', 'Out on the Weekend', 'Harvest Moon', 'Powderfinger', 'Cowgirl in the Sand', 'Everybody Knows This is Nowhere', 'Cortez the Killer' and 'Rockin' in the Free World' – WOW. I can't wait!
This is the third Bluesfest announcement in three weeks; with Santana being the headliner of last week's, and Mary J. Blige the week before, and with the Zac Brown Band, Patti Smith, The Lumineers, Bonnie Raitt and Buddy Guy (festival exclusive performance) in previous announcements.
You can only guess who will be in the announcement this Sunday 9th of Oct at 9am? It's another beauty!  
We ask fans yearly in questionnaires who is the most requested artist to play a future Bluesfest, hands down Neil comes in first on every poll we do. Well, we have fulfilled the wish of many Bluesfesters.
Promise of the Real featuring Lukas Nelson, (Willie's son), blitzed at Bluesfest 2016. Again I can't wait to hear them play with Neil.
Bluesfest 2017 is shaping up to be one of our best yet. Ticket sales are as good as our best ever, so if you are intending to come, make sure you don't wait too long, buy your tickets while you still can".
Peter Noble OAM
Director
Byron Bay Bluesfest
NEIL YOUNG + PROMISE OF THE REAL
JOIN 2017 ARTISTS ALREADY ANNOUNCED:
SANTANA
ZAC BROWN BAND
PATTI SMITH AND HER BAND PERFORM HORSES
MARY J. BLIGE
THE LUMINEERS
BUDDY GUY EXCLUSIVE
THE DOOBIE BROTHERS
BONNIE RAITT
MAVIS STAPLES EXCLUSIVE
BILLY BRAGG
JETHRO TULL
TROMBONE SHORTY AND ORLEANS AVENUE
RICKIE LEE JONES
GREGORY PORTER
SNARKY PUPPY
ST PAUL & THE BROKEN BONES
CORINNE BAILEY RAE
MICHAEL KIWANUKA
NAHKO AND MEDICENE FOR THE PEOPLE
GALLANT
BETH HART EXCLUSIVE
LAURA MVULA
ANDREW BIRD
BOOKER T. PRESENTS THE STAX RECORDS REVIEW
ROY AYERS
JOAN OSBORNE
TURIN BRAKES
THE STRUMBELLAS
JAKE SHIMABUKURO
DUMPSTAPHUNK
THE SUFFERS
NIKKI HILL
IRISH MYTHEN
Neil Young + Promise of the Real
"Now in his sixth decade of refusing to fade away, Young can still mow down a mob of adoring fans with tender melodies, ragged rock 'n' roll and brutal guitar feedback." – Boston Herald
Neil Young will make his long awaited Bluesfest debut in 2017. Described by the Rock and Roll Hall of Fame as "one of Rock and Roll's greatest songwriters and performers", Young has the rare ability to change minds and break hearts with his profound lyrics, and to thrill audiences with his charismatic live performances.
A truly prolific artist, Young has released 37 albums since 1969 including the much loved and revered Harvest in 1972. Rolling Stone magazine ranked Young 34th in its list of the 100 greatest artists of all time and in 2003, included five of his albums in its list of the 500 greatest albums of all time.
"Young isn't getting old. He's being attacked by the future. And Friday night, Young played with an intensity that made it seem like the past is worth protecting and that rock improvisation is still worth getting lost in." – The Washington Post
Since 2015 Young + Promise of The Real have released two albums. The first, The Monsanto Years is an ecologically/environmentally-focused album that The Guardian gave five out of five stars.
The next is Earth, an album that features performances of songs from a range of Young's albums, including Ragged Glory and After the Gold Rush. It is a new take on some of Young's most beloved songs and features live recordings, along with added musical overdubs, as well as sounds of the earth, such as city sounds like car horns, sounds of insects, and animal sounds from bears, birds, crickets, bees, horses, cows – creating a very strange, yet beautiful atmosphere.
In addition to recording and playing with Young, Promise of the Real have also performed with the likes of John Fogerty, Bob Weir, B.B. King, and Bob Dylan. Promise of the Real are led by Lukas Nelson who first picked up the guitar at age 11 to honour a promise he made to his father, legendary Country musician Willie Nelson and was able to teach himself the craft by playing along to classic Stevie Ray Vaughn and Jimi Hendrix songs.
Together, Neil Young + Promise of the Real bring their guitar-centric, full steam-ahead and highly-charged rock albums to life on stage.
THE 2017 ARTIST DAILY PLAYING SCHEDULE IS AVAILABLE ON BLUESFEST.COM.AU
All 5, 3 & 1 day festival and camping tickets are now on sale through bluesfest.com.au or by phoning the Bluesfest office on 02 6685 8310