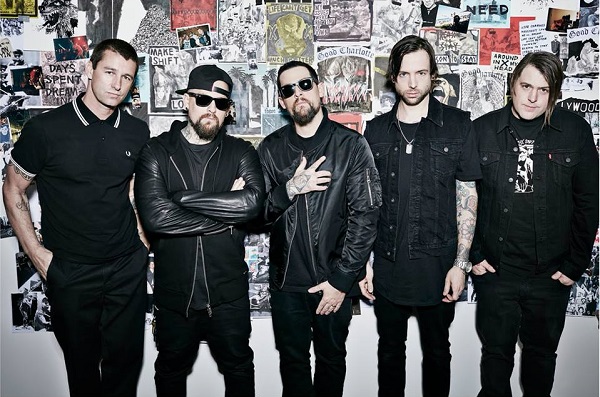 "Good Charlotte in 2016 is a truly, completely independent band which is for us we're really proud of because we didn't have the confidence in our twenties to think we could do it on our own and we are now at this stage in our career where we're not afraid of being smaller to be free."
From release: Good Charlotte has had a long history in Australia. Their radio-ready pop-punk sound captured on albums such as their 3 x US platinum (2 x Platinum in Australia) breakthrough 'The Young and the Hopeless' and over 10 million combined sales from their 5 albums sold worldwide. Good Charlotte's last studio album, 2010's 'Cardiology' (Gold in Australia) debuted at #3 on the ARIA Chart and featured two of the most played songs on Australian radio in 2011 with 'Sex On The Radio' and 'Like It's Her Birthday'. Now Good Charlotte are set to release their sixth studio album 'Youth Authority' on Friday, July 15, via the Madden Brothers' own label MDDN, distributed worldwide through Kobalt.
While in Sydney, we sat down with Joel and Benji Madden to talk about the return of Good Charlotte, the band's new album 'Youth Authority', Australia, touring, motivation, and much more…
It's been six years since the last Good Charlotte album, why was now the right time to give the world a new release?
Benji: Felt like it man, I think we had gotten the chance to step away from Good Charlotte for a while and we also got a chance to also fall in love with it again and that was kind of the thing. We actually felt like when we kind of shut everything down, we felt like we took it back like for ourselves, at a certain point it felt like it wasn't ours anymore and we weren't making decisions for ourselves and if you want to make genuine records that's the only way the record is gonna be good. So it just felt like we needed to, and I couldn't tell you how many records we're gonna make now that we're back together, I couldn't tell you because it's really just going to be going on how we feel, not about anything else. So we had worked with a bunch of younger bands and we did The Madden Brothers record and the whole thing like Joel was like 'I don't know if I want to make another Good Charlotte record, I don't know if I ever want to make another Good Charlotte record, the only way I want to do it is if I feel like I have something to say, or if I feel like it's real, like I feel like I can't live without making a record'. Then that feeling came back…
Joel: Yeah and we got together and we started making the record there was a real buzz, you could really feel that energy
Benji: I think you can feel it on 'Life Changes', that's actually the first song we wrote and we did when we got back together, so I was like that has to be the first song on the record.
Joel: I feel like by the end of the record we got our swing back, I almost feel like I would like to make another record because we have been playing live so much and there really is something about playing together as a band…
Benji: It's special, man…
Joel: Yeah, and the music is born out of that, so I feel like I would be interested now after playing together for months and all these tours that we're gonna do…
Benji: The next record is gonna be good, the next record is gonna be bad ass, this record is kind of a warm-up but…
Joel: I feel like the next record will be the best record we ever made.
Benji: I'm proud of this record though because it's just genuine, you know?
If this is a warm up then I can't wait to see what you do with the next one because I love this record.
Joel: Oh you do? Man, thank you that means a lot.
So what was the feeling like from you guys when you sat down and heard the full product for the first time?
Benji: Yeah it was really good, man…
Joel: It's special…
Benji: We had a really badass guy mix the record, Ben Grosse and when we got the record and I listened to it I was really proud, man…
Joel: I think it made you appreciate things differently and I think it's just interesting at this age and listen to a record that you made and as a band I like it, I like the playing on it, I like the drums, I like our drummer I think he's a great drummer, I like the choices he made, so I got to hear those choices as a fan listening for the first time once I heard the record mixed and when I got the complete record. Like I got to hear what our bass player played, and what our drummer played, and the guitar, little accents on the guitar, and I like playing with my band, but individually I like them as players and musically I find that this record has some layers to it and I really enjoyed the choices they made. So it was cool to hear it complete.
It's been quite some time since you worked with John Feldmann too, why was he the right guy to help make this record?
Benji: This record was like I think the thing was we'd never actually made a record with John, we'd only ever done a song with him, or written songs on whatever. We finally made our John Feldmann record.
Joel: We wanted to make a John Feldmann record.
Benji: We've been a fan of some of the records he's made and we've been friends for yers so we finally made out John Feldmann record.
Man, there's one song I have to ask about specifically, that being 'Reason to Stay', outstanding and not just because Simon from Biffy Clyro is on it, but is there a story you can share about how that one came about?
Benji: I love that song too, man, Simon's voice comes in, I think it's not a shock but it's a really cool moment on the record when that song starts and all of a sudden you're like whoa… I love his voice, it's so recognizable.
Joel: And we're fans of his band. It's interesting, that song came out of nowhere because I didn't even know I'd get to work with Simon, I was just a fan and then I got to meet him and we had started our record and I was like 'Hey we're making a record would you want to write a song?' I thought just write a song, and then we really hit it off, like we like each other and we became friends, like genuinely I really like that guy, he's such a good guy. He's so talented and everything you want as a fan of a band when you meet someone you look up to you want him to be that way and he was all of that. So it was cool, then he was like 'yeah we'll write' and in one day we wrote that song. The song itself is about relationships, everyone who's in a relationship understands what it means to have to decode to stay you know what I mean? In a band, in a relationship and so you really have to choose over everything you have to choose a relationship and that's what the song's about, every now and then you're looking for a reason to stay even when someone's not giving it to you you have to choose to stay, and I like it because it's just such a big rock song, an arena rock song and I think it's a really unique moment for Good Charlotte. It reminds me a lot of the song 'The River' we did with Avenged Sevenfold, completely odd pairing but works for some weird reason, same with Biffy Clyro, odd pairing but it works and as a fan of the band it's a dream come true to have a song on your record, it's like a token you get to keep forever.
You guys practically live in Australia now, but when do you think we might see Good Charlotte back on stage here for some live shows?
Benji: Yeah… we're hoping next year. We're not gonna be able to get back this year but early next year.
Joel: And we'll do a proper tour, it'll hopefully be a nationwide.
Even before your presence on TV here you guys always had a connection with Australia…
Joel: Really great…
What do you think it is about Australian audiences that just get what Good Charlotte is about?
Benji: I think Australia relates to just our attitude and I think we've always kind of been like really kind of underdogs and our music kind of stood for the underdogs, the misfits and I feel like Australia roots for the underdog, that's kind of the way here, everybody kind of roots for the guy that's not supposed to win…
Joel: We've always been pretty honest too through our everything, our music, and right or wrong whatever we've done in our career we've always been pretty honest about it and Australia kind of respects that for the most part, as long as you're pretty straight up with Australia they'll be pretty straight up with you and they're not gonna love everything you do but it's a pretty honest relationship, so we don't need to be right all the time and I feel like there's respect there for that.
The pop punk genre is still out there going strong, but what do you see as the biggest change that's happened to the music since you guys released your first album in 2000?
Benji: I feel like pop punk is having a big wave right now and is coming back in a wave. I think that if anything it's gotten more acceptable and it's more acceptable to do it on a level like we did whereas when we did there wasn't many bands doing it like that, it was only a handful, there was Green Day, Blink, Offspring and that's about it. That's only a handful of bands and when you think about other genres how many, like if you think about Metal, there's so many metal bands and so many sub genres, and pop punk is one that has never been taken seriously, and I think one of the things we've always tried to push the pace of is like you never thought a guy from pop punk would be on a show like The Voice, you know? I mean for us we were always trying to push the limits and the boundaries of what a pop punk band can do and what's possible. I feel that now the next wave of bands that's to come…
Joel: Anything is possible
Benji: Kids are dreaming bigger and pop punk bands are taking themselves more seriously and doing it, so I do feel like the limits have been pushed.
It's just fun music too…
Joel: Yeah, it just feels good…
Benji: The energy…
Let's look back at your catalogue, if there's one song from it that you feel epitomizes Good Charlotte what would it be?
Joel: That's a good question…
Benji: That's a good question, man… 'The Anthem' would be a key one
Joel: There's definitely some key tracks… 'I Just Wanna Live' would be a key, 'Hold On' is a key track…
Benji: I think 'Life Can't Get Much Better' from the new album is a key track for us, I feel like it really embodies our band.
So… basically you could say a 'Greatest Hits' selection then?
Joel: *laughs* Yeah, it's always the hits, I think that's what people identify with you with, but there's some truth to it because 'Lifestyles of The Rich and Famous' will always be a key track, it's so different, 'Girls and Boys' all our hits were so different from every other band and they are what made our band special. It's really hard to replicate that, it's a strange brand of music but it works for some reason.
It's funny, last week before I knew I'd be talking to you guys I was listening to 'Motivation Proclamation' because I was flat out unmotivated by a few things, so now that I've actually got you here, what's the best piece of motivational advice that you've heard to help someone get out of a slump?
Joel: That's a good question, I think that's an important thing to think about because everyone needs motivation, and everyone needs to remember that they're unique and they're special and there's no one else like you and we live in a really cynical world and I understand why, I get why people are cynical but it's important to not let that cynicism defeat you. For me the best advice is always to keep trying, you've gotta get back up, really for people who struggle with that for me what I would say is just keep getting back up and each time you'll get up a little faster and then you'll start falling less and then that's how you make progress… keep going forward, keep getting up, keep trying, and be hopeful, be optimistic.
Benji: I love the song on the new record 'Keep Swingin' like to me that's the most motivational song, like I love the chorus of that song is like when they said we sold out we keep swinging, like to me that's the most motivational song on the record, that's my running record I'll run to that record.
How has it been having the MDDN record label, and what kind of freedom does that allow you?
Joel: Total freedom, that's why we did it, Good Charlotte in 2016 is a truly, completely independent band which is for us we're really proud of because we didn't have the confidence in our twenties to think we could do it on our own and we are now at this stage in our career where we're not afraid of being smaller to be free. So where we may not have a major label machine behind us we feel like our efforts to us are more truer than ever and it's just the journey we're on because it's what we've come to in all our experience and what we've done in our career is we're being truly honest about what we are and who we are, and we're not trying to conquer the world, we're just trying to be the best us we can be, and we feel that being independent is the best version of our band that we can be and this record was the first record we made completely independent of anyone and any influence, we literally got together, made the decision, picked the producer, made the record, there was no forensic A&R happening, it was literally us just wanting to make a good record. I think in 2016 people are getting the best version of Good Charlotte that they've ever gotten so it's complete freedom, even more than that it gives us something to fight for because it's a proof of concept for bands behind us to not be afraid and we feel like we something to work for the next twenty years of our career, we now have a new dream and it's bigger than Good Charlotte and it's bigger than our music and it's really about artists and showing artists that they're not a commodity and that they're valuable and they're special and they should value themselves.
Lastly with the year on the downhill let's see if we can predict something, so finish this sentence for me, by the end of 2016 the one thing Good Charlotte want to do is…
Joel: By the end of the year the one thing Good Charlotte wants to do is…
Benji: What haven't we done?
Joel: I'd like to be nominated for a Grammy, I don't know if we'd know that by the end of the year?
Benji: I don't know? I think that's next year…
Joel: We never have and I'd like that…
Benji: I think by the end of the year it'll be good to have completed our first tour together in what six or seven years?
Joel: Yeah, first U.S. tour in seven years…
Some nerves getting back out there?
Joel: Yeah it would be cool to have a sold out U.S. tour first time in seven years after not touring there for so long, we've toured Australia, Europe and I will say this, we've toured outside of the U.S. so much more, we owe the U.S. so much so we're gonna give it to them so we all feel really good about that because…
Benji: We've gotta put that together…
Essential Information
From: California, USA
Band Members: Joel Madden, Benji Madden, Billy Martin, Paul Thomas, Dean Butterworth
Website: http://www.goodcharlotte.com
Latest Release: Youth Authority (Out Now – MDDN / Kobalt) – Check out our review HERE