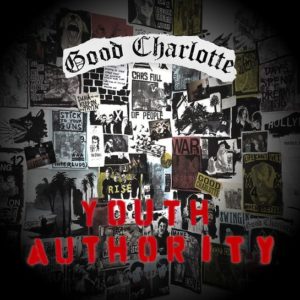 When a band has been away for a while you kind of have a worry in the back of your mind when you hear that they're getting back together to make a new album, I mean, what if they sound different? What if it's not the same? All those questions that go through your head, but what outweighs that most times is the excitement, the band you dig is coming back and there's going to be new music? That wins and squashes doubt in my opinion… what makes it even better is when you get to hear what the band has done and IT'S GOOD!!
Not only is it good but it's Good Charlotte, yeah that doesn't make much sense but you know what I mean. Good Charlotte are back after a hiatus with a brand new album of new music called 'Youth Authority' and I've cheated, I've listened to it a few times already, so rather than my usual first listen review I'll give you my fourth listen review.
'Life Changes' instantly sounds like a GC track (phew, see, the worry from above is already squashed!) but what I love about this track is the hook, the groove and the feel of it, it's somewhat autobiographical too and not only for the band, it's a song about everyone, and with some 'whoa ohs' thrown in for good measure, this song will now forever be a staple in a Good Charlotte set, in fact not only as the opener to the album but I expect it to be the opener at any of their shows too. Then 'Makeshift Love' again as catchy as you want, some great arrangements and big gang choruses have you tapping along to it and wanting more before it abruptly ends, noooo come back song… but then why would I want it back when there's ten more to go? OK I have to admit when '40 oz. Dream' started I did that sideways head thing that dogs do when they're confused but it levelled out when I took in the lyrics and with a chorus that brings the guitars in, but story wise this is a really cool way to look at how it was…
Now we get a little inspirational and moving with 'Life Can't Get Much Better' and a big sort of ballad for the band, but it's one of those songs that people will relate to and truly dig and Good Charlotte have been able to do that throughout their time together and that's testament to a band that appreciates themselves and their fan base. From the nice big ballad we get rockin' up again with 'Keep Swingin' and this one is again a good way to look at life, oh hey Kellin Quinn, he comes in and sings a bit on this one which works really well, definitely a motivational track for everyone, just keep swingin', just keep swingin'… the strings at the end got me too, man I'm a sucker for that kind of thing. Now, as we had Kellin on the last track we now get Simon Neil of Biffy Clyro on hands down my favourite song on the album 'Reason To Stay' is as power ballad and arena rock as you'll get from Good Charlotte and I love every second of it, in fact do you know how hard it is to type with one hand while the other has a lighter held aloft waving back and forth? Yeah… hard… but worth it. All I'm going say about this song is just listen to it and marvel in its presence.
'Stray Dogs' is a great middle of the road rocker with Good Charlottte's signature sound all over it, and the cool little interlude 'Stick To Your Guns' flows into 'The Outfield' which is a straight up pop punk rocker, that sounds like the GC of old but with this new modern twist and a nice throwback with a couple of old song titles thrown in for good measure. I really dig this one this late into the record, and my point being that every song so far has been great, this album flows so well and the band have really put out some killer tunes to make this album the best it can be. Even a song like 'Cars Full of People' which is almost worthy of a country label fits well onto the album, it's songs like this that break up the regular sound as to not be too samey and really gives you a sense of artistry here, meaning they can change it up and do it well. I'd love to hear more tracks like this as a matter of fact, so take note GC.
With only two tracks to go 'WAR' is the first and you better get ready because here it comes… and this is one of my favourite tracks on the album in fact, another big arena rocker and man, I can't wait to hear these songs live, this one musically is up there production wise, the bass line under this song is outstanding and every instrument is crisp and clear and sound exactly like they should for it. The breakdown in the middle is a nice change up and allows the song to build to a PYRO EXPLOSION, wait, sorry getting ahead of myself, hey GC take note, use pyro at the part where it comes back in, that would rule! The album closes with 'Moving On' and it's the perfect closer, almost a testimonial… but listen to it, it's good. There's so much growth in this band and the entire album shows that, not only lyrically but musically, vocally and just overall, they've nailed it.
This was a really great, easy album to listen to and enjoy. In 2016 it's cool to have and to hear a new album by Good Charlotte, and if this is what they've done on their return I cannot wait to hear what they do after they're warmed up… Welcome back, fellas!
Check out our interview with Joel and Benji Madden HERE
Essential Information
From: California, USA
Release date: 15 July 2016
Produced By: John Feldmann
Record label: MDDN
Website:  http://www.goodcharlotte.com
Track Listing:
Life Changes
Makeshift Love
40 oz. Dream
Life Can't Get Much Better
Keep Swingin' (feat. Kellin Quinn)
Reason to Stay (feat. Simon Neil)
Stray Dogs
Stick to Your Guns Interlude
The Outfield
Cars Full of People
WAR
Moving On