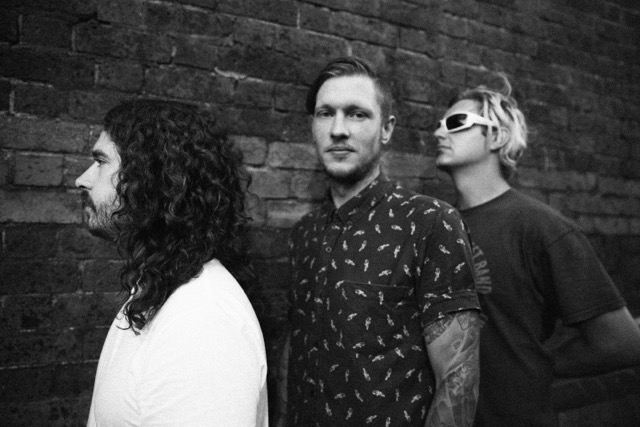 "If you are interested in something new, energetic and from the heart i would say there is a song on this Ep for you. The Riot Ep is very diverse and we wanted it to be so you have light shades and dark shades. The full album has all that and more."
With plenty of excitement and energy throughout their music, Melbourne three piece electro rockers Rival Fire want listeners to feel the emotion threaded through it.
At its the core, there is more than one emotion attached to a sound or song. What resulted from the bands union was the dark heart of rock combining with positive uplifting moments to produce something super catchy but also very powerful. The Riot EP is the pre-cursor to the bands forthcoming debut album, to be released later in 2016.
We had the guys from Rival Fire answer some questions for us about their debut EP, inspirations, influences, cover songs, and more…
Let's start with the basics; for those that aren't aware of you, can you please give us the abridged version of the Rival Fire story, how you all came to be and the decision on the name of the band?
So in 2013 the 3 of us had recorded some of Robs songs over in LA for a project he was working on. It sort of evolved into a band from that as the 3 of us worked well together and it seem more of a band project than a solo project. We decided to group together as a writing team to smash out an Album. We did spend a lot of time in LA writing/networking and a little partying. But through this time we were able to network our way to getting in contact with some fantastic people. In 2013 we headed over to LA to record a 4 track Ep. We shopped it around a little bit but the general consensus was that we needed more songs on paper so that's what we did. Matt had a pre-existing relationship with superstar producer Mark Needham (Chris Isaak, The Killers, Fleetwood Mac and many, many more). We hit him up to produce our Album. We headed over there to work with the great man and we were given the chance to record in some amazing studios while we were there. And this is what we came back with.
Can you now please introduce each band member including yourself, and give us a rock 'n' roll fact or myth about each of you?
Rob grew up in a music family. Played in a bunch of metal bands and had been doing solo shows. Fact: Likes Taylor Swift
Matt also grew up in a musical family with his father very close with Bon Scott and Lobby Loyde. Has also played in some great bands over the years. Fact: Likes Britney Spears
Tim did music on his own bat playing in a bunch of Indie Rock bands over the years and doing solo shows. Fact:  Has "The Streets" Lyrics Tattooed on his back.
You've just released your debut EP 'Riot', so instead of giving us a standard review, let's say if you had to give us your best door to door sales pitch to try and convince someone to listen to it before they slam the door in your face, what do you say to them?
oooh good question! I would prob wedge my foot in the door first haha. But seriously this was made with passion and blood. If you are interested in something new, energetic and from the heart i would say there is a song on this Ep for you. The Riot Ep is very diverse and we wanted it to be so you have light shades and dark shades. The full album has all that and more.
When you have to essentially introduce yourself to the world musically, was it tough to decide on just what songs made it on the EP?
As I said in the question above is was about making the Ep and diverse as we could. You still know your listening to the same band but we wanted to display our light and dark.
There were songs that we wanted to put on it but between our label (Sony Aust) and our USA management (Rob McDermott Linkin Park and more) we decided on the ones that you hear now.
In terms of your song writing, what do you consider to be the most important ingredients that make up one of your songs?
I would say passion and diversity. Songs need to rise and fall in the right parts to really take you on a journey and make you feel something. If you like it or not we want it to just effect you. Good or bad.
Lyrically and musically, currently who or what inspires/influences your music the most?
The band members have such a range of inspiration bred into our blood. We love 90s RnB, 80s classics and a lot of older stuff from the 70s. 2 of us come from metal bands in the past and we tried to keep that through Rival Fire without being too heavy. We still wanted the big Nu-Metal chorus drops and HipHop bounce verses. Our 80s influences you can hear in our synths.  I would say we are into music in general. Lyrics are great fun to write and we take the song where it needs to go with how it feels. We don't set out to write sad or aggressive songs but if it goes there it goes there.
On the other side of that, what bands did you grow up listening to and how did they help create the style of music that can now be heard throughout your music?
collectively we were into Sublime, Pantera, Sepultura, Korn, Stevie Wonder, Tom Petty, Stevie Ray Vaughan, Little River Band, Fleetwood Mac, The Meanies, Dead Kennedys, NWO, 2Pac, John Farnham, Cold Chisel, No-FX, Jimmy Dean, Supertramp, Commodores, Bad Brains, Frenzy Rhomb, NIRVANA, Billy Idol, Dr. Dre, Snoopdogg, Bob Marley, System of a Down, Muddy Waters, The Temptations, Average white band, Mandrill, Cutting Crew, Huey Lewis & The News, Men At Work, Eric Clapton, James Reyne, Talking Heads, Steve Miller Band, Queen, The Animals, The Coloured Balls, Electric Light Orchestra, Billy Ocean…..and many more…. I think you can hear our 70-80s influences in our synth uses tho some of that pushes to the new age of music. I guess its just a mesh of all of our interests in the tracks i think you can really hear our 90s sounds as well as our metal/heavy rock elements. We wanted to sound big but not scary.
In terms of touring, here's your chance to plug any upcoming shows, and also for those that haven't seen you, how would you describe a typical Rival Fire live show?
Heading out on the road with Dead Letter Circus and Clint Boge, mid August to early September. I would say our shows are energetic and fun. We have fun on stage.
For a bit of fun, say you get the chance to open for any artist or band in the world, who would they be and why?
Besides opening for Dead Letter Circus, who we are stoked to be opening for, I guess Awolnation or Imagine Dragons.
If you were to cover one song in your live set that no one would ever expect, what would it be and why?
This one is a tough one, we have worked on The Cure's song Why Can't I be You, maybe you'll hear that one day.
Is there a message you want to get across with the music of Rival Fire?
Take Riot for instance, that song is about joining together as a collective and moving together as people, I guess the album is about passion, belief in yourself and having fun.
Lastly, with 2016 well under way, here's a chance to jump in the DeLorean and tell us the future.  So, by the end of 2016, Rival Fire will:
1. Have our full Album out!
2. Toured with Dead Letter Circus
3. Begin Album number 2!
Essential Information
From: Melbourne, Australia
Band Members: ROB: Vocals, MATT: Drums, TIM: Guitar/BV's
Website: rivalfire.net , www.facebook.com/Rivalfireband
Latest Release: Riot (EP – Out Now – Sony Music Australia) – Check out our review HERE