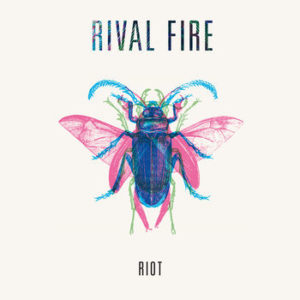 When a song starts instantly with vocals, I always get intrigued, and the opener 'Riot' from Rival Fire's debut EP is surely one that intrigues me, I've had this track for a while now and I'll be fucked if I can get the damn chorus out of my head! This track is a perfect introduction for a band, its groove and structure really bring out the hooks and I know that's what I like in a track, so well done. Great vocals, and one of those bitchin' middle 8's that take the song on a turn right before it builds back up into the big chorus that will continue to stay in my head. Thanks, Rival Fire… PS: It's also been our video of the week for a couple of weeks, we felt it was worthy!
'Doctor' hits us with a riff and driving drums and is one of those songs that has a short verse and hits you bang with a chorus quickly, what I'm enjoying about these guys as I mentioned above, the structure of these songs really is great, and these are songs that can easily be on the radio, and should be. Ooh this one is a little different, 'Take The Fall' could almost and I say almost be taken as a country type song when you hear the beginning, oh but that changes quite quickly as the chorus explodes into a big rocker. Lyrically great and a guitar solo to boot, nice work, I'm actually really digging this one with my front row seat to watch it all unfold.
Obviously an EP only runs at a few tracks, so the last original on here is 'All By Yourself' and starts as a ballad, and continues as a ballad, got me there, guys! Moody, atmospheric and shows that this band is able to show a few sides to themselves, which to me is a good thing. These four tracks have been solid, and with a 'clean' version of 'Riot' to close the album, where they take out the word 'fuckin' ooh 2016, so offended… but hey, they thought of the children!! See how nice these guys are!! It's a great bookend, and usually I'd skip a same track, but once again, this damn song is STUCK IN MY HEAD! Well played.
It's always interesting to me how bands pick which songs represent them on their debut EP, and with this one Rival Fire have chosen wisely… check it out, and keep your eyes and ears open for more from these Melbournians, because you'll be hearing their name everywhere soon enough.
Check out our 'Best Thing You've Never Heard' interview with the band HERE
Essential Information
From: Melbourne, Australia
Release date: 20 May 2016
Record label: Sony Music Australia
Website: http://www.rivalfire.net
Track Listing:
Riot
Doctor
Take The Fall
All By Yourself
Riot (Clean)