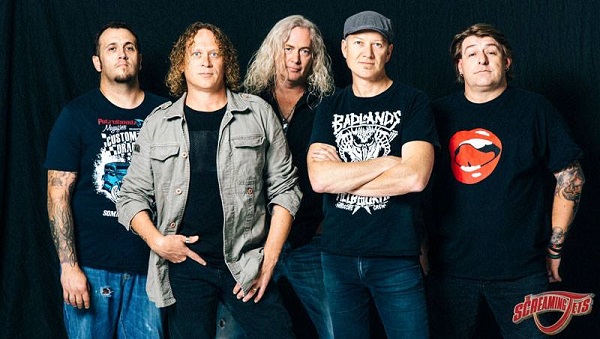 "We signed our first record deal in 1990 and that was for seven albums and we thought we'd have seven albums out by the end of the decade but twenty six years on we're just doing our seventh one *laughs* but we did spend a couple of years re-establishing ourselves live, and it just felt the right time now to get a representation of this band…"
From Release: As one of the country's most rockin' album bands, The Screaming Jets are back after eight years with a new studio release – Chrome. To say the band are f**king excited would be an understatement, their seventh studio album has been a labour of love and by all accounts, sits up there with their best. Supporting the highly anticipated release, The Screaming Jets are hitting the road for a special run of tour dates, not only showcasing their new material, but keeping true to their rockin' history by pulling out all their biggest hits.
We gave the always entertaining Dave Gleeson of The Jets a call to tell us about the band's new album 'Chrome', its creation, the tour, and much more…
To start us off, the album is called 'Chrome' tell me about the title and what it represents?
Well Paulie just came up with that title, you know how it goes when you're sitting around thinking and writing down pages of names and thinking that'll be a good one and you throw that out and the boys just give you the look of that's not it *laughs*.  So when Paulie came up with 'Chrome' my first idea was that I love cars, I love the old 70's Holden's and Ford's and the thing I love about them is the chrome on them, so I thought yeah that's nice and shiny. So that's my take on it
It's your first album in eight years, why was now the time to give us new music?
Well you know I've been off with The Angels, I've been singing with those guys for five years, so that's been kind of conflicted a little bit, but also we just decided that last year was the time to record the album and get something out there. We signed our first record deal in 1990 and that was for seven albums and we thought we'd have seven albums out by the end of the decade but twenty six years on we're just doing our seventh one *laughs* but we did spend a couple of years re-establishing ourselves live, and it just felt the right time now to get a representation of this band, we've been together for seven years or so now so it's about time we recorded something together.
What was the creative process like with this album, did you do anything differently this time around?
Well I kind of left it mostly up to Paulie, he wrote a bunch of songs, I think we ended up with about twenty five songs that he'd written he just went in and put them down acoustically and just his voice and acoustic guitar and it kind of gives you a real indication of the songs like the substance of them and the progression and stuff like that. So then we picked probably fourteen of those and built them up from the ground up and it's kind of the first time we've ever done that, a lot of the times we've demoed we've all got in the studio and bashed away and seen what came out and worked on songs together. This one to have Paul write the bones and the structure of them to flush it out was unreal/
Also, what was it like getting back together into a studio to record music?
Oh it was great fun, we got Steve James to produce for us and he's produced three of our other albums and yeah look, we had a blast and the band gets on unreal and a lot more fun than people think when you're in the studio especially when you know what you're doing, there's no pulling in the wrong directions and Steve as a producer is a big part of that and coming up with little ideas to make songs a bit more interesting and that… I just spend most of my time in there trying to make Steve laugh, that's kind of my job *laughs*. There's some great songs on there, we deal with a few issues and stuff like that but yeah just rock and roll, there's one I wrote called 'Razor' that I wrote the lyrics to and Jimi Hocking put this massive riff to it and it just came out to be a monster, so I'm pretty stoked with that one as well.
You're hitting the road for a string of shows in May, what can we expect on the 'Chrome' tour?
Well we jumped the gun a bit saying we were going to bring the album out last year and we put about six songs in the set, just mixed them in with the other ones so we'll be able to play those like they're second nature and then put in a few more, put some time in rehearsing just before the tour and it's really hard because you want to play the whole album because we're really proud of every track on it, but you want to be mindful that the fans want to hear new stuff but they want to hear the stuff they know and love and can sing along to.
You guys could essentially forever play a greatest hits set, is it hard to take out songs and put new songs in?
Yeah, the thing that you want to do is do a great set and you want to be playing songs that you really feel confident with and stuff like that so you've got to make sure you don't get stuck in a rut and just playing the same back catalogue songs every time, so obviously there's always gonna be 'Better' and there's always gonna be 'Helping Hand', 'October Grey', and 'Shivers' and any of the songs that have worked for us as singles we obviously include those. Then it's fun to sort through songs and think 'oh we haven't played that one for a while, let's chuck that in' so that's what we'll work on just before we go out.
I've always been a big fan of 'Think', do you ever play that and is there any chance that may come back in?
Yeah we do, I think we might even bring that one back for this tour, we toyed around with it at soundcheck a couple of times last tour but we didn't… that's one of those songs you don't want to butcher in front of everyone on stage *laughs* so yeah mate, we'll chuck that one on. There's a bunch of songs off that 'Tear of Thought' album that I love, I could play that whole album start to finish if it came down to it, but all through the albums there's a couple of songs on 'Scam' which wasn't our greatest moment in the studio but there's a couple of songs like 'No Way Out' and a couple of other ones that Paulie wrote that are just pumping rock songs, so yeah it's good to pick the eyes out it and have people go 'oh I haven't heard that song in a while.'
So… 'Better' is now twenty five years old…
*laughs* Yeah I know…
It still resonates with people, what do you think it is about that song that has stuck with people after so long?
I'm not sure, I mean it's a great song and to know that it's on the playlist of every DJ at every RSL in the country *laughs* and I don't know, it came out and instantly people were excited about it and every time we play it people just go ballistic, so I don't know, even young people come up and say 'man, Better is my favourite song' and I'm like you weren't even born… We're very lucky to have a song like that that Grant wrote all those years ago.
Also how does it make you feel that you've been doing this for over twenty five years now?
Well I mean it's testament to a good song, if it was a shit song it wouldn't be happening you know? *laughs* Look, it's like people say do you get sick of it? You kind of don't… you're like a dog doing tricks and when you do the trick and the crowd goes nuts then you keep doing the trick. *laughs*
Over your career thus far, what's the one thing you've always wanted to do but haven't yet had the opportunity to do?
Get a Grammy *laughs* nah… actually I crossed one off only the other day, I got up and sang with Barnesy and Jon Stevens at a big outdoor show in Bonnie Doon, so yeah I got up with those guys and that was a huge thrill to get up there and have Barnesy and Jon Stevens with their arms around me. You just want to do more and more, that's the thing and being in a band like us it's got a back catalogue and live following and also future plans, the sky is the limit still I reckon.
So obviously throughout a band's career things change, but rather than asking what has changed, what for you has been the one thing that has stayed the same throughout your time together?
Just the fun of the gig, mate. Just the fun of getting together and as I said this line-up has been together seven years, it's the longest line-up we've been able to keep all together at once, and we just have a blast. That's what I remember about the early days, there wasn't much bluing going on it was mostly just getting to the next gig, pulling and getting on it and carrying on *laughs* I guess we don't get on it as much anymore but we still have a great laugh and then just have a great time together.
Who do you see as Aussie rock up and comers?
Yeah mate, we've actually got a band on tour with us 'Massive' they're fantastic, and I'm trying to get this through people's heads, classic rock isn't just old people playing songs from years gone by, classic rock is a genre that still lives and breathes today. Kids who are twenty years old today who grew up learning songs from anyone from Black Sabbath to Nirvana, two guitars, bass, drums, songs that mean something, choruses that are big and sing along, it's still a living genre and Massive are a classic example. Tracer are another band we've had with us, they're fantastic young fellas, Palace Of The King, which is Tim Henwood's band who used to be in The Androids and The Superjesus, so look I think there's heaps of bands coming up. It's kind of good now because people do it because they want to and it's not that rock's the style of the time, it's not like the flavour of the day so the bands that are doing rock are doing it really well and they feel driven to do so, so I think there's good stuff on the horizon. Palace Of The King, mate, I think the tour they did with us last year were I think the first shows he'd done as a front man without a guitar on him, you know? He sings fantastic, so I have big hopes… Obviously the media will tell you otherwise, Cyrus is the biggest thing going around or whatever… but there's young bands around and Jimi Hocking who teaches guitar said there's still young kids that come in and they don't want to learn Panic At The Disco or anything like that, they want to learn a Metallica riff or they want to learn an AC/DC riff and they're ten or twelve years old *laughs*
Speaking of AC/DC… Axl Rose, yes or no?
I don't think… I was saying to someone that if anyone can hit the notes that Bon used to hit, Axl well used to be able to do but I don't know what his voice is like now days… surely Angus wouldn't put up with that rot. *laughs*
Lastly, let's look ahead to the future, finish this sentence for me, the one thing The Screaming Jets want to do in 2016 is…
The one thing The Jets want to do in 2016 is… you put me on the spot…
Win a Grammy?
*laughs* Yeah, win a Grammy… *laughs* I feel discriminated against because we've never been nominated for a Grammy, so what are they? Anti Screaming Jets these people are they? Perhaps… we haven't even been contacted… But would love to sell a bunch of records and sell out a tour.
Catch The Screaming Jets on their Chrome tour at the following dates!
Saturday 7th May 2016
Corner Hotel, MELBOURNE VIC
www.cornerhotel.com
Friday 13th May 2016
The Gov, ADELAIDE SA
www.thegov.com.au
Saturday 14th May 2016
Charles Hotel, PERTH WA
www.charleshotel.com.au
Friday 20th May 2016
Villa Noosa Hotel, SUNSHINE COAST QLD
www.villanoosa.com.au
Saturday 21st May 2016
Hamilton Hotel, BRISBANE QLD
www.hamiltonhotel.com.au
Sunday 22nd May 2016
Blue Mountain Hotel, TOOWOOMBA QLD
www.bluemountainhotel.com.au
Thursday 26th May 2016
Bridge Hotel, ROZELLE NSW
www.facebook.com/thebridgehotel
Friday 27th May 2016
Rooty Hill RSL, ROOTY HILL NSW
www.rootyhillrsl.com.au
Saturday 28th May 2016
Belmont 16s, NEWCASTLE NSW
www.16s.com.au
Essential Information
From: Newcastle, Australia
Band Members: Dave Gleeson [vocals], Paul Woseen [bass], Scott Kingman [guitars], Jimi Hocking [guitars] and Mickl Sayers [drums]
Website: http://www.screamingjets.com.au
Forthcoming Release: Chrome (May 6th – Dinner For Wolves (Rocket Distribution / InGrooves))