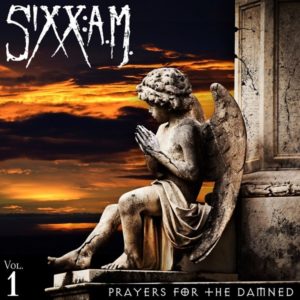 Sixx:A.M. have arrived, and by that I mean even after prior releases this is the first album the band are solely a band on, no other distractions from Motley Crue or Guns N Roses, this is straight up Sixx:A.M. and it shows! The collective of Nikki Sixx, Dj Ashba and James Michael as Sixx:A.M. have given us three albums prior to this one, but I truly feel they've found their place and their stride with this album and below I'll tell you why…
'(Rise) Get Yourselves Together' was the first taste from the album and what a first course, it's an anthem, an anthem that is missing from music these days which is something that confuses me. I know I grew up in the era of the fist pumping 80's where anthems were the norm, but as music changed the anthem became very few and far between, sad pandas all round… but with 'Rise' it's back and it's good! Plus if you were happy with the opener then just wait until you hear the rest of this album, trust me!
'You've Come To The Right Place' keeps the album rockin' (get used to that) and has a great hook and riff to match, DJ Ashba rips out a killer solo, and I'm a huge fan of the breakdown after a solo as it gets quiet only to explode once again, oh yeah we get that right here. Then we have 'I'm Sick' and if there's one thing that Sixx:A.M. are good at it's hook laden rockers, this one is no exception with cruisy verses leading into the bang of the chorus. The title track 'Prayers For The Damned' is the big one on the album, obviously it scored the naming rights so it has to be good, right? Well, it is and I cannot wait to hear this one live!
'Better Man' is what you could call a ballad of some sorts, and is a really cool tune with a mountain top worthy guitar solo, 'Can't Stop' for its simple repetitive chorus is perfect for any sports team and I'm sure will turn up on a sports channel down the road, but there is one song I want to talk about a bit and that's 'When We Were Gods' because it's my favourite on the album by far, and you don't really expect the way this turns from a slow starter into a heavy beast, the verses take you through a quiet pace until James Michael lets rip and opens up to blast out a huge chorus, this really is a great album so far. DJ once again solos his heart out after a great breakdown that will have those fists thrust towards the stage, I absolutely love the tone he has on his guitar in this one and it just rings through. Let me know if I was right about this being your favourite too… I think I'll be spot on.
There's something so groovy about 'Belly Of The Beast' and it's whatever effect is on the guitar that slides through the songs, but then the way it keeps that going while "it's what you do, what you do when you're living, and what you do, what you do when you die". The backing vocal almost choir like build the track up and keep you into it. Then in what feels like a train rolling in, 'Everything Went To Hell' hits a bass driven groove, way to go Nikki, and I like the way the verses and chorus feel like they change tempos to deliver almost different songs within the same song, it's a great arrangement. Also I know I've said it before, but more guitar solos and I love a band not afraid to have them, kudos! 'The Last Time (My Heart Will Ever Hit The Ground)' is second to last on the album, and it's crazy to think there's been nine tracks before it, not one has really dragged nor made me want to skip it, and this is no exception, big riff, big song.
Closing out the album is a ballad 'Rise of The Melancholy Empire', a very peaceful song that begins with piano and an acoustic guitar, as Michael's lower range vocals sweep in, the peace doesn't last long as of course as the chorus turns the volume up, only to deliver it back down for the subsequent verse. I've mentioned it before, but the arrangements on these songs are truly well done and a huge testament to the way the record has been produced. I love the big sound of the record and I'm pretty sure you just might too.
The best thing about this record is that it's only Volume 1, and if Volume 2 is anything like this one, then man, Sixx:A.M. you guys have done what many can't right now, make good fucking rock music and for that I thank you and many more should too. Now hurry up and come and play these songs for us in Australia…
Check out our interview with Dj Ashba HERE
Essential Information
From: Los Angeles, CA, USA
Release date: 29 April 2016
Record label: Sony Music Australia
Website: http://www.sixxammusic.com

Track Listing:
(Rise) Get Yourselves Together
You've Come To The Right Place
I'm Sick
Prayers For The Damned
Better Man
Can't Stop
When We Were Gods
Belly Of The Beast
Everything Went To Hell
The Last Time (My Heart Will Ever Hit The Ground)
Rise of the Melancholy Empire