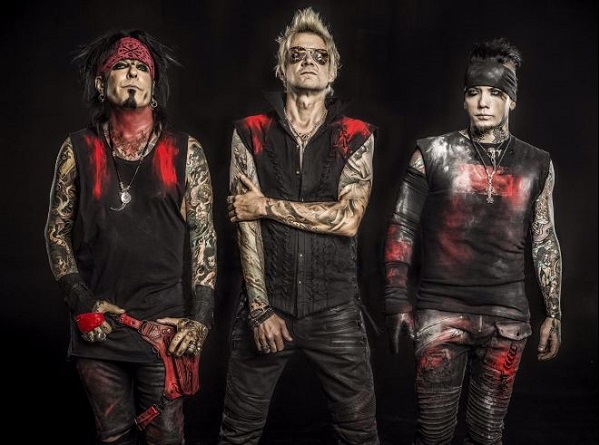 "It's cool because we look at ourselves as a new band so to speak and we know we're gonna have to roll up our sleeves and work our way back up to the top again and that's exciting for us. So yeah we couldn't be more pumped about it."
From Release: It's a universal truth that true artists will always busy themselves creating, and that truly great artists will always find an audience for that work. It is little surprise then that despite storied individual histories playing in and working with some of the most iconic bands ever to have stalked the planet, Nikki Sixx, Dj Ashba and James Michael collectively known as SIXX:A.M.—find themselves on the brink of unleashing yet another rock monster onto a burgeoning fan-base, that has already taken them firmly to their hearts.
In Las Vegas and getting ready to open his first retail shop, Dj stopped to give us a call to talk about the new Sixx:A.M. album 'Prayers For The Damned Vol. 1', its creation, the growth and evolution of the band, touring, guitars, and plans for the future…
What has 'Prayers for the Damned' allowed you to do that you haven't been able to do on the band's last three releases?
You know what we did differently on this first of all we went into the studio with the intent to do a double album, not like typical double albums we wanted to write two standalone albums that complimented each other but to be released in the same year but at different times. That way we get one out, we let the fans absorb the music that we did and then hit them with another one. It's kind of the way I designed both album covers and I designed the album covers the same way we wrote the music and that is, if you never saw or heard Volume 2, Volume 1 tells a complete story beginning, middle and end and same with the artwork, but if you took both albums and put them side by side there's a bigger picture, they both go together and same thing with the music, so that's one thing we did different. Number two we brought in our live band for the first time ever on an album, so what you hear on these records is a lot more aggressive and heavier; that is exactly what our live band sounds like. When we did our last tour we felt that we really wanted to capture that on an album and I feel like we did that.
I feel like with this record the band has truly found its footing and clicked in to place, has it taken a little while to get to that point?
Yeah you know because we never wanted to be a band, we were just best friends, still are but at the time best friends that all produced albums, we all wrote songs, we got together just as song writing partners and you know what we thought let's just bring Nikki's diary to life musically and I remember in the beginning we were just going to put the CD in the book when you bought it and there were going to be different singers on each song, we were never going to be a band, ever. 'Life Is Beautiful' obviously blew up the charts and I had no idea in the beginning that James could sing, I worked with him for many years but I just knew him as a great producer but when we were going to get all these different singers he sent over a track called 'Dead Man's Ballet' and it was the first song I ever heard him since and I looked at Nikki and said why look any further? *laughs* It was just one of those things we were just so jaw dropped by his voice, and then we had him sing on everything, but still we wanted to be a band. Many years later, next year it will be the ten year anniversary of 'Heroin Diaries' and yeah we've definitely evolved but we've always had that Sixx:A.M. sound without even trying, it's just one of those things where we get together and that's what comes out of the three of us and it's a really special thing, it's a very magical thing when you're in the room watching us write together, it's pretty cool.
With Nikki no longer having Motley Crue duties and yourself out of Guns N Roses and with your full attention now on SIXX A.M. has this in any way helped shape the new album the way it has?
Absolutely, it's lit a whole new fire beneath all three of us, it's exciting, because 'This Is Gonna Hurt' is one of my favourite albums it's really guitar heavy driven but it was the darkest period because we knew we weren't going to be touring on that and we knew that it was hard. Now when we wanted to write the double album knowing holy shit, I just left Guns, Motley's coming to an end it's exciting, we're actually going to be a band for the first time and commit and it's really exciting. It's cool because we look at ourselves as a new band so to speak and we know we're gonna have to roll up our sleeves and work our way back up to the top again and that's exciting for us. So yeah we couldn't be more pumped about it. 'Rise' is such an anthem in a music scene really missing the big fist in the air motivational type songs, why was this the right time for a song like this? You know, it needed to be written. There's so much going on in the world and we're not a political band for sure, but we're very reflective, we're artists, we write about what we see, we write about things that we're living through and you have to be hiding under a rock not to know about the big election, it's the ugliest election ever in the history of elections and all the crap going on. It's just like it needed to be written because the power lays within the people you know? United we stand and it's one of those songs where we can make a change, we can make a difference, this is our world we need to stand up, it's not just an elite group of people that call the shots, we all come together and rise up for what we believe in. We're not telling anyone what to believe in, but whatever it is that you do believe in now is the time to let your voice be heard and make a difference in the world, so it needed to be said and I'm glad that it's really connecting with people and that's because we wrote it from the heart and it's been number one at radio for the third week in a row as the most added song, we couldn't be more proud and more grateful for the radio stations that are believing in us and all the fans for calling in to the radio stations and requesting it, so it's a real thrill to see the song blowing up the charts.
You mentioned before the album being heavier and there's another song on the album that stands out for me, 'When We Were Gods' is massive, is there a story behind that song?
Well you know 'When We Were Gods' and me and James will both tell you the same thing, it's one of those magical songs, it's very heavy guitars, very heavy riffs, but it's one of our favourites solos James and I, we were in there I remember and you look for these moments throughout your career when the right notes in a solo are going over the right chord combinations and it was just one of those beautiful moments where it's just what I was feeling at the time and it came out and it's just one of those solos that I'll be proud of until the day I die. It's a really great, great moment in the song and the song in general is just a great song, so I'm really proud of that one.
I have to ask as everyone else has been, when is Sixx:A.M. going to make it to Australia? 
*laughs* I would leave on a plane right now, that's how much I love it there, I have so many friends in Australia, I've spent a lot of time there and man, I honestly don't have our schedule in front of me but I know it's a big priority for Sixx:A.M. all three of us, obviously we've all three of us spent some time over there so we really cannot wait to get the band over there. You've played with some absolute legends of Rock, do you ever pinch yourself and make sure it's all real? *laughs* Actually you know what, my sister stops me once in a while because I'm really hard on myself and I never stop and kind of do that and her and my wife have been really good at stopping me and saying, man, take a look around look at all you've done and it's really hard because I'm always three years ahead of myself and lately I've stopped and smelled the roses a little more since I've gotten married and I'm really grateful and proud of what I've done, it's cool. I think in my mind and my heart the best years are yet to come and we're just getting warmed up and I really believe we're gonna do some pretty great things in this world before it's all over. Four albums and almost ten years in for SIXX A.M. now, what do you see as the biggest evolution that's taken place within the band over this time? I don't know I think it's happened over time, we were such great friends when we started this and now we're family, I think lately the biggest evolution is when we all decided that the fans are relentless, they won't take no for an answer, we tried not to be a band. It's a really rare situation with Sixx:A.M. most bands who have number one songs time and time again the head out on tour, we were the one band that kept putting out hits and not touring. Not because we didn't want to but because we had other things we were committed to and had to do, so the fans are the reason we're a band today, they absolutely wouldn't accept that this is just a labour of love project and they never stopped believing in it and for some reason the songs we write they really connect to and God bless them. So now it's our turn to go wow, thanks for hanging in there for ten years and now we're gonna go out and do what we've always wanted to do and that's tour, we have a huge catalogue of songs now even though we look at ourselves as a new band we have an incredible catalogue of songs to choose from, so it's going to be a great show and a fun tour and we're really excited to get out there.
I have to say that I am in love with your signature series Schecter guitar, it's a thing of beauty, did that help to make the record into what it was?
It actually was used on the record quite a bit, the prototype as we were still designing it and tweaking it, yeah but man, I abused that thing on the record and we got it perfect. Schecter is by far the best guitar company that I've ever had the opportunity of working with and that was what I was looking for, a solid partner that understood the art and really believed in the artist. Before I joined Guns and I was playing Ernie Balls I always had the Floyds, my true style of playing is much different than Slash's, right? I took the gig and as a songwriter and producer it's a no brainer to do that and to play that gig it's a Les Paul and Marshall, that's the sound of Guns, but that's not the sound or style of me in Sixx:A.M. So when I left Guns my number one priority was to find a guitar company, a partner that really wanted to work with me and truly help me design the ultimate Dj Ashba guitar, the ultimate guitar that would get through any Sixx:A.M. song I ever wrote or played, so it really is designed around my style of playing.
Some of the sounds it makes, like on 'Belly of The Beast' you've got it down, alright…
Yeah that song was a lot of fun and actually that was the very first song that we wrote for the album and it was just one of those vibey songs that we had gotten together and that song was written in four hours.
I did a video interview with Sebastian Bach last year where he said he needs to call you about a song, just following up, did he call you?
*laughs* Yeah we talk now and then, he'll call me, I'll call him, he's been wanting this song that I wrote for Axl that Axl never recorded and he's been wanting this song *laughs* maybe I'll give it to him one day, I think his voice would sound killer on it and he heard one of the songs that I demoed up and he really loved it, so maybe one day we'll do it together or something for fun.
Lastly, let's look ahead to the future, so finish this sentence for me, by the end of 2016 the one thing that SIXX A.M. wants to do is…
Win a Grammy… *laughs* was that a good answer? *laughs* It's been a big goal of mine to win a Grammy and I think Sixx:A.M. is the perfect band for that, I think the songs we write we really do write from the heart and the songs really run deep in our veins and I know they cut deep in other people's veins, so hopefully it would be cool but if not it's not the end of the world, maybe one day we'll get nominated and win a Grammy. *laughs*
Well the album is a monster, so much so that I need part two right now, so I can't wait to hear it and to see you down here…
*laughs* I appreciate that so much, we all thank you. Thank you so much.
Essential Information
From: Los Angeles, CA, USA
Band Members: Nikki Sixx – Bass, Dj Ashba – Guitar, James Michael – Vocals.
Website: http://www.sixxammusic.com
Latest Release: Prayers For The Damned Vol 1 (Out April 29 – Sony Music Australia) – Check out our review HERE