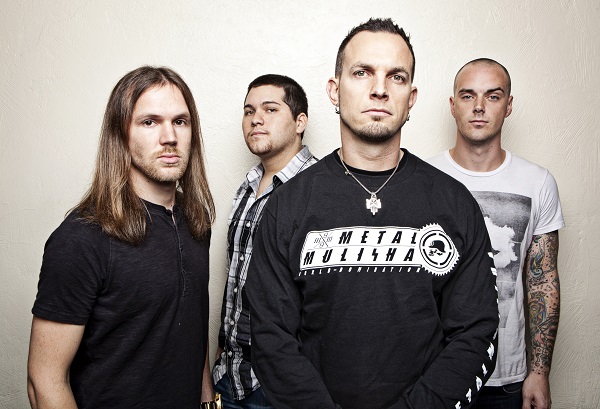 "This time we had all four of us in there at the same time when we were practising putting the songs together so there was no guess work on how it was going to sound when the bass guitar was added. Then we spent just a whole lot more time in pre-production just putting as many ideas as possible together…"
From Release: Hot on the heels of their critically acclaimed and fan adored sophomore release Cauterize, TREMONTI returns with the companion album Dust, scheduled for release on April 29th via Fret 12 Records/MGM. From the first riffs of album opener 'My Last Mistake' to the final notes of the closer 'Unable To See,' it is apparent that Dust is not simply a collection of B-sides. These ten new tracks continue to showcase Mark's hard rock/heavy metal influences alongside the material from Cauterize. Songs like 'Once Dead,' 'Betray Me' and 'Rising Storm' hold their own place as weapons in TREMONTI's musical arsenal.
Mark Tremonti gave us a call to discuss Tremonti's new album 'Dust', its creation, touring, Alter Bridge, and much more…
We last spoke back in 2009 so first thing's first, I'm glad I'm still doing this and I'm certainly glad you're still doing what you're doing, so it's great to chat to you again and thanks for your time…
Hey thank you, man.
'Cauterise' was only released last year and there were always plans for 'Dust' to follow closely, what was the idea behind releasing the albums so close together?
Well we recorded all the songs at the same time and I just didn't want them to all come out on one album, I thought it would be too much music for people to digest so we decided to split it up and put them out a year apart.
Going in to make two albums at once, did you have an idea of how you wanted them to come together?
No I mean I just wanted to record as many songs as possible and when it came down to it I tried to split up the albums as evenly as possible.
Well it does flow nicely, so good work.
Thank you very much.
So how if in any way has the writing process differed compared to when you came together as a band in the beginning?
This time we had all four of us in there at the same time when we were practising putting the songs together so there was no guess work on how it was going to sound when the bass guitar was added. Then we spent just a whole lot more time in pre-production just putting as many ideas as possible together, then in pre-production we spent a huge amount of time dealing with the final arrangements and we didn't really do that too much on the first record.
The riffs are huge on this, it's a heavy album, man, what's the process like for you as a guitarist when you find that perfect riff, is it something you try and capture straight away?
It depends you know? It's always different. Usually if I run in to a good riff I'll try to develop it as much as possible and marry it to other parts as soon as I can.
How do you know what to keep for yourself and not use for Alter Bridge?
Usually whatever album I'm working on gets all the best ideas first, but if it's a real heavy idea usually it goes towards the solo project.
'Dust' the song itself is an absolute stand out, I'm a sucker for the big ballad style song and man, I love this track. Other than it being amazing, why did this one score naming rights to the album?
You know I think it was just the most standout title for the album, and it fit in nicely with the first album as far as the artwork goes, the artwork on 'Dust' was the just the aftermath of what happened on the 'Cauterise' record, so 'Dust' is also my favourite song off the album, so it just needed to be the title.
Is it still weird or daunting sometimes for you being out there as the front man singing these songs?
No I really enjoy it, it's a whole other animal. Nothin' like anything I've ever done before so it's definitely a fun challenge.
I have to ask because it is kinda cool, what's it like having a Van Halen in the band?
Oh it's great, he's just a tremendous player, he can handle anything you throw at him.
I was always a big Submersed fan, and with having Eric and Garrett on board, has what they experienced with Submersed helped bring a different dynamic to the band?
Well I think all experiences help with everything and you just develop along the way. Like I said, all experiences from the past help develop what you do in the future.
What do you feel you're able to do with Tremonti that you felt you could never do in Creed or currently in Alter Bridge?
I think mostly the heaviest kind of speed metal type stuff that influenced me so much when I was growing up, I really like to get that out of me in this band.
I do have to ask, when do you think we'll get to see Tremonti tour Australia?
As soon as we find a gap in our schedule and promoters to partner up with we'll be down there. We love getting down there and we're counting down the days to get a deal put in place so we can get down there.
You've been here a number of times, do you have a favourite memory of touring Australia?
Yeah probably the best experience I had down there is I got my wife to come with me and we went to Bondi Beach and just kind of walked around for the day, it was paradise.
Have you been playing these new songs live?
Oh they're going amazing, the set is really much easier to out together when you have a second album, when you're out there on your first album you're playing that album pretty much from top to bottom, but now we have a variety of stuff to choose from and it really helps us out.
I have to ask, AB5 is coming, can you give me anything exciting to share with my readers about it?
Well I just finished tracking my seventh guitar track today, and I'm about half way done with guitars and we hope to get it out some time around the fall. It's around the corner.
You've been in the business now for over twenty years, what for you has been the most notable change you've had to go through or adapt to as a musician in this time?
I think the internet has just changed things so much and is changing the world as we know it, and the music industry as well, I think it's just adapting to the ever changing technology in the world.
Have you found that hard as an artist?
Yeah it's hard, it's exciting, there's good things and bad things that come of it so you've just got to make sure you stay on top of it.
I think the whole social media side of it and a lot of bands truly getting involved with their fans really helps their career when before it was about record sales, now it seems to be more about promotion…
Yeah I think this is very much a people business and it's about relationships and meeting people, giving people memories… I remember when I was younger meeting my favourite bands and I'll never forget those experiences, so those people get to do that through social media now, get to talk to people that they're fans on and that's a great thing.
Lastly, let's predict the future, finish this sentence for me, the one thing Mark Tremonti wants to do in 2016 is…
Oh boy… *laughs* tour as many cities as possible…
Are there any that you want to head to that you haven't had the chance to?
I'm getting to go to Ireland for the first time this year so I'm excited about that. Never been to China or Russia, but you never know what's to come.
Well hopefully with this record and with Alter Bridge you're gonna kill it and it'll be a great year.
Well thank you, thank you very much.
Essential Information
From: Detroit, MI, USA
Band Members: Mark Tremonti, Eric Friedman, Wolfgang Van Halen & Garret Whitlock.
Website: http://www.marktremonti.com
Latest Release: Dust (Out now – Fret 12 / MGM)