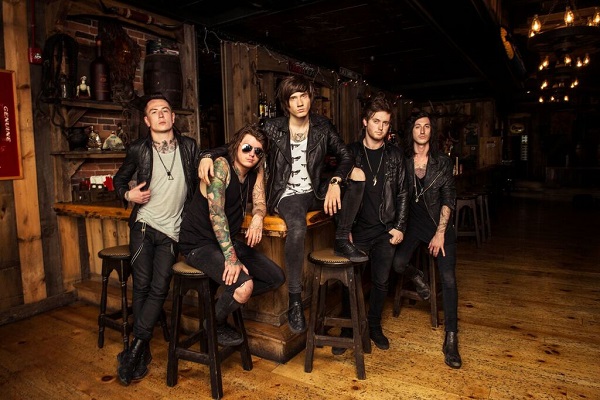 British metal band ASKING ALEXANDRIA are set to return with new frontman, Denis Stoff, touring Australia for the first time since Soundwave 2014.
"We couldn't be more excited about this tour," says guitarist Ben Bruce on the announcement of world tour. "We are back and we truly are better than ever. This tour is going to be absolutely insane and we can't wait to see you all out there. See you soon."
Joining the band at all shows will be US metal act Blessthefall and Australia's Buried in Verona.
Tickets go on sale at 10am next Friday, December 4.
Telstra Thanks is bringing an exciting 48-hour pre-sale just for Telstra customers from 12pm Monday, November 30 until 12pm Wednesday, December 2. For more information on how to purchase, visit:telstra.com/music.
For complete tour and ticketing details, visit: livenation.com.au.
UK metal band, ASKING ALEXANDRIA, with chugging guitars and alternating singing/screaming vocals set to work in 2008 with a new line-up on a touring blitz of the US with bands like Alesana, the Bled, and Evergreen Terrace and released their first album in 2009, Stand Up and Scream. The band would find mainstream success in 2011 with the release of their sophomore album, Reckless & Relentless, which peaked at number nine on the Billboard charts. They returned in 2013 with a more mature hard rock sound, smoothing off some of the metal and electronica influences, resulting in their more focused third album, From Death to Destiny, which peaked at #5 on the Billboard 200.
BLESSTHEFALL, the Arizona quintet known for their explosive live show, continue to prove themselves as one of the most respected frontrunners in the metalcore community and have spent years building a strong foundation and legion of devoted fans throughout their impressive career of over a decade – but they're not done yet. Since forming in 2003, Blessthefall have issued His Last Walk (2007), Witness(2009), Awakening (2011), and Hollow Bodies (2013) which hit #15 on the Billboard Top 200. Performing at their highest level on their new album To Those Left Behind (September 2015), the band sets up the album to highlight not only the metalcore genre in itself, but quality musicianship as a whole.
Sydney's BURIED IN VERONA will open all shows showcasing music from their three album catalogue:Notorious (2013), Faceless (2014) and their latest Vultures Above, Lions Below (2015).
AUSTRALIAN TOUR DATES
170 RUSSELL, MELBOURNE
THURSDAY APRIL 7
under 18s
170 RUSSELL, MELBOUNRE
FRIDAY APRIL 8
ages 18+
THE MET, BRISBANE
SATURDAY APRIL 9
all ages
HQ COMPLEX, ADELAIDE
SUNDAY APRIL 10
all ages
ASTOR THEATRE, PERTH 
WEDNESDAY APRIL 13
all ages
UNSW ROUNDHOUSE, SYDNEY  
FRIDAY APRIL 15
all ages
TICKETS ON SALE
10AM FRIDAY DECEMBER 4
Telstra Thanks pre-sale:
12pm November 30 until 12pm December 2
For complete tour and ticket information, visit: 
www.askingalexandria.com
www.blessthefallmusic.com
 www.livenation.com.au